« October 2006 | Main | February 2007 »
January 29, 2007
Colbert and Bollywood
Here's the latest desi viral video sensation - Stephen Colbert weighs in on the ongoing feud between the Bib B and Shahrukh Khan (thanks Sheela for the tip!):
And, a couple of days later, he does it again, this time reversing his original decision. Major slaughtering of names aside, it's hilarious:
Oh, and if you really wanted to see Mr. Bachchan dance, then a clip from his younger days would seem more appropriate. Here's one from Don:
- January 29, 2007 1:16 PM // Bollywood
January 28, 2007
Surya Dub @ Club Six
"When they'd strung the cables, according to some complex scheme of Molly's, they hung them with battered sheets of yellow plastic. As they worked, Case gradually became aware of the music that pulsed constantly through the cluster. It was called dub, a sensuous mosaic cooked from vast libraries of digitalized pop; it was worship, Molly said, and a sense of
community." - Neuromancer - William Gibson (1983)
Towards the fag end of last year, I received an e-mail from Maneesh The Twister. The gist of it was that the Dhamaal collective was coming to an end and there was something new in the works: an aggregation called "Surya Dub" (Surya meaning sun in Sanskrit). The focus of the new outfit would be on "Global Dubwize Vibes and Dread Bass Culture - more of a dub aesthetic but still incorporating a world element."
Honestly, I was bummed about Dhamaal coming to an end - apart from providing high quality night outs for those of us uninterested in the rest of the desiparty scene, the outfit genuinely pushed into new musical territories, particularly in the field of asian electronica. Check out their two releases if you haven't already. I pressed Maneesh for more detail and he would merely say he felt the outfit had "run its course." More's the pity.
In an interview with SFWeekly, Maneesh provided more info about his new dub direction:
Evidently, the definition of dub is open to multiple interpretations. The Surya Dub DJs share different ideas on the subject, but they all believe the music has universal qualities. To bhang ragga — a musical style combining bhangra and ragamuffin reggae — innovator-DJ-producer Kush Aurora, "Dub music is musical meditation." To dubstepper Kid Kameleon, "Dub is like a code word for experimentation, and a license to do things in a nonlinear style." DJ Ripley, meanwhile, says he feels that "Dub has always been ahead of its time, based in playful misuse of technology for creative purposes." And to hip-hop/reggae head Ross Hogg, dub is "as much about what's missing in the music as what's present. The silence, the dropouts, the echoes ... "

To Maneesh, dub — usually defined in its original sense as an instrumental, remixed form of reggae — isn't just a musical genre or production style, but a culture in and of itself that's shared influences with other cultures all over the world. For example, "Indian music has had influences in the Caribbean; there's a lot of sociohistoric things that tie those things together on a nonmusical level," he says.
Dub's status as future music has been around for a while and while the Wachowski brothers co-opted the community part of it for their Matrix trilogy, I was curious to see how it would play out in real life. As the pics show, I needn't have worried. With block rocking beats and bowel loosening bass (well, nearly :-), Surya Dub is off to a flying start. Some snaps: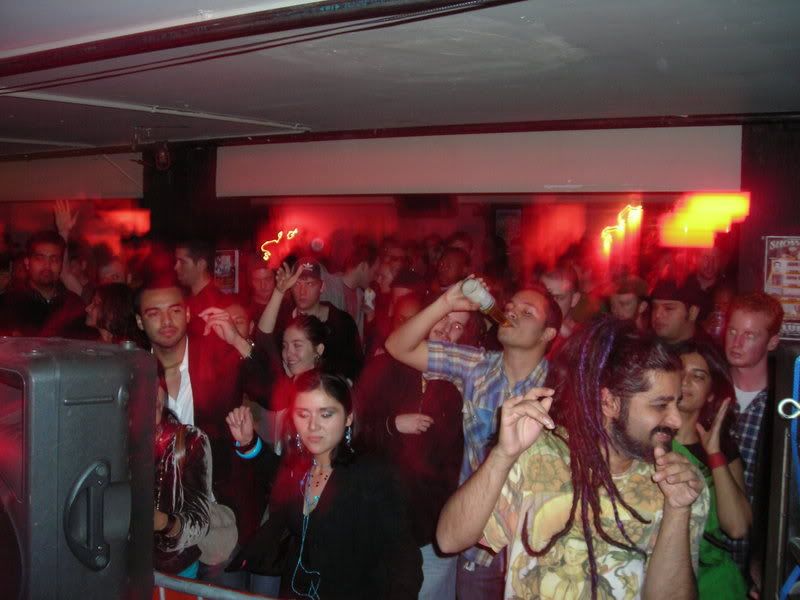 Yah mon! And here are some pics of Maneesh and Kush in action:
Note to the gentleman who left his shots on the speaker stacks: no one took them. It is usually not a good idea to park breakables on speakers generating deep sub bass. Said objects tend to vibrate and fall off :-)
- January 28, 2007 8:06 PM // Bay Area , Diaspora , Music
January 27, 2007
Back In Business ..
Phew, that was a month and a half! After sifting through oodles of hosting providers and picking one, the next step was the most daunting: moving the blogging platform. Alas, it was a step too far. I thought long and hard about leaving my long time partner (Movable Type) for a newer, sexier model (WordPress). It wasn't an easy decision. Reliability, sturdyness? Or prom queen popularity, glamour, glitz and user contributed goodness?
Okay, I admit it - I walked out the door. I took a test drive with my new trophy wife to be and I didn't want to come back. I shacked up with her for a week. But the highway of love is a lot tougher than it looks and rude reality butted in. What about custody rights? Styles? Themes? HTML code? There was no easy transfer, no quick solution. The manual was misleading. My new lover had led me on.
Beaten, I did the only thing a real man would do. I came crawling back. But would my forsaken lover take me back? Only, she'd taken care of herself while I was gone. She'd upgraded herself as well. She had other options too. It wasn't easy but an exhaustive nine hour session of pleading finally did the trick. I was back in.
Now, we're together again, ready to start the next phase of our life together. Sometimes though, I do stare out the window and wonder what could have been. Then, I think, well there are always dalliances elsewhere. My other site could use a new coat of paint ...
- January 27, 2007 12:31 PM // DishumDishum , Technology
January 16, 2007
Naatak Presents Sleuth
Hey folks, breaking my silence to announce Naatak is presenting its 25th production, Sleuth this weekend at the West Valley College Center in Saratoga, CA. From their announcement:
Sleuth is an Indianized adaptation of the play by Anthony Shaffer, one of the greatest ever thrillers performed on stage. It was also adapted into a Oscar-nominated movie starring Michael Caine and Lawrence Olivier. Sleuth is directed by Harish S. Agastya and features Harish Agastya, Ashish Joshi and Kal Pandya in the cast.

This is the last week to get your tickets for this action-packed production. Don't miss out on this one for sure and please don't reveal the suspense to your friends until they've had a chance to check it out too.

I guess desi audiences aren't that good at keeping secrets then. I remember an anecdote about a group of friends sitting down to see Kaun, that Ram Gopal Verma thriller from a couple of years ago. Anyway, said friends had their experience ruined completely by a wiseass in their group who gave away the main twist just to score a cheap point. Sort of like going to a group of people waiting to see The Sixth Sense and yelling, "he's dead!"
Oops.
Anyway, here's the poster for the production: