« June 2009 | Main | August 2009 »
July 25, 2009
The Humble Indian
I am a dynamic Indian, often seen clinging to the back of the bus with one index finger. I crush cashews with two opposing digits. I have been known to sweep the VT train station clean on my lunch break and force goondas to give up ladies seats. I can translate Punjabi gaalis into chaste Pushto. I write award winning Marxist Bengali plays. Indian Standard Time does not apply to me. Sometimes, I will do Matsyasana in water for three days straight, just because I can.
I woo the ladies with my elegant Harmonium playing, I can ride my scooter up Rohtang Pass to Manali thrice as fast as the DTC express and my samosas are ready by the time it takes you to roll your atta. I am an expert in tubewells, a legend in shayaris and am big in Bangladesh.

Using only my breath and fast feet, I once singlehandedly beat an entire village in Madhya Pradesh in kabbadi. I play the ghatam, I was scouted by Mohun Bagan. I am the subject of numerous khayals. When I get bored, I build Howrah bridge replicas in my back yard. I love maidan cricket. On Fridays, after school, I screen pirated Tamil movies free of charge.
I am a singer of Carnatic classical and a tout of Pawar-ian proportions. Fashionistas worldwide are in awe of my collection of slip on chappals. I am an ordinary citizen yet my bat receives fan mail. I only bowl bouncers. I am planning on touring Rajasthan with a Van De Graaff generator. My Shahrukh Khan impression has earned me fame in international circles. Aunties love me.
I can spit paan juice at small moving objects with deadly accuracy. I once read A Suitable Boy, Gora and the Encyclopaedia of Indian Cinema in one day and still had time to paint a MF Husain knockoff for my dining room mantlepiece. I know the exact location of every pav-bhaji seller in Chowpatty. I have covertly raided millitant training camps in POK and have defused transistor radio bombs in Bangalore. Gravity is optional to me.
I hop-scotch, I chillax, I gambol and I bargain at the bazaar. On weekends, I engage in full contact adda for relaxation. While meditating in the Himalayas, the meaning of life came to me but I was fresh out of neem leaves. I have fed entire wedding parties with nothing but homemade uttapam and jilebis. I breed prize winning hilsa, chase Bollywood starlets in the Maldives and have pioneered Acuvedapathy, a blend of acupuncture, Ayurveda and Homeopathy. I have played Shahjahan, seanced Gandhi and know what really happened to Subhas Chandra Bose.
But I have never left Midnapore.
Note: inspired by this and this.
- July 25, 2009 12:56 PM // Humour
July 21, 2009
He Jindaled It Up
Yikes! I didn't realize Bobby Jindal had made to the urban dictionary:
1. jindal - (verb) To get your 15 minutes of fame and royally fuck it up, especially on national television.

He jindaled that speech so badly that even Fox News trashed him.

2. Jindal - To really screw up a big opportunity.

Good luck on that job interview; I hope you don't jindal it!
These are references to Mr. Jindal's absolutely craptacular rejoinder to Obama's State of The Union address. Doubtless, they were put there by some wags from the Bobby Jindal Is Kenneth The Page Facebook fanclub (at 19485, roughly half the size of the 40648 members of Americans For Bobby Jindal).
Meanwhile, Mr. Jindal continues to be as hypocritical as ever, claiming credit for stimulus grants funded with money he once vehemently opposed. Born again Republican, that Bobby.
- July 21, 2009 6:16 PM // Politics
July 5, 2009
There but for the grace of ..
In this article (In San Jose's east hills, owners at The Ranch 'had it all' until housing bust) detailing the collapse of a high end gated community in San Jose there's this tantalizing description:
"It's a mess," said Joe Fierro, who built a waterfall that cascades between his front steps. When he moved into The Ranch, he had a lucrative loan business; now he's a property manager. "I know of three in the immediate area that got foreclosed on."

Fierro looked out across Mountaire Lane to the hulking shell across the street, where his neighbor left behind dying palm trees, children's toys next to the outdoor kitchen, and an iron archway leading to the sport court customized with the family's name: "Som Residence." They vanished five months ago.
Yikes. I don't usually see many news articles involving variations of my first name so this stood out. I find it surprising though to hear about more and more desis falling prone to the housing bust. I suppose owning a million dollar house in Silicon Valley is of such high cachet, it shouldn't be so discomfiting. Many people over-leveraged themselves and why shouldn't desis be part of that wave too?
What I find more interesting though is seeing some of our acquaintances jump feet first into the current housing market in the Bay Area. Were I to be consulted (and I am not), I'd be the first to say prices still have a ways to go down, particularly in the more desirable zip codes. Who wants to catch a falling knife?
As this graph from one of the local housing bubble blogs shows..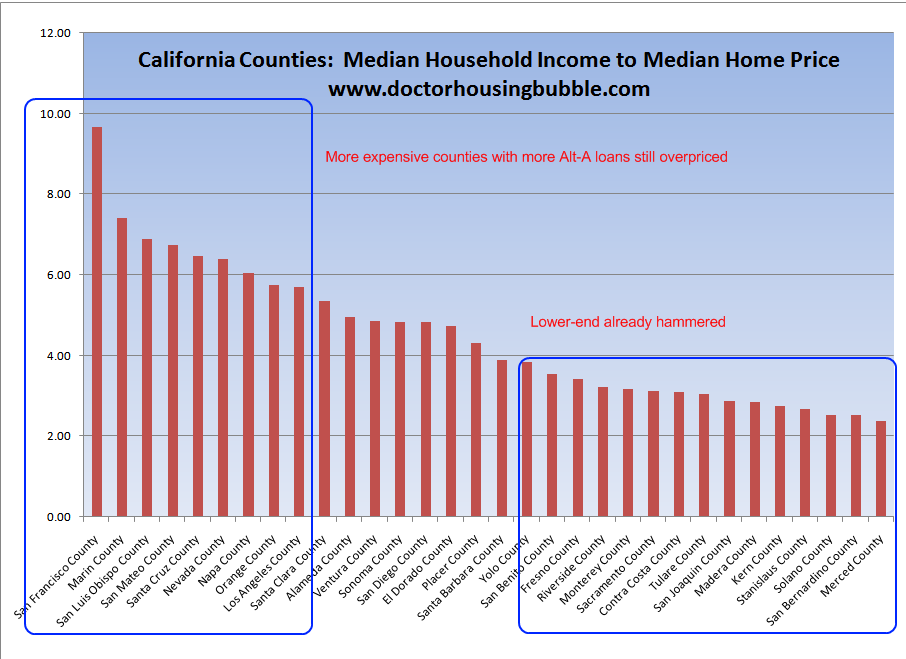 .. median income to median housing price ratios in the high price areas are still way out of whack compared with the lower income counties.
However, cold numbers notwithstanding, owning a house has still been very much an emotional decision, a statement saying "I've made it in America" and this holds even more resonance amongst Indians in the Bay Area. We've known folks who saved for years and years, staying in one bedroom apartments and limiting their expenses, only to go hogwild when it came time to put down a downpayment. Now, with California ground zero for the mortgage crisis, unemployment and host of other ills, it's somewhat sobering to see even the model minorities aren't immune.

- July 5, 2009 8:59 PM // Bay Area , Diaspora
July 3, 2009
Photographing Kids..
.. isn't easy as Bill Watterson fondly chronicled in so many strips for the iconic Calvin & Hobbes. Examples abound. Here are two:

and
As for us, we find our Coolpix to be a handy enough device yet utterly incapable of capturing Virj as he buzzes about his daily routine. Most of his stills are serendipitous, usually taken when he's been severely restrained or staring in wonder at something he's seeing for the first time. An illustration of how difficult it can be:
Yet, the rewards, at least from our standpoint, can be considerable. A snap from our recent trip to Portland and Seattle taken on the Amtrak Cascades service:
Perhaps the time has come to either invest in faster equipment or at least try to repair some of our older cameras. Living in a disposable society with a penchant for consuming products with built in obsolescence, the latter may not be so easy. We'll see. Surely the recession will spur more recycling and retention.
- July 3, 2009 5:37 PM // Virj
July 1, 2009
The Dishum Digest I
Here's a collection of links I found over the last month or so that I found relevant but never had the time to expand into full fledged posts. Here goes:
Move over Bikram! The new Yoga King of LA wears "a message-free tank top and shorts, without a Buddhist bead or Sanskrit phrase visible anywhere." Devoted fans say "'I'd rather take yoga from you than some weird dude in a robe."
The Saffron Sandalwood Sour as created by Seattle bartender Anu Apte. Alternate take here.
File under lazy movie naming: a documentary about Israelis in India. Why, let's call it Hummus Curry, of course! Brilliant! Other less brilliant names would have been Shalom Namaste or Falafel Dosa. [Thanks Amar]
- July 1, 2009 10:06 PM // General