There but for the grace of ..
In this article (In San Jose's east hills, owners at The Ranch 'had it all' until housing bust) detailing the collapse of a high end gated community in San Jose there's this tantalizing description:
"It's a mess," said Joe Fierro, who built a waterfall that cascades between his front steps. When he moved into The Ranch, he had a lucrative loan business; now he's a property manager. "I know of three in the immediate area that got foreclosed on."

Fierro looked out across Mountaire Lane to the hulking shell across the street, where his neighbor left behind dying palm trees, children's toys next to the outdoor kitchen, and an iron archway leading to the sport court customized with the family's name: "Som Residence." They vanished five months ago.
Yikes. I don't usually see many news articles involving variations of my first name so this stood out. I find it surprising though to hear about more and more desis falling prone to the housing bust. I suppose owning a million dollar house in Silicon Valley is of such high cachet, it shouldn't be so discomfiting. Many people over-leveraged themselves and why shouldn't desis be part of that wave too?
What I find more interesting though is seeing some of our acquaintances jump feet first into the current housing market in the Bay Area. Were I to be consulted (and I am not), I'd be the first to say prices still have a ways to go down, particularly in the more desirable zip codes. Who wants to catch a falling knife?
As this graph from one of the local housing bubble blogs shows..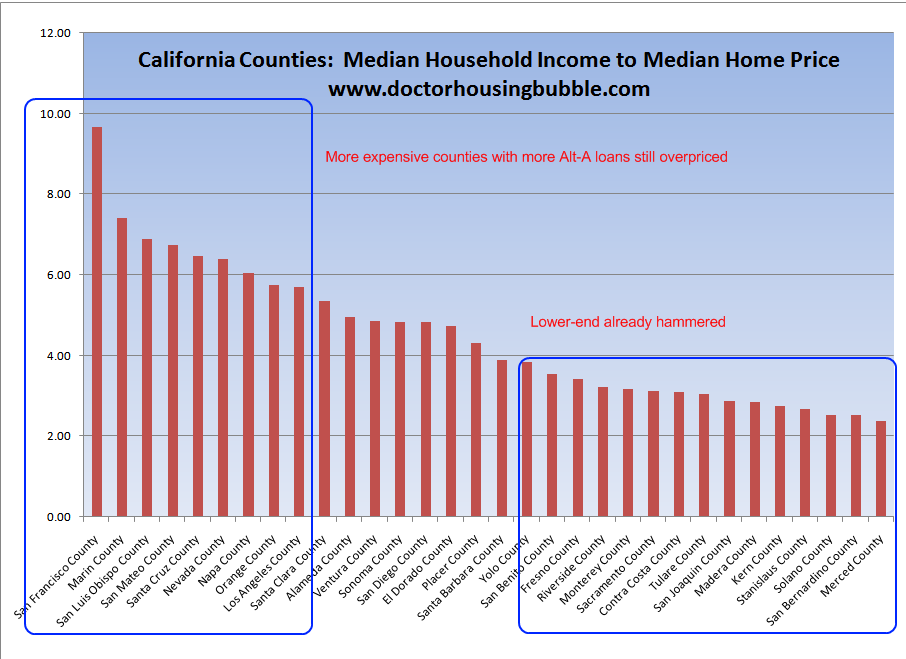 .. median income to median housing price ratios in the high price areas are still way out of whack compared with the lower income counties.
However, cold numbers notwithstanding, owning a house has still been very much an emotional decision, a statement saying "I've made it in America" and this holds even more resonance amongst Indians in the Bay Area. We've known folks who saved for years and years, staying in one bedroom apartments and limiting their expenses, only to go hogwild when it came time to put down a downpayment. Now, with California ground zero for the mortgage crisis, unemployment and host of other ills, it's somewhat sobering to see even the model minorities aren't immune.