« December 2010 | Main | February 2011 »
January 22, 2011
Indian Grocery Store Security
Here's a snapshot of the security display at the local desi grocery store:
The display collates the views from the eight security cameras mounted at various points throughout the store. It's not a particularly big establishment, so there must be some very cool stuff (or particularly recidivist patrons) to warrant this level of Big Brother Bada Bhai attention. The naming of the subdisplays provides some clues in this respect. First, we have the Front Counter and Aisle Cams. Self explanatory. But then we have the Lota Cam and the plot thickens. In South Asian parlance, a lota is:
commonly used to store or transfer small amounts of liquids like milk or water. In the Indian sub-continent, where cleaning with water is the usual method for maintaining personal hygiene after defecation or urination, a lota with a spout is widely used as a container for this purpose.
Clearly, the owners feel the need to watch over their lota stock very carefully indeed, particularly for those fresh off the boat fellows so much at sea in the American bathroom, yet too depleted fundwise to invest in something that is so common at home. I wonder how many shoplifters have been caught trying to leave the store after sheepishly concealing a lota somewhere on their person.
Next we arrive at the pickle cam. Again, it must say something about this store's pickle collection that they feel the need to watch it so carefully. It is indeed very extensive but again, I have a hard time believing would be thieves trying to slip pickle bottles up their sleeves or down elsewhere. It takes all types, I suppose.
Pooja cam and Pooja cam2 are nods towards the store's collection of puja supplies which are indeed quite extensive and expensive. Same is true for the Divya Cam. The Lamb Cam leaves me a little befuddled however as I am sure they don't have any killer sheep penned up just waiting to escape thus necessitating round the clock surveillance. Rather, it's the frozen foods section. The meat must be amazing indeed to be worth all this security. A pity since I avoid red meat these days.

- January 22, 2011 6:40 PM // Humour
January 13, 2011
Grateful Dead Videogame
<
The Wall Street Journal reports on a new online video game being developed about the Grateful Dead:
The developer, Asheville, N.C., based Curious Sense has permission to use any material from the band's deep archives, which includes three decades' worth of film and video and thousands of live concert recordings. For instance, Curious Sense founder Adam Blumenthal says he's itching to repurpose an animated sequence from 1977's "Grateful Dead Movie," featuring a cosmic pinball game. His company can also tap the Dead's vivid album cover art, as well images of the band members.

The game project is in its earliest stages, with developers currently mapping out which elements of the Dead universe to incorporate. Blumenthal says some songs are particularly conducive to gaming because of their narratives ("Terrapin Station"), imagery ("Dark Star") or characters ("Cosmic Charlie"). Such elements will be molded around templates common to casual games, such as hidden-object hunts and so-called "tower defense" games. "Think of the song 'Samson and Delilah," Blumenthal says. "Maybe we can make that into an Angry Birds kind of game?"
And more about Adam:
Not surprisingly, Blumenthal is a deadhead—he drew the name of his company from a line in the Dead song "St. Stephen." It's not an overstatement to say he's been working toward this job his whole career. In the early 1990s, while he was a student at Ithaca College, he pitched his services to Phish, helping the young jam band dip into the burgeoning field of interactive media.
I actually know Adam from his days at Ithaca College. He and I met while enrolled in the first of several multimedia courses we took at the Communications Department at Cornell. We ended up working together on our course projects and I am particularly proud of our final collaboration - an interactive installation on the art of Chuck Jones, creator of Bugs Bunny, Road Runner, Pepe Le Pew and Daffy Duck amongst others. This was, sadly, just before the meteoric ascent of the World Wide Web, so the project, written in the then hot Supercard authoring system on an Apple Quadra, has now ascended to the Great Bit Bucket in the sky. Anyway, it was obvious even back then that Adam was someone special and I couldn't be happier at this amazing opportunity he's created for himself. Congratulations!
- January 13, 2011 10:49 PM // Music , Technology
January 9, 2011
Gun Violence
This cartoon says it all, really: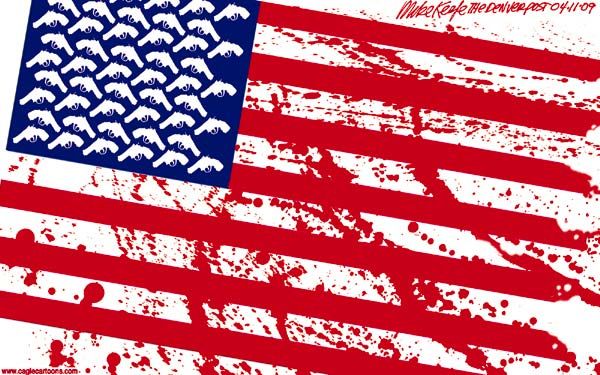 Gun Violence by Mike Keefe, Denver Post, Buy this cartoon
- January 9, 2011 2:35 PM // Politics
January 2, 2011
Guru, Naan, Pundit, Curry, Bollywood
Here's a random collection of Indian-esque words (Guru, naan, curry, yoga, India, pundit, Bollywood) plotted on Google's NGram Viewer. Clicking on the image below will take you to an enlarged version.
The frequency sizes are too small for deducing meaningful trends. 0.00080%? However, it is somewhat interesting to observe the rise and fall of "India". Perhaps obsession peaked during Victorian times? More likely, it's a function of the types of books in Google's digitized database. The relentless rise of "guru" and "yoga", particularly from the '60s onwards, perhaps require less explanation.
- January 2, 2011 12:06 AM // Technology