« February 2011 | Main | June 2011 »
March 27, 2011
Indo-Indie Roundup
Catching up on some of the more notable Indo-Indie multiplex releases over the past couple of years.
Manorama, Six Feet Under - (Netflix DVD) set in a remote Rajasthan town, this noir features Abhay Deol as an author struggling with writer's block when he's drawn into a spying assignment which, as you'd expect, leads to a murder he's compelled to solve. Really enjoyed the denouement on this one and the sparse, arid landscape lends it a very different feel. Yes, there's a debt to Chinatown, but it's a homage, not a blatant copy.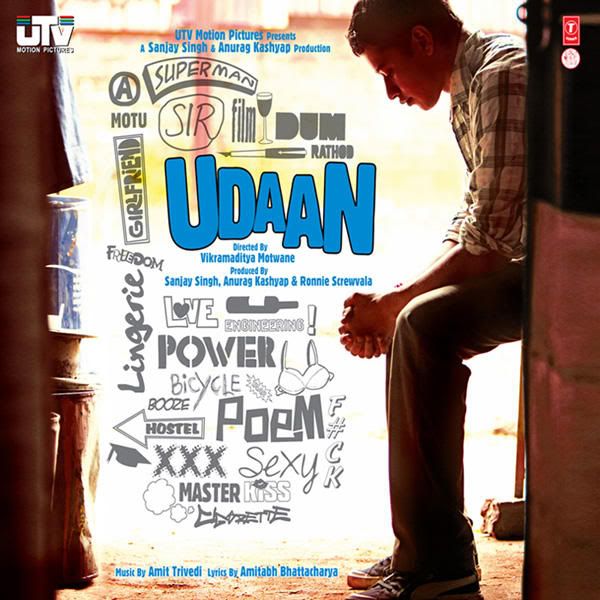 Udaan - (Netflix Streaming) I find Indian films are at their best when they look into small towns and the lives of quiet desperation therein. A little gem, Udaan deals with the return of a 16 year old boy, rusticated from his Simla boarding school, to his father's household in Jamshedpur. We learn his father is a strict disciplinarian, his mother has long passed away and he has a kid brother he barely knows. And yes, his father regards his return as a major wrench in the works. The subsequent conflicts never feel melodramatic and the characters are all utterly grounded in reality. The ending stays with you long after the film is over.
Peepli Live - (Netflix Streaming) dark, dark, absurd and dusty, "Peepli Live" is the film Ram Gopal Verma's "Rann" should have been. Anusha Rizvi's script takes the decision of an impoverished farmer to commit suicide as a starting point and uses it to viciously skewer the news media, the political system and just about anything else in between. The take no prisoners style isn't for everyone but for those of you who like their films to come with a heavy dose of Catch-22, Network and No Man's Land, this is it.
Road, Movie - (Netflix Streaming) describing Dev Benegal's film ("Vishnu, bored son of Hair oil maker in smalltown Rajasthan decides to drive dilapidated truck doubling as mobile movie theater across desert tracks to a museum") makes it sound like a road version of "Cinema Paradiso" by way of Bollywood. It actually isn't. Even though these are Bollywood clips being shown by the theater-on-wheels, the international crew behind the film, the sparse locations and the subject matter lends "Road, Movie" quite an otherworldy feel. And yes, Abhay Deol plays the titular character in yet another film set in the Rajasthani desert. Must like sand a lot.
- March 27, 2011 8:46 PM // Bollywood , Film
March 6, 2011
Extra Contagious — My Hollywood Experience
Crossposted on Sharidelic.
A couple of weeks ago, while idly facebooking away, a shared link led to me an article talking up a Hollywood production, "Contagion", starring Matt Damon, being shot in San Francisco. And yes, they were looking for extras. In general, I don't really do that stuff because my agent doesn't think it's particularly worthwhile. However, I was curious about this one. First, it was a big budget shoot. Second, it was directed by Steven Soderbergh. Wouldn't look too bad on my resume at all! So, on a fine sunny Sunday morning, I went up to San Francisco, stood in the long line outside the YMCA at the Embarcadero and submitted by headshot. I saw some recognizable faces - apparently the whole town had turned up to try their luck! I also overheard that a couple of thousand people had already submitted their photos the previous day and they were expecting another couple thousand that day. Daunting but that's showbiz, isn't it?
A week went by and I heard nothing. Then, lo and behold, the phone rang and it was the Contagion casting agent. I'd been selected for the role of an office worker at the FBI building in SF for the coming Friday. I was also told I'd be getting another call later in the week with more details. That call directed me to a hotline number I was supposed to ring the night before the shoot for directions/wardrobe details. Ringing the hotline yielded a recorded message asking us to bring a couple of sets of clothes to the shoot. Resisting the temptation to lug half my wardrobe to the set, I decided to stick to the basics because from my experience, that's usually sufficient.
My actual reporting time was 8:30 in the morning. Early but miles better than something like 5 in the am. Phew! I took BART to the Civic Center stop and walked to my assigned location, the Bill Graham Civic Auditorium. Getting closer to the building, I saw Grove Street had entirely been blocked off and people were unloading equipment from trucks. They were putting up big yellow signs that said "Vaccination Center" on the top followed by instructions in English, Chinese, Arabic and another language I couldn't recognize. As I wandered confused through this activity, a crew member was kind enough to point me to the entrance of the extras holding area. Inside, I checked in, was handed a form to fill and directed to inside to the huge auditorium where the rest of the cast were waiting. The space was full of small tables and chairs occupied by well-dressed men and women, mostly attired in business suits, working on filling out their forms. One side had been converted into a makeup area with ten or so dressing bays lined with chairs and surround lights and being manned by makeup artists. In another corner, there was the wardrobe area with clothes racks lined up against the wall. Actors stood in line to be inspected by two ladies. Most folks carried luggage filled with clothes or garment bags of business suits. I realized that the initial message about the FBI building and business attire must have created some confusion. Finally, there were two tables with breakfast food, snacks and beverage in the center of the room.
The form we had to fill out was quite elaborate and I could see enlarged photocopies posted around the room for reference. A woman came around the tables checking everyone's form along with IDs and signing them off. She was quite particular about mine. I ended up having to call home several times to get information. After all this, one of the makeup folks called me to do my hair. She spent a lot of time straightening it out but took off what little makeup I had on. Apparently, we were all supposed to look tired and somewhat ill, like, in their words, "after being stranded in the airport for three days." I suppose extras in a film entitled "Contagion" aren't supposed to resemble partygoers in Club Med, more like the poor hordes stranded in European airports over Christmas! I didn't understand, however, why then would they spend so much time on getting my hair to look so good?
My actual wardrobe check was quick as I had the right outfit on - my experience of dressing for auditions proved to be useful. Each of us extras were given different types of masks to cover our faces. I appreciated the depth of thinking by wardrobe department here. After all, if this was supposed to be an epidemic, many would be wearing makeshift masks of various types. They shouldn't look alike.
We sat around chatting for the next couple of hours while we waited to be called in. Ages and background varied widely from opera singers, SAG affiliated actors to kids, moms, tourists, retirees and regular office workers who had taken the day off to be a part of this experience. Some actually came for the free food and the paycheck! There were doctors and medical professionals in the mix as well as SF policemen and members of the National Guard, here to lend authenticity to the proceedings. I even spoke to a systems engineer who was very excited to have been selected. It felt more like a big block party than work!
We were finally called for the shoot and asked to line up in front of the building. The set was ready by then with more signs on the building and border patrol trucks parked all over. And we had an audience - passers by had gathered around the cordoned area to watch. We were given fake vaccination cards to hold. We were also told that Jude Law would be on the set, so we should control our urges to throw ourselves at him .. er .. not get in the way or take pictures. Then, a couple of assistant casting directors came by, picking some of us out of the line to appear in a special scene. A mother and her young daughter standing in front of me were asked to step aside. Next, an African American girl a few feet behind me. Just when I started wondering if I would be that lucky, I was asked to join them as well! It turned out seven of us had been selected for a special scene with Jude Law. In addition to the mother/daughter and the girl, we also had a mother/son, myself and a middle aged Asian lady. SF diversity represent!
What followed was a series of rehearsals and practice takes to determine the exact sequence. We had to walk through the park situated across the auditorium while Mr. Law passed us on his way to take some photos of the building. I believe he's playing a journalist. The director, Steven Soderbergh, along with the rest of his crew were present at the location, shooting from a distance. There was a small black tent for the monitors as well as editing equipment but the rest of the folks stood around in the sun in between takes. All of the actors waited near a snack area that had been set up next to the border patrol trucks that provided some shade. Jude Law stood a few feet from us, sipping some water and waiting. It was pretty amazing to see the level of professionalism on the set, nothing like the stories of high maintenance Hollywood and Bollywood divas and their entourages.
While waiting, the seven of us started chatting in a bid to take our minds off Jude The Not-So-Obscure standing close to us. "Where's the director?", one of the mothers asked. When we pointed Steven out to her she said, "oh, he was just talking to my son a little while ago, showing us pictures of his kids on his phone!"
The way the scene ended up being structured, I had the privilege of walking past Jude Law in one of the shots. If it makes it through edit, I hope to see myself on the big screen! A couple more takes and it was over. We were asked to go back inside the building and wait. In a while, we were called back again, this time for a group shot of all us walking out of the building. And that was it for us. We were given the option of staying for lunch or leaving early. I was starving by then, so I decided to stay for the elaborate spread. By the time I left, about 6 hours from when I arrived, the whole set was wrapped up and the crew had left for the next San Francisco location for another scene.
PS: A special thanks to the set crew for letting me take pictures after the shooting was over!

Shari Acharya - March 6, 2011 7:40 PM // Bay Area , Film