Indo-Indie Roundup
Catching up on some of the more notable Indo-Indie multiplex releases over the past couple of years.
Manorama, Six Feet Under - (Netflix DVD) set in a remote Rajasthan town, this noir features Abhay Deol as an author struggling with writer's block when he's drawn into a spying assignment which, as you'd expect, leads to a murder he's compelled to solve. Really enjoyed the denouement on this one and the sparse, arid landscape lends it a very different feel. Yes, there's a debt to Chinatown, but it's a homage, not a blatant copy.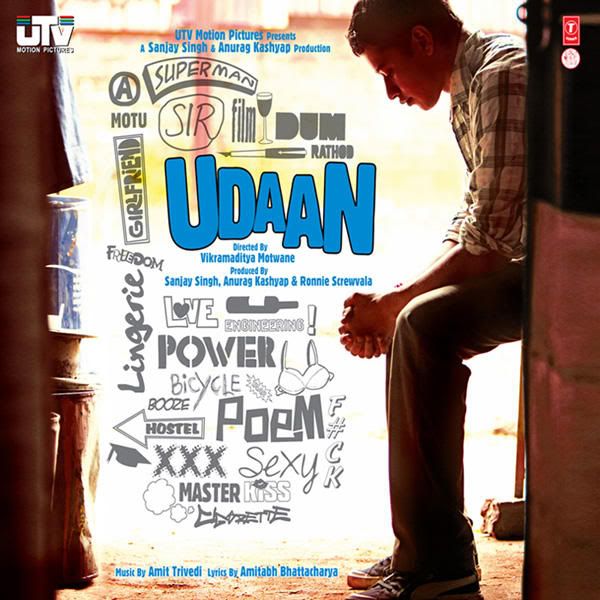 Udaan - (Netflix Streaming) I find Indian films are at their best when they look into small towns and the lives of quiet desperation therein. A little gem, Udaan deals with the return of a 16 year old boy, rusticated from his Simla boarding school, to his father's household in Jamshedpur. We learn his father is a strict disciplinarian, his mother has long passed away and he has a kid brother he barely knows. And yes, his father regards his return as a major wrench in the works. The subsequent conflicts never feel melodramatic and the characters are all utterly grounded in reality. The ending stays with you long after the film is over.
Peepli Live - (Netflix Streaming) dark, dark, absurd and dusty, "Peepli Live" is the film Ram Gopal Verma's "Rann" should have been. Anusha Rizvi's script takes the decision of an impoverished farmer to commit suicide as a starting point and uses it to viciously skewer the news media, the political system and just about anything else in between. The take no prisoners style isn't for everyone but for those of you who like their films to come with a heavy dose of Catch-22, Network and No Man's Land, this is it.
Road, Movie - (Netflix Streaming) describing Dev Benegal's film ("Vishnu, bored son of Hair oil maker in smalltown Rajasthan decides to drive dilapidated truck doubling as mobile movie theater across desert tracks to a museum") makes it sound like a road version of "Cinema Paradiso" by way of Bollywood. It actually isn't. Even though these are Bollywood clips being shown by the theater-on-wheels, the international crew behind the film, the sparse locations and the subject matter lends "Road, Movie" quite an otherworldy feel. And yes, Abhay Deol plays the titular character in yet another film set in the Rajasthani desert. Must like sand a lot.
- March 27, 2011 8:46 PM // Bollywood , Film
It Starts With A Word
Word leads to
Sentence which leads to
Paragraph which naturally runs on to
Page
Chapter
Book
Championing by obscure art lit critic
Series
Out of print fishwrap.
Discovery by out-of-luck down-to-his-last-cocaine-line film director at an Inland Empire bake sale.
Indie Film Adaptation
Sundance
Director's Cut DVD with unrated, unnecessary extra footage containing nothing lurid.
Poorly dubbed Telenovela on Univision.
Included on re-release Director's Cut 10 Year Anniversary Edition DVD.
Criterion Collection
Endless marathon reruns on Star TV in between pan parag and Vicks commercials with all the good bits excised
Bollywood "adaptation" with much denial by producers that this is not a frame by frame ripoff of the original.
Entire "adaptation" almost instantaneously available on YouTube in 10 minute chunks.
Fan Tamil dub edit goes viral.
Hipster bloggers tweet up a storm.
Gritty dark re-imagined remake or origin story prequel greenlit in Hollywood. With money from Indian conglomerates.
Untimely death of original auteur in tragic hot tub accident observed in back page of The Big Sur Times.
--
Hat tip.
- June 11, 2010 3:50 PM // Bollywood , Film , Humour
Review LOL
Sex and The City 2 has been garnering almost universally derisive reviews. Now, I am no fan of the original franchise and I thank the stars Shari isn't either. However, it has been interesting to see the novel approaches critics are taking to savage the film. I found James Berardinelli's takedown particularly insightful, especially the following lines:
It's astounding how a movie this long could accomplish so little. Sex and the City 2 could qualify as fashion porn - there are endless images of dresses, shoes, jewelry, and so forth - and plenty of shopping spree money shots. There are times when director Michael Patrick King's cameras linger on the wardrobe and accessories rather than on the actors, establishing clearly (as if there was ever a doubt) where his preferences lie.
He could have been talking about pretty much any big budget Bollywood masala flick, at least up to mid 2000s.
- May 27, 2010 9:24 PM // Bollywood , Film , Review
Band On The Rack
Recently, I came across Life In A .. Metro, a nice enough paean to the joys and sorrows of living in a big, soulless city - in this case, Mumbai. No bring-the-action-to-a-standstill dance tamasha here, the film being part of the wave of what I call multiplex films. Instead, the director asked a rock band to take one for the team, inserting them into the film periodically to underscore poignant moments. They look like they really suffered for their art. If you examine the frames closely, a subtext emerges. Here we go.
We first meet the band during the opening sequences and look! They are drenched already. They don't look very happy right from the beginning.
Can you feel the pain? You know he can. Also, I presume PortaPotties were scant at the shoot.
Now the director has put them on a windy rooftop. Without any railings. The poor lead singer looks close to being swept away.
Next, we see them in train station, trying to hold on against an oncoming crush of commuters. This is tough to watch.
And another round of indiginity. Performing next to a construction site and ladders? Can you say bad luck?
As if that wasn't enough, look at the poor band's mode of transportation! Rickety motor bikes rushing at top speed. My, my. That doesn't look very safe at all. Whatever happened to tour buses?
After all of this, can you blame the rest of the cast for being sympathetic? Some start to feel the pain for themselves.
Having had enough, the band tries to make a quiet getaway. Inasmuch as the harmonica playing will allow...
Caught! And punished! Poor band now has to play sitting in the bay.
Finally, the director dumps the band back in the station where they have to perform just to pick up enough loose change for their fare. Shame!

There really should have been a disclaimer "No Bands Were Harmed During The Making Of This Film" but now we are left to wonder about their fate. Will the Poor Little Brave Band That Could make it back home safely? Will there be a sequel to their story? Kudos, brave band, kudos.

- May 2, 2010 10:58 AM // Bollywood , Humour , Music
Buddha Casting Call
From the author of this posting on Deadline Hollywood:
"dunno. I'm sure these projects sound great on the celebrity Buddhist circuit, when you're saying "namaste" to Richard Gere or Uma Thurman, but I just don't know how much appeal they have in Des Moines."
What do you think? While Buddha won't play like Passion of the Christ in Des Moines, isn't it still worthwhile to get these kinds of projects off the ground and into the western media mainstream?
Here's the link.
Biraj Lala - April 22, 2010 8:24 AM // Bollywood , Diaspora , DishumDishum , Film , India
Loins Of Punjab Presents
Manish Acharya's debut film is finally out on DVD in the USA and not a moment too soon. I remember it taking the 2007 Third I San Francisco South Asian Film Fest by storm. I recall hearing the audience not letting him go until he had obliged them with a vocal rendition of a song in the film (Manish appears in the film himself in a small role). I remember being introduced to Manish at the reception over there and coming away impressed by the two minutes we spent together (for the record, we were also both featured in a Sandip Roy article, interestingly enough). I also remember apologizing for not being able to see the film myself - Virj was due to be born in three days. Last night, with the fruit of our labors knocked out after a day's worth of mall mayhem, we finally had a chance to sit down and view Loins in all its digital glory. So, how was it?
Loins of Punjab Presents is a sweet, mostly gentle film with many moments of laugh out loud hilarity that nonetheless conceals great craftsmanship. There are no deaths in the course of this film. No change-the-game plot twists. Characters don't stumble into massive insights. Relationships mostly remain intact. About halfway through, someone (it turns out to be co-writer Anubhav Pal in a bit role) actually gives away the ending. It doesn't make a whit of difference. The fun here is the ride, not the destination.
The setup is simple enough - over a weekend in New Jersey, a number of contestants gather for a "Desi Idol" type contest complete with auditions, judges, audience selections and a $25000 first prize. Of the contestants, we have your garden variety honors student Preeti Patel (Ishitta Sharma) and her driven Patel clan, scheming socialite Rrita Kapoor (Shabana Azmi), aspiring Bollywood actress Sania Rahman (Seema Rahmani) sadly hampered by not knowing a line of Hindi, an original Sikh OG, Turbanotorious BDG (Ajay Naidu), a white-on-the-outside-brown-on-the-inside fellow (Michael Raimondi) and his supportive desi girlfriend (Ayesha Dharkar) and the director himself as a suddenly unemployed financial analyst Vikram Tejwani, a fellow living in the land of logs and probabilities. Shepherding the proceedings are the Loins of Punjab representative Mr. White (Kunal Roy Kapoor) and event organizer Mr. Bokhade (Jameel Khan). This is not counting the numerous other contestants, bit parts, MCs, irate hotel managers, judges (of which, musician Trance Sen played by Samrat Chakraborti and fashionista Chris G, played by Sanijv Jhaveri, are standouts), wise cracking bystanders and audience members that pepper the proceedings. My knees buckle when I think of the sheer number of speaking parts and the shooting challenges - the exterior shots were filmed in NYC but the bulk of the interiors, set in a New Jersey hotel, were shot on specially constructed sets in Mumbai's Film City. The latter was ostensibly for cost savings, yet, as Manish acknowledges in the commentary, shooting for the USA in India posed its own set of difficulties such as finding appropriate light switches, and caused the film to actually come in over budget. As a first time feature director and producer, Manish certainly did not make things easy for himself!
As you can imagine, with the huge cast of characters it would have been very easy to reduce each to cliched stereotypes. That everyone has their moments in the spotlight is a tribute to the strength of the script and the actors. Once again, it was enlightening to hear in the commentaries that Manish genuinely feels casting is 50% of directing and the pre-production involved a grueling series of auditions. It works. Not a bum note in the entire lot and, as I mentioned before, many, many bright moments. Consider the opening monologue from Mr. White who strolls into view holding a cup of coffee:
Mr PK Singhal. He came into this country with nothing. Zero. And then ... he got into loins.
Pork loins.
In 1960, Mr Singhal started a wholesale meat company, "Loins Of Punjab." Today, we are the largest supplier of pork loins on the East Coast. In the biz, he was known as ... "The Loin King."
Loins of Punjab are proud to present "Desi Idol."

He then takes a sip from his coffee cup, revealing the bottom of the cup shaped as a pig snout.
Puns, visual humor, deadpan delivery and the American Dream. Left unsaid is the subversion of the general imagery of Punjabis as the lions of India into a generally lubricious lot, something illustrated with great gusto by Mr. Bokade throughout the film:

All of this achieved by a brilliant title that appears to be a typo but is far more.
Similarly, the Patel clan could have easily degenerated into a mess of badly accented, kanjoos (stingy) cliches. Consider the haggling at a strip club: "$20 for topless? I'll give you $10, show me one breast." Here though, it works since their primary motivation is a sweet one. They are helping a family member win.

Finally, Turbanotorious BDG - the film is careful to show that beneath the bluster, there lies a deeply vulnerable man. It doesn't hurt that Ajay Naidu is an accomplished rapper and B-Boy. Consequently, not only is the dancing excellent, but his lyrics actually makes sense. "The Goonda Philosophy" indeed!
All in all, well worth 88 minutes of your time. Can't wait for the followup.
- April 11, 2010 9:37 AM // Bollywood , Diaspora , Film
#IndianMoviesTaught - A Choice Collection
I can't do justice to them all but the meme #IndianMoviesTaught on twitter is a hoot and a half. I put together a quick collection. Had to leave creds out to make it more readable (but thanks to bhalomanush for staying on top of most of 'em). Enjoy!
#IndianMoviesTaught me that God listens to your prayers when u go to the mandir and yell at Him
#indianMoviesTaught me that the thing I am missing in my real life is the background score!
#indianmoviestaught that every christian guy is mostly named peter or michael and d dialogs suffixed with a "man"..tum kya karta hai man!
#IndianMoviesTaught me that ma ke haath ke gajjar ka halwa is the best!!
#IndianMoviesTaught that if you are a famous south Indian hero, you will become the CM of your state soon.
#indianmoviestaught me that I should address my husband by saying "Aji Sunte Ho?"
#IndianMoviesTaught me that the Indian villain is always the host & chairperson of the International Gangster Meet
#IndianMoviesTaught me that putting a fake mole on ur cheek leaves u unrecognisable & is an efficient way of disguise...
#IndianMoviesTaught that everything can be blamed on daru consumption (liquor) http://bit.ly/99rfx7
#IndianMoviesTaught The bomb won't explode even if you cut ANY one of the wires (blue / red).
#IndianMoviesTaught me that if you say a sentence in english, it has to repeated in hindi immediately after
#indianmoviestaught when judge gives a wrong decision against hero, the scales in the hand of blindfold statue go down one side
#IndianMoviesTaught mere paas maaaaaaaa hai ...
#IndianMoviesTaught me that when a bee pollinates a flower, a human child is born.
#indianmoviestaught me that a Harward MBA writes his diary in Hindi
#IndianMoviesTaught me ladies much prefer throat nuzzling to kissing.
#indianmoviestaught that kanoon ke haath bahut lambe hote hain
- March 31, 2010 1:10 PM // Bollywood , Diaspora
"My Name Is Khan" US BO
is strong. From Variety:
At the specialty B.O., Fox Searchlight's Bollywood offering "My Name is Khan" scored the frame's highest per-screen average with $15,500, earning a total $1.9 million at 120 locations. "Khan" ranks as the biggest opening of a Bollywood film in the U.S.
The irony here is that a Bollywood film, opening on Valentine's Day in the USA, isn't actually only about love, pyaar or mohabbat. Rather, it's also about
a Muslim (Khan) who travels around the U.S. inspiring people.
Said character is said to suffer from Asperger's. But I am sure there's no resemblance to Forrest Gump anywhere.
Interestingly enough, of the recent Bollywood films to achieve major releases (via distribution deals with Fox Searchlight, amongst others), Chandni Chowk To China's total US gross is around $920K or so and Ghajini's would be a little under $2.5M. Looks like My Name Is Khan will do much better.

Update: A more recent tally for the weekend -
At the specialty B.O., Fox Searchlight saw big turnouts for its Oscar-nommed "Crazy Heart" with four-day estimates totaling $5 million at 1,005 locations. Distrib's "My Name is Khan" scored the highest opening for a Bollywood film in the U.S. with $2.3 million at 102 for a per-screen average of $18,958.
- February 14, 2010 9:01 PM // Bollywood
Godard In Gorakhpur
From the Times of India:
Bollywood, with its tiresome stream of brain-dead movies, might just need to watch out-world cinema via film festivals and clubs is creeping up in the unlikeliest of places, giving hitherto clueless audiences a few lessons in cinema literacy. Apart from Gorakhpur, there's Gaya, Bhilai, Yamunanagar, Jaipur, Surat and Adipur in Gujarat and many more small towns where audiences are responding to something more than the antics of Akshay Kumar and Salman Khan. Admittedly it's a small wave but cineastes see no reason why it shouldn't lead to bigger things.
Very cool. I remember hearing about Kolkata film clubs being very popular in the days before the Internet and DVD availability, but perhaps that was more due to the opportunity for discerning punters to get in their quota of skin as well as Antonioni. That may well be part of the reason here, but hey, as long as it opens the doors of perception wider, it's all gravy. Plus, there's an emphasis on local non masala fare too:
Joshi, who takes his festivals to different parts of north India, picks and chooses films to suit the place and the taste of the people there. His resistance cinema fest, for instance (which he prefers to call pro-people rather than anti-establishment), comprises films and documentaries that portray the plight of a particular area. "We screen Indian documentaries by directors like Anand Patwardhan and the cinema of film-makers like M S Sathyu and Girish Kasaravalli,'' he says. "We have foreign documentaries too, like we just showed a Brazilian documentary on land reforms. This year, we chose films with the theme Freedom From American Imperialism.'' Joshi says that Cinema Of Resistance is getting a tremendous response.

Sanjay Sahay, another cinema enthusiast, screens films for the people of Gaya from his enviable collection of DVDs, which are often borrowed by other film festival organisers. His festivals showcase the best of world cinema but there's also a special focus on films related to, and made in, Bihar. "We have a cultural centre where we conduct regular theatre and film workshops, he says. "At times, we have live performances as well. We want to generate interest in world cinema so that people are exposed to it and are able to understand, for instance, why Lagaan missed out and No Man's Land won the Oscar.
I found the following particularly heartwarming:
In Surat, a town that's as far removed from film culture as David Dhawan from Federico Fellini, a group of three youngsters has started a film festival. Says Rajarishi Smart, one of the organisers, "It was begun to expose the people of Surat to a certain film culture, as no international film is released here nor are the DVDs available. We booked a hall with a capacity of 250, unsure of how many people would turn up. But to our utter surprise, the entire hall was jam-packed and we had to send people back.''
I am actually wondering whether doing something like this for the SF Bay Area makes sense. While I am fairly sure the cinema savvy public in Palo Alto or Burlingame are sufficiently familiar with Tarkovsky, there's a whole bunch of smart, well made films starting to emerge from India and the diaspora that deserve to be seen. Local film festivals (such as the one organized by Third I) definitely highlight a great selection but it only occurs once a year and worthy multiplex films often miss out due to falling in between the extremes of Bollywood on one end and alternative films on the other. At any rate, it isn't hard to see why there might be thirst for more intelligent fare when crap like this passes for controversy:
If you thought that Vidya Balan has become "shameless in front of the camera", as she recently admitted in a TV interview, after hearing her bold dialogue in Paa and the expletives she has used in Ishqiya (as is evident in the promos), this one is for you.
ZOMG - bad language! Bring on the soap, forsooth!
- December 8, 2009 7:13 PM // Bollywood , Film
Electric Panties and Bollywood
Indulge me for a second if you will. Salon has an article on the phenomenon of edible underwear in Syria and before you get carried away by prurient thoughts, consider that the main consumers usually:
..tend to be mothers buying underwear for their soon-to-be-married daughters. "Most of them are religious and wear veils and long coats," says Abu Adnan, who sells lingerie a few stores further along. It's a tradition that a Syrian bride brings a whole suitcase full of underwear when she gets married, he explains, adding that the new popularity of sexy underwear has a practical application.
Nonetheless, further description of the inventory in the stores revealed some interesting kinks:
On Hayed's stand, respectable push-up bras sit next to exotic models. One bra consists of two bird nests, outfitted with miniature sparrows. Above that is a design where plastic roses conceal the wearer's charms. There is a whole collection of electronically enhanced panties in which a button is attached at strategically important places. When it is pushed, lights flash, or a hidden device plays Arabic love songs.
I couldn't help but think that if, instead of Arabic warbling, these, uh, devices played back stuff from Bollywood's rich catalog of mohabattein related music? Or if there was a desi version, perhaps inspired by the Pink Chaddi Brigade? What kind of tunes would be appropriate? Some were no-brainers, so as to speak. Consider:

Choli Ke Peeche roughly translated as "what's behind the choli?"
Purdah Hai Purdah - "Curtain oh curtain"
Ghagre Mein Dhoom Dham - "Lotsa happening behind the ghagra"


Others might be more straightforward expressions of pure joy, eg.:
Singh Is Kinng
Dil Chahta Hai - "What the heart wants"
Dhoom - "Excitement."


Send me more. Be happy to add them to the list.

- April 20, 2009 10:56 PM // Bollywood
Bollywood and Poverty
Look, I'd be the first person to say that poverty isn't a high priority subject matter in Bollywood but to say that Slumdog Millionaire is the first modern film to deal with it is stretching matters. That's why I have to take issue with this article by Sandip Roy entitled The New Bollywood:
The new Bollywood rarely looks at villages or slums, even though more than 800 million Indians live on less than 50 cents a day. Those stories don't sell in mega-mall India.

"After 15 years of hearing about 'India Shining,' 'Slumdog' brings it down to earth," says Vamsee Juluri, professor of media studies at the University of San Francisco. ("India Shining" was a political slogan reflecting India's new prosperity.) "Does that mean we'll see Bollywood films set in slums? I doubt it."
Three pukka Bollywood films from the past 20 years set in the slums that I can think off the top of my head:
Dayavan (1988): "After having witnessed his dad being killed by the local South Indian police, and being orphaned and homeless, Shakti Velhu develops a hate, and distrust of the police in India. He is befriended by another homeless boy named Shanker, who asks him to accompany him to Bombay's slumlands, where they live with a kind-hearted Muslim named Karim Baba, and his daughter, Shama. This is where Shakti and Shankar spend their childhood. When they mature, they take to petty crime. Here too, Shakti witnesses police brutality and atrocities, especially at the hands of sadistic, alcoholic, and womanizing Police Inspector Ratan Singh."

Parinda (1989): "Kishen (Jackie Shroff) and Karan (Anil Kapoor) are two brothers who grow up in the slums of Mumbai. At an early age Kishen decides to provide a better life for himself and Karan. He thus joins the Indian underworld. He also sends Karan abroad so that he can lead a better life.

Years pass by and Kishen (Jackie Shroff) is now the a henchman of for the criminal Anna (Nana Patekar). Karan (Anil Kapoor) returns and meets his chilhood friend Prakash (Anupam Kher) who is now a honest police officer. As they meet, however, Prakash is killed by Anna's gang in front of Karan. At that time, Karan comes to know of the involvement of his brother in the murder."

Satya (1998): "Mumbai is in the midst of a turf war between many gangs, collectively referred to as the Mumbai underworld. In these circumstances, Satya (J.D Chakravarthy), a man without a past, comes to the city in search of a job. He finds accommodation in a cow-shed and employment as a waiter at the local dance bar. While working, he gets involved in a scuffle with a local goon Jagga (Jeeva), bag man for dreaded don Guru Narayan. Jagga takes his revenge by getting Satya arrested on false charges of pimping."




There's more here. To quote:
Black Friday (2004). This film, by young director Anurag Kashyap depicts the March 1993 bomb blasts that tore apart Bombay (as Mumbai used to be called). It was based on a book by journalist S. Hussain Zaidi and filmed in an edgy, realistic style. A famous sequence from the film, a 12-minute police chase through the crowded Dharavi slum, is mimicked by Danny Boyle in the opening scene of Slumdog Millionaire, where truant slum-kids take the place of Black Friday's militants.

Satya (1998) a.k.a The Truth. This film was also cited by Boyle as an inspiration, as was The Company (2002). Both offer slick, often mesmerizing portrayals of the Mumbai underworld. Both films were directed by Ram Gopal Varma, a director with a fine taste for brutality and urban violence. The screenplay for Satya was co-written by Saurabh Shukla (who plays a policeman named Srinivas in Slumdog Millionaire) and Anurag Kashyap, who directed Black Friday; with its intense rhythm and captivating performances, Satya instantly became a contemporary classic in India.

Deewaar (1975) a.ka. The Wall. Boyle describes this melodramatic film as being "absolutely key to Indian cinema." He could be talking about scores of Bollywood films. Based in Bombay, the hit crime film pits a policeman against his brother, a gang leader based on real-life smuggler Haji Mastan. The actor who played the gangster, was Amitabh Bachchan (who, incidentally, was the original host of the Indian version of Who Wants to Be a Millionaire? As a kid, Jamal, the protagonist in Slumdog Millionaire,wades through fecal waste just to get Bachchan's autograph.

Parinda (1989) a.k.a. The Bird. Another hugely popular thriller about two very different brothers, this time a Bombay gangster and an educated idealist. Film critics gush over the "low-angle tracking shots and swiftly changing volumes in the image" in this film by Vidhu Vinod Chopra. The actor playing the straight-and-narrow brother, Anil Kapoor, now nearly two decades later, plays the creepy, condescending game-show host in Slumdog Millionaire.

Yes, by and large, Bollywood continues to avoid poverty as a subject matter but in addition to the films mentioned above, there have been films in the past decade or so that don't shy away from the topic. While they are not necessarily situated in slums per se, they do deal with related issues. Consider Chandni Bar (2002) , a film about Bombay bar girls or 3 Deewarain (2003) set in a vicious Mumbai prison or Aamir (2008) , a tremendous little man-on-the-run thriller, set in the Muslim dominated streets, the bylanes and poor living conditions of people living in residential pockets of old Bombay.

- February 22, 2009 8:38 PM // Bollywood
Copywood Part II
Raja Sen writes about Ghajini:
For director AR Murugadoss [Images] doesn't take that 'story' credit lightly: He's taken the Memento plot, set its non-linearity into chronological order, taken out the actual investigative intrigue and replaced it with a series of convenient coincidences and -- this one's the clincher -- added a full-blown backstory about how the hero met and fell in love with the murder victim, complete with a bunch of songs. It's hard work making good masala, for God's sake.
Why, that's inspiring! I have another idea just like it: a man meets a woman. They have some very steamy encounters. The woman happens to be married. The woman persuades the man to kill her wealthy husband. They arrange to escape together after the fact. Only, you see, the woman has been leading the man on all along. She gets away and the man gets all the blame. That sounds like a good film, right? Why, it could even be set in Florida? But wait! Why not move the setting to Pondicherry? While you're at it, make sure the leads keep their clothes firmly on throughout the film. But, insert many songs of lust and longing to compensate. And oh yeah, make sure the woman doesn't get away with it. She must die in the end along with the hapless man.
You say it's been done already? Darn!
- December 27, 2008 4:43 PM // Bollywood
Dubble Talk
Make no mistake, Radio Retaliation
have built themselves a justified rep as one of the leading purveyors of sonic bliss-outs and their headlining of the Sea Of Dreams New Years Eve event at the San Francisco concourse is utterly deserved. I, however, have to take issue with this paragraph in their recent Chronicle writeup where:
...the group has a fresh way of working dub into its mix. For instance, Garza notes that on old Bollywood soundtracks, "you kind of feel it's missing that low bass." On "Mandala," a track from the new album, Thievery Corporation rectifies that omission with help from sitar master Anoushka Shankar.
First of all, mixing dub and old Bollywood sountracks is nothing new. Just think of Bally Sagoo's
1995 effort, Bollywood Flashback
. Consider his remake of Chura Liya from that album :
If you didn't hear any bass you played it on your tinny computer speakers. The subsonic notes on that track are so deep, they'll shake the floor when played over the right sound system. Additionally, just to make sure you get the dub connection, Mr. Sagoo ensures the prominent presence of dreadlocked gentlemen in the video.
Second, there's nothing really retro Bollywood about Mandala - if anything, it sounds more like something that Ananda Shankar, Ravi's nephew, would put out in his '70s glory days alongside his 'Jumping Jack Flash' remakes. Indian classical and Bollywood are not interchangeable.
Nice track though. I wonder if we can expect Anoushka to build upon this and provide the sitar'n'bass treatments to Fall Out Boy classics.
- December 20, 2008 5:24 PM // Bollywood , Music
Hollywood vs Bollywood
It's always fun to speculate how the two compare - at least in public consciousness, if not in global box office receipts. Consequently, the recent announcement of Google Insight for Search, provides a wonderful tool for tracking mindshare. By aggregating and presenting search data from over the years, Google has provided the best example yet of its ability to be our collective database of intentions. So then, what are the trends for searches, direct and related, for "Hollywood" vs "Bollywood"? Culling data from Google Insight (bollywood, hollywood, hollywood vs bollywood), we get the following data nuggets. First, an overall comparison of search volume since 2004:

Hollywood is clearly the dominant leader worldwide. However, if you look at the overall search trends plotted year by year, an interesting picture emerges (red for Bollywood, blue for Hollywood):

Search volume for Hollywood has essentially oscillated in a single band - there's no discernible trend upwards. However, Bollywood related searches, while less than half the Hollywood volume, seem to be growing. Perhaps this could be due to the increased connectivity in the subcontinent. As more people come online, their preferences correspondingly skew the search volume.
More data: here's the regional breakdown of search volume. First, Bollywood:
Not too many surprises here: the searches tend to be clustered in the subcontinent, as you'd expect. However, there's interest in Europe, Canada, Australia and USA. Brazil from South America caught me by surprise, however.
Here's the regional breakdown for Hollywood:
More coverage on the map, obviously. However, I wasn't prepared for the extensive degree of interest emanating from the subcontinent. Actually, if you list the countries in order of interest, a startling picture emerges. First, Bollywood:
I was not prepared for Pakistan and Fiji heading the list above India. Clearly, Google's measure of interest is not by search volume only, rather it's normalized by population. Still, it's odd to see India's subcontinental neighbor more obsessed by Bollywood than itself. India's remaining neighbors and Afganisthan form the remainder of the top ten. Tanzania's presence is rather a surprise too. Moving on, what's the countrywide breakdown for Hollywood?
I was stunned to see Pakistan head this list too followed by Nepal, India and Bangladesh. The US was fifth! I didn't realize the extent of entertainment obsession in the subcontinent, particularly Pakistan. No wonder Hollywood is so interested in making inroads into the subcontinental market. The phrase "get a life" comes to mind, but hey, I am tracking the compulsion, so where does that leave me? :-)
- August 7, 2008 10:27 PM // Bollywood , Technology
Aishwarya Rai PSA Poster
Amar Parikh e-mails:

So guys, I took the kid to the public library here in Nutley, NJ, last week. We were wandering aimlessly somewhere between Juvenile Biography and Children's Literature when I came upon this PSA from Ms. Rai. She must have some really good reps. She hasn't done much in this country and yet she's been on Oprah and Letterman, in Revlon commercials and now, presumably, in public libraries across America.

But the poster would mean nothing to an American kid. It probably has the same impact as a poster of, say, Gerard Depardieu in rural Bihar warning kids about the dangers of drinking water from mud puddles.
Note: Ms. Rai-Bachchan appears as part of the Celebrity READ campaign which places posters in libraries encouraging kids to read - an effort, that at first appearance, seems analogous to putting "Please Eat" signs in restaurants or "Definitely Shop" signs in malls. But they seem to work apparently and include such other noted persons of letters as Shaq, Kareem Abdul Jabbar, Colin Farrell and Bernie Mac.
- July 16, 2008 11:19 AM // Bollywood , Diaspora
Gulfisha (The Kaushik Remix)
Recently, The Guardian asked the question, Where Is The New Asian Wave?
Are young Asians simply not interested in making pop music? Or are there bands out there, just not being widely heard? This year's UK Asian Music Awards honoured people like Sukshinder Shinda and Hardkaur , who are hardly household names (their You Tube appearances suggest they make American-sounding hip-hop about "laydeez" and sound as Asian as I am), although Nitin Sawhney is rightly (if a little vaguely) honoured for "commitment to the scene". It's 16 years since I looked into this with anything like a magnifying glass, so I'm confessing to some naivety here, but I wonder what happened to Radical Sista, Pardesi Music Machine and all those other hopeful people I met back in 92. Where is the next generation?
A similar question could be asked for artists across the pond but that would be doing a disservice to great musicians like Kaushik Mukherjee who has been producing wonderful music in DC for the better part of this decade. A couple of qualities separate Kaushik from his contemporaries. The first is this: of all the UK/US based South Asian artists I've heard, Kaushik understands funk. There are any number of tracks by other groups/artists I've heard which feature much tablratronica and other percussive wizardry but are really jerkoff exercises for virtuosos, much like overlong guitar solos by progressive rock groups. But funk is as much a function of timing as anything else and Kaushik understands the distinction. The second feature of his music is the warmth. His music will draw you in, not batter you into submission. This is not to say his tracks aren't uptempo or uproarious. They are best described as an invitation to soak in a Sonoma hot tub on a yacht hurtling down Russian River.
His own tracks are wonderful in their own right but it is as a remixer that Kaushik excels. Just check out his version of AR Rahman's Gulfisha, a track from the forthcoming film Ada - A Way Of Life. Kaushik put together the mix following the availability of 30 seconds worth of raw vocals from a remix contest and his version blows away anything else on that contest site. Compared to some of the Casiotoned entries over there, his might as well be on another nebula. With Chemical Brothers like breakbeats and layers upon layers of electronica and warm echo-ey Bolly vocals, it's a revelation. In fact, without even hearing the original, I'd argue AR would have a tough time topping this version. Here's to you Mr. K, long may your turntables spin.
- June 23, 2008 7:23 PM // Bollywood , Music
Copywood Part I
Bollywood plagiarism or "inspirations" form a recurrent topic in the desi blogosphere. Try this, this or this as recent examples. Their ire is understandable for in this age of globalization, there is no place to hide. Filmi producers might think they are cutting corners by lifting entire plots and scene layouts from elsewhere but with plentiful online video, BitTorrent and relatively large overseas following of Bollywood, more and more members of the audience are already familiar with the source material. The whole practice is objectionable for several reasons:

The obvious: it cheats the original creators and content producers.
It deprives desi writers out of a living. Why would anyone want to pay a writer when source material is only a DVD away?
It deprives the audience. Imagine this: you've forked over your hard earned money to watch latest desi blockbuster X only to find you've seen it all before in Hollywood indie sleeper hit Y. To make matters worse, Y's themes and plots have been "Indianised" to the point where the femme fatale actually gets caught as opposed to ending up in a retired private island somewhere. After all, in Filmisthan, the baddies must always pay.
Small wonder, interest is growing in the lack of copyright enforcement in India as this recent report from National Public Radio, Bollywood's copycat film industry, illustrates:
Rajiv Masand: I also think that in the West, I don't think they realize to what extent the borrowing is happening. Increasingly you see entire screenplays literally unfolding exactly like the original film, and every now and then you'll see films that are just dialogues translated down to the last word.

Sometimes it's more than dialogue. Anjum Rajabali is a successful Mumbai screenwriter. He says he's been on sets where everything was copied directly from a video of a foreign film.

Anjum Rajabali: There was a video monitor, and the VHS was actually playing. The angles of the camera would be taken directly from that. The actors would actually watch, and say, "OK, this is how you want me to do it? Fine." Camera angles, lighting, properties...

...All copied. And film songs, of which there are several per Bollywood film, might not always be 100 percent original, either.

[MUSIC: "THOIA THOING"]

That's R. Kelly's tune "Thoia Thoing." I think that's how it's pronounced.

[MUSIC: "GELA GELA"]

...And that's a song called "Gela Gela," from the Bollywood film "Aitraaz."
Take a bow Adnan Sami/Himesh Reshammiya ("Aitraaz" music director/singer). Your music was piped into a whole lotta speakers in the USA just now. But not in the way you imagined it. So, what can be done about this?

Gagliano: Does anybody point this out in media or fans, anybody?

Karthik: They do, but nobody cares.

Except, well, you'd think the original artists would care. And according to Indian intellectual property lawyer Praveen Anand, intellectual property laws are very strong -- yet no Indian filmmakers have been taken to court.

Praveen Anand: There are lots of them which have copied concepts and a lot of detail -- clear infringements of Hollywood films. But somehow, Hollywood producers have not come forward to file cases and test the proposition.

Small wonder then desi bloggers are reduced to fantasizing about how best to punish perpetrators. In particular, consider this genius piece from greatbong where a particularly noxious fate awaits Sanjay Gupta, director of Zinda, a pretty gratuitous Oldboy ripoff:
But where is he now? A small room with one television set, a rack full of DVDs—it is obvious to him he has been kidnapped.

But by whom? He had given the overseas rights to Bhai, sought the "blessings" of the Balasaheb–in all discharged all the duties of a Mumbai director/producer. And yet why is he in this solitary room with just a TV set , DVDs and a plate of pao bhaji inserted through a hole in the door?

He breaks down. Pleading with his unknown captor to let him go. But noone replies to his anguished cries. He only gets regular meals of the same pau bhaji and nothing else. The TV tells him about the outside world—-and then there are the DVDs. Realizing he can do nothing else and besides he always made films based on DVDs, Sanjay Gupta starts watching these movies one by one. Putting the time to good use—he thinks.

Aaah what a treasure trove. He starts making copious mental notes of which movies to copy once he gets out, how to "Indianize" it and how to pass off each of them as his creations. But he knows not when he shall get out—if at all.

From time to time, a strange tune plays (he notes in his mind to copy that tune once he gets out), his room fills with noxious gas—the kind one smells after one too many bean burritos and he collapses. When he comes to, he finds he has been shaved, bathed and his DVDs replenished with new ones.

A year passes. And another. On the TV he sees all the movies he had plans of Indianizing being remade one by one by his one-time friends—Manjrekar, Ramgopal Verma and suchlike. All his babies being taken away from him in front of his own eyes and Sanjay Gupta powerless—confined in this hellhole. He breaks down, tries slashing his wrists with a extras DVD (the 2nd disc noone watches) but his evil captor wont even let him die.

In greatbong's fervid imagination, Gupta's tormentor ultimately turns to be Chan Wook Park, the director of OIdboy, taking revenge on the wholesale pilfering of his work. The whole thing is great. Check it out. As for real life, there is hope yet. From the NPR segment again:
Anjum Rajabali: There is no doubt it'll change. I mean, economics will ensure that it'll change. Hollywood studios have begun investing in Indian productions as of the last six to eight months, in a very big way. There's a big market -- we're talking about one billion captive eyeballs in India. Hollywood studios would like to cash in on that. Now, they might also want their own earlier successful films adapted. But if somebody else has already done it without paying them anything, they will stop that.
- March 20, 2008 10:33 PM // Bollywood
Shooting By Docuwallah
As a film, I found Shootout At Lokhandwala, to be rather meh. The only new thing it really does, at least by Bollywood standards, is weaving flashbacks into a present day narrative via having certain police officers recount the events leading up to the shooting in front of their superior. If anything, I found the title to be far more memorable than the film itself. However, it looks like there was a behind the scenes documentary that might actually be really interesting. Andrew O'Hehir lists his top discoveries of the recently concluded South By Southwest Film Festival and amongst them is:
"Shot in Bombay"

This fast-paced, immersive documentary from London-based American Liz Mermin (whose last film was the peculiar and compelling "Beauty Academy of Kabul") plunges you into the off-kilter chaos of Bollywood filmmaking, behind the scenes at an atrocious-looking action-adventure based on an infamous 1991 Mumbai shootout between cops and gangsters. The film's star, Sanjay Dutt -- a beloved Indian cinema icon run slightly to seed -- is himself under indictment on a weapons charge that's dragged through the courts for 13 years, and the crew spends more time with Dutt's double than with him in person. Mermin navigates between the film and the real-life crime story behind it, between Dutt's legal problems and his lengthy troubled-heartthrob career, with remarkable flexibility and sharp, dry humor. (Here's director Apoorva Lakhia, after every take, no matter how bad it is: "Cut! Mind-blowing! Let's move on!")
Mind blowing! I love it! Reminds me of John Cleese's clueless Scottish director from Monty Python's "Scott of the Antarctic" sketch:

- March 13, 2008 8:08 PM // Bollywood , Film
Benny Lava And Globalization
In this day and age of easy multimedia dissemination, there's no real place to hide. On the 25th anniversary of Michael Jackson's Thriller, I went hunting for evidence of its influence on desi dance and Bollywood on YouTube. If anything, I found the South Indian film industry to be far more overt in their "homage." But globalization is a two way street and one particularly egregious copy of Michael's moves, once intended for a regional Indian film audience, is now available for all and sundry. In fact it was a huge viral video hit. By now you must have seen it already but here goes anyway:
Now, here's the part about the two way street: after it gained in popularity, YouTube users began taking the video and adding their own twist. Like farts. Or splicing in the original Thriller video such that you can now see the desi version with Jackson warbling on the soundtrack juxtaposed against Michael dancing with the audio from the Tamil soundtrack. The latter actually works better, IMHO:
The best remix, however, was done by popular YouTube prankster, buffalax. He added subtitles, not intentionally bad translations a la Wayne's World, but vaguely phonetically accurate transliterations with hilarious results:
This was a big hit by itself, garnering over 2 million views. Interested, I dug into buffalax's back catalog. He's done Punjabi bhangra as well (Daler Mehndi's video for Tunak Tunak but his greatest hit was for a dance sequence from South Indian star Prabhu Deva. It's a scene from the movie Pennin Manathai Thottu. Entitled Crazy Indian Video .. Buffalaxed, this clip was a monster YouTube hit, garnering around 3.7 million impressions:
As you see in the opening credits, Buffalaxed has no idea about the context of the original video, nor does he care. His is a strictly phonetic deconstruction of the Tamil lyrics and it's brilliant. Blogger Pramodh writes:
Mike Sutton is a 24 year old dude from Ohio. His hobby is to find some foreign videos in YouTube and make up the lyrics just the way they might sound in English. The twist is that he makes the lyrics hilarious. And he calls himself Buffalax in YouTube. On August 18 2007 he relased a video and called it a "Crazy Indian Video Buffalaxed!" And in a few months its popularity in the internet went up so much that Urban Dictionary decided to add the term Benny Lava in their Lingo. So far it had 2+ Million views and still going strong.
Searching for views on Benny Lava, I found an interesting trend: bloggers (by and large non South Asian) and YouTube commentators found it to be hilarious. But some also noted their enjoyment of the actual dancing in the video itself. An interesting way of crossing over: come for the humor, stay for the moves. Pramodh adds:
Prabhu Deva the actor in the video is now known as Benny Lava all over the internet. Yesterday I was having a conversation with a friend who studies in Ohio. She said that some of the students performed the Benny Lava dance in her school.
This subtitling approach by buffalax has inspired others but by and large, it seems to be a one trick pony. Buffalax's recent efforts in other languages haven't really garnered anywhere near as many hits. Still, it's another example of the ebb and flow across cultural divides that a megabazaar like YouTube can produce.
- February 15, 2008 1:45 PM // Bollywood , Dance , Diaspora , Humour , India
As The World Turns
When we first came out with Bollywood and Globalization a couple of years ago, it was tough going to get any real interest on the web. Shari's advisors at SFSU really liked it, we knew it made for a great addition to her portfolio and it was a great conversation piece. However, connecting with like minded people proved to be really difficult. It was like spitting into the Grand Canyon. Fast forward three years and much has changed. India's increasing global presence has led to much more awareness and interest in Bollywood and by extension, anything related to it. We are fairly sure this is one of the reasons we've found Devi Brown much easier to promote thus far, knock on wood!
None of this should take away from Andrew Leonard's excellent Salon blog How The World Works. Over the past two years, Andrew has assiduously tracked various global trends including the subprime loan mess, the quest for renewable energy, the Indian diaspora and Bollywood's increasing global footprint. It is his evident fascination with the latter that convinced me to gather up the gumption to drop him a line. I primarily wanted to talk about "Devi Brown" but I also included a link to Bollywood and Globalization.
As luck would have it, a) he dug both and b) I happened to write to him on the eve of the two year anniversary of his blog. In his words:
But one of the glories of blogging is that information flows in multiple directions. I'm not just sitting here finding out stuff -- it's also out there finding me.

Yesterday's Obama posting encouraged Soam and Shari Acharya, a San Francisco-based duo of multimedia producers, to introduce themselves to me by e-mail. They wanted to let me know about their film short "Devi Brown," which they described as a trailer for a "nonexistent film" that answers the question of "what happens when blaxploitation meets Bollywood."

Anyone who has been reading this blog for the last two years will know that such questions smack right into the sweet spot of my preoccupations, along with the politics of microfinance, carbon offsets, home-brewed biodiesel, and collateralized debt obligations. But it gets better, because the e-mail also linked to Shari Acharya's nifty online multimedia presentation "Bollywood and Globalization" -- an interactive distillation of her San Francisco State University industrial arts master's thesis. In her thesis, Acharya explores how the opening up of India's economy to global trade in the 1990s both challenged, and ultimately revitalized, Bollywood.

I can't wait to see "Devi Brown." I also have a rapidly expanding list of must-see Indian movies. I feel ... better informed.

Thanks a lot for the vote of confidence and for making us part of your two year anniversary celebration, Andrew!
- December 9, 2007 12:20 AM // Bollywood , Devi Brown
Press For Devi Brown
Sandip Roy writes about the new Bollywood (The New Bollywood: Slick, Sophisticated and High-Tech) in New American Media and we're in it! Go read the article, it's good. Not because we're in it mind you but because it's a succinct summary of the current state of affairs in filmiland. First, some excerpts to set the context:
"The films are definitely far more slick and technically really smooth," says Ivan Jaigirdar, artistic director of 3rd I, whose annual festival of South Asian cinema opens today in San Francisco. A festival that showcases "independent South Asian cinema" might once have turned its nose up at Bollywood's crass commercialism. But no longer. "Bollywood is definitely part of the language of cinema coming out of South Asia," says Jaigirdar.
And
Globalization has been good for Bollywood," says India-West's Tsering.

It's opened up a whole new market in the diaspora. It's also opened up the industry to a new pool of talent. Indians, like Manish Acharya, who went to film school in the United States, are returning to India with new ideas and tech savvy.
That's a good thing. In addition to there being more Acharyas in the industry (sadly, Manish is no relation - although I am certain if we spoke at greater length, somewhere some connection might emerge, particularly if he goes on to attain Shyamalan levels of success :-), the influx of talent from abroad and the emergence of multi screen film complexes has allowed the proliferation of multiplex films, something I've talked about before.
However, there are consequences. In addition to increased audience fragmentation,
"Rural India has fallen off the map," says Shyam Benegal, probably India's most famous art house director, who made a landmark rural quartet of films in the seventies. "When your revenues come from overseas or from the cities, it influences the kinds of films that are being made."
Finally, there are issues such as external audience perception and others that crop up regularly in dishumdishum entries. This is where we come in:
But the bigger issue is Bollywood's image. "Even the term Bollywood implies it's a copy of something," says filmmaker Soam Acharya. Bollywood's image in the West is still all about camp and kitsch. Soam gave up on Bollywood years ago until his wife Shari reintroduced him to the films as a condition of their marriage.

Now their short film, Devi Brown, a blaxploitation-style twist on Bollywood action films of the seventies, plays with everything that he once hated about the industry. Stripping the macho hero out of the plot and overdubbing it, the Acharyas created Devi Brown, kickass heroine out to avenge the loss of both her honor and "her famous egg biryani recipe." At four minutes, Soam says Devi Brown is "the deconstructed Cliff notes version" of a Bollywood film that has mayhem, romance and everything else. But more importantly, it's been a way for a new generation to come home to an old faithful.

To be mentioned in the same column as Shyam Benegal and other industry heavyweights? We're still pinching ourselves.
- November 18, 2007 9:49 AM // Bollywood , Devi Brown , Diaspora , Film
Foreign Films In India: 2007
"Arr mateys, prepare to be boarded!". Hollywood is having a banner year in India for 2007. Variety reports:
Boosted by other hits including "Spider-Man 3" and "Pirates of the Caribbean: At World's End," Hollywood's market share is tracking at around 8%-10% this year. That's whammo in a country with an all-powerful tradition of watching Bollywood and other local-language movies. And it compares well with a short while back when 3%-4% for Hollywood would have been considered good.
And why?
What's making the difference is India's hurtle toward economic modernity and the willingness of distribs to mix it up and experiment with such things as multiple-language dubbed versions.

The multiplexing of India is making more screens available, and an increasingly world-wise Indian population doesn't want to wait for entertainment that is available elsewhere.

As five or six screeners replace single theaters, there is much more choice for cinemagoers and room for programming diversity.
I wrote about relatively low budget desi multiplex films benefiting from this trend but it looks like Hollywood is starting to make inroads as well. And they're not the only beneficiaries:
Korean record-breaker "The Host" grossed a solid Rupees8.39 million ($208,000) in its maiden week in Indian cinemas.

Release, thought to be a first for a Korean movie in India, was handled by indie Indo-Overseas Films.
Interestingly enough, I wonder if the low budget horror films by Ram Gopal Verma ("Bhoot", "Darna Mana Hai") intended for multiplexes actually opened up the audience to fare of this type. In any case, competition is good for the consumer - the resulting pressure will hopefully force Bollywood to raise their own game.
- August 11, 2007 10:33 PM // Bollywood , Film , India
Announcing ... Devi Brown!
Wondering what
Gunga Din
Aziz Ahmed
P. Godbole
Apu Nahasapeemapetition
Hrundi V. Bakshi
Ramu Gupta
Samir Nagheenanajar
Ben Jabituya
have in common? Hint: it's nothing to do with Devi Brown, our new masala mashup tribute to the deshploitation genre, an intersection of blaxploitation and Bollywood. Coming soon ...
- July 22, 2007 10:32 PM // Bollywood , Devi Brown
Three Films: Fanaa, Guru and Nishabd
Whereas New Zealanders might be the world's most enthusiastic cinema-goers, writes the Economist, it is the Indians who made the most visits to the movies in 2005 - 1.6 billion. At 1.5 per person, that makes for a skimpy per-capita average, but hey, it must be the quantity that counts, not the quality, right? Maybe. As for the films themselves, I finally got a chance to catch up with three of Bollywood's more recent releases. Here goes.
Fanaa is pure old school masala served up a in spanking new thali. This is a typical Yash Raj production where characters spend hours exchanging Urdu couplets and extolling the glory of Pyaar (Love) with a capital P. In Yashland, parents are always madly in love with each other, every smile is intended on moving factory loads of Pepsodent, security guards are called Jolly Good Singh and house roofs are color coordinated to match the dupattas worn by their inhabitants. Plotwise, all you need to know is that Aamir Khan plays a Kashmiri terrorist who, while masquerading as a Delhi guide, falls for the innocent blind Kajol. Three hours of moping, sermonizing and mewling later, Kajol must make a terrible decision. I am not saying the film is without its bright points, chiefly the stunning cinematography and exceptionally high production values, but diabetics be warned for your condition is likely to worsen with the sugar shock.
I won't deny it - I had high hopes for Nishabd, a Ram Gopal Verma quickie where he tries to continue the rehabilitation of Amitabh Bachchan the actor. Sadly, Ramu's take on a robbing the cradle type tale whereby sixty year old photographer falls for eighteen year old girl is no Lolita, Venus or American Beauty. Though the acting overall is top notch, what could have been a provocative work is scuttled by the stylistic choices. Too often the camera swoops and soars and the music crescendoes to climaxes that aren't actually there in the scene itself. Both the music score and camerawork belong in a horror movie, not a mood piece like this. It's overkill for so slight a plot, reminiscent of playing ping pong with a cast iron saucepan. Though the creative team deserves hosannaas for sticking to their guns and producing a flab free film with a desolate ending that doesn't feel like a copout, I am still hoping Ram Gopal Verma can return to form with his next one.
The last effort of Mani Ratnam I saw, Yuva, fell below his usual standards. An attempt to follow the lives of three separate couples in Kolkata, Yuva was too bogged down by the weight of its ambition. Abhishek was a standout there though and, wisely, Mani Ratnam makes him the titular character in his latest, Guru. Abhishek does not disappoint - his performance is the best thing about Guru, one of the biggest hits in India this year. In my mind, it marks his coming of age as an actor. Guru relates the saga of Gurukant Desai from his days as a village school dropout to a textile tycoon. A thinly veiled re-telling of the story of Dhirubhai Ambani and his Reliance conglomerate, it's easy to understand why the struggles of Guru to grow his business despite crushing government bureaucracy really resonated with the Indian audience. Mithun Chakraborthy has a nice turn as a newspaper owner who gives Guru his first big break but turns against him. Their fallout and subsequent bizarre relationship forms the emotional core of Guru. Certain scenes involving peripheral characters seem out of place, but overall it's worth watching if only to see the son step out of his father's shadow for good.

- June 17, 2007 8:53 PM // Bollywood , Film , Review
Main, Mere Patni Aur Woh
The growth of multiplexes across India has had, in addition to making cinema-going a more comfortable and upscale experience, one other unexpected benefit: the rise of the so-called "multiplex films." The idea is simple enough: with punters visiting cinema halls more often, why not offer smaller films in the same multiplex? Slickly shot and edited, these efforts often are leaner and riskier in scope than their masala laden gasbag wannabe-blockbuster counterparts, yet would not exist without their tentpole effect. Khosla Ka Ghosla (Khosla's Nest) is an excellent example of this phenomenon as is Main, Mere Patni Aur Woh (Me, My Wife and Him). The latter deals with the life of one vertically challenged librarian (played by Raghubir Yadav) in Lucknow who, when finally persuaded to get married, finds his to-be wife (Rituparna Sengupta) to be jaw dropping beautiful. Being from the "I wouldn't belong to any club that would have me as a member" school, he naturally finds his own self worth taking a beating as his new wife starts attracting attention from his best friend. And then, an old friend of his wife unexpectedly arrives. Hilarity ensues? Tragedy? Dark comedy? Jealous short husband finds crazy way of disposing off wife's former fling! Husband must fend off attentions of unwanted suitors! Unfortunately, much of what happens next is of the tempest-in-a-teapot variety. Damn shame as the whole thing had potential. The buildup and the portrayal of the mind of the to-be married man was really well done.
On the other hand, I did enjoy the production values and, in particular, the non-assuming setting of the film. No frolicking in the Alps here, all the action takes place in middle India, in relatively small cities like Lucknow. From a graphic design standpoint, I have to commend the DVD layout as well. We are all well familiar with the FBI warning when we pop in a disc into our player, but have we seen it quite in this design?

Threats of imprisonment and/or fines have rarely been cuter. That exercise book margin motif is extended to the main DVD menus as well:

And finally, the sheer number of subtitle languages on offer in the DVD blew me away. Take a look:

Fifteen languages! Just for the hell of it, I had the Bengali subtitles on throughout and it was accurate. Anyone out there ready to test Portuguese or Malay?
- April 22, 2007 11:52 AM // Bollywood , Review
Netflix, "Watch Now" and Bollywood
Netflix made waves last month by launching "Watch Now", their snazzy Video On Demand feature. The New York Times reports
Netflix-by-Internet, in other words, is deliciously immediate, incredibly economical and, because it introduces movie surfing, impressively convention-shattering.

It will not, however, change the way most people watch movies in the short term, for many reasons.

First, it works only on Windows PCs at the moment; a Macintosh version is in the works.

Second, only 1,000 movies and TV shows are on the Play list. There's lots of good, brand-name stuff here -- ''Zoolander,'' ''Chinatown,'' ''Jaws,'' ''Sleepless in Seattle,'' ''Twister'' and so on -- but Netflix's lawyers and movie-studio negotiators have a long way to go before the number of movies online equals the number of DVDs available from Netflix (70,000). Still, the company says that at least 5,000 movies will be on the list by year's end. So far, the sole holdout among major movie studios is Disney, perhaps because of its partnership with Apple's movie service.
Netflix is rolling out the service over several months, so not all subscribers can access it the first time around. For those wishing to jump the queue, however, Hacking Netflix describes a possible workaround. It worked for me and I was able to check out the service. First, kudos to Netflix for an impressive start and a very cool online viewing model - I've now upped my subscription level to five discs out at a time. Next, Netflix wasn't kidding when they said the number of online titles are limited. I actually counted them last weekend (my list of all the "Watch Now" titles are here) and it came to around 750. This includes such classics as Mulva 2: Kill Teen Ape! and Bad Movie Police Case #2: Chickboxer. Okay, okay, I'm kidding! As NYT points out, there is good stuff (and many documentaries and old Doctor Who episodes) in there. The good news is Netflix is continually adding new titles. Consequently, this week I see new items such as Round Midnight that I didn't find last week. I was surprised, however, by the Asian fare on offer. Here are the Indian related films I could find on the "Watch Now" list:

Aadmi Sadak Ka (1977)
Aamne Saamne (1967)
Aas (1953)
Abhimaan (2000)
Barsaat Ki Raat (1960)
Basant (1960)
Baton Baton Mein (1979)
Bhagam Bhag (2006)
Bollywood / Hollywood (2002)
Charno Ki Saugandh (1988)
Charulata (1964)
Chhalia (1960)
Chhote Nawab (1961)
China Town (1962)
Chirag Kahan Roshni Kahan (1959)
Dayar-E-Madina (2006)
Dharkan (1972)
Door Ki Awaz (1964)
Dus Lakh (1966)
Ek Mahal Ho Sapno Ka (1975)
Ek Phool Do Mali (1969)
Ek Ruka Hua Faisla (1986)
Ek Saal (1957)
Ghar Ek Mandir (1984)
Ghar Ghar Ki Kahani (1970)
Howrah Bridge (1958)
Immaan Dharam (1977)
Inaam Dus Hazaar (1987)
Jaali Note (1960)
Jai Santoshi Maa (1975)
Joi Baba Felunath (1978)
Kapurush (1965)
Kitaab (1977)
Lakhon Ki Baat (1984)
Lakhtar Ni Ladi Ne Vilayat No Var (2006)
Maa-Baap (2006)
Madhubala Song Compilation (2006)
Madine Ki Galian (2006)
Mahal (1949)
Mahapurush (1965)
Mamta (1966)
Meharbaan (1993)
Nanha Farishta (1969)
Nayak (1966)
New Delhi (1956)
Night in London (1967)
Prem Geet (1981)
Pyaar Ka Saagar (1961)
Pyar Mohabbat (1966)
Ram Aur Shyam (1967)
Rishta Kagaz Ka (1983)
Sara Akash (1969)
Saraswati Chandra (1968)
Swarg Narak (1978)
Swarg Se Sundar (1986)
Swayamwar (1980)
Thodisi Bewafaii (1980)
Us-Paar (1974)
Vachan (2006)
Zahreelay (1990)

That's about 61 titles out of 750, or about 8%. Not too shabby, particularly as the number of non-desi Asian titles on offer are minimal. As a matter of fact, I only counted Ghost In The Shell and Ninja Scroll but there could be more by now. On the other hand, I was pleasantly surprised by the Satyajit Ray films available online (Nayak, Kapurush, Mahapurush, Joi Baba Felunath, Charulata). The print on these will, hopefully, be better than the scratchy VCD transfers.
Look at the Bollywood titles, however, and a pattern starts to emerge. There are some real oldies here. Don't be fooled by the release dates on some of the titles - those aren't correct. In fact, there's nothing here from the past ten to fifteen years. Other than Abhimaan and the Satyajit Ray films I didn't see very many of what you would call classics either. In fact, it's mostly filler.
I'm sure a lot of this is due to the difficulties in obtaining broadband rights from the distributors. However, as I noted earlier, desis tend to be tech savvy in these things (just check out some the desi torrrent sites if you don't believe me) and, in fact, were early Netflix adopters. "Watch Now" can be a real trendsetter here too. If I was a desi grocer depending on renting out Bollywood titles for a lot of ancillary income, I wouldn't be worried just yet. But that could change soon if Netflix play their cards right.
- February 10, 2007 7:56 PM // Bollywood , Diaspora , Film , Technology
Brown Power or Kung Fu? - Hollywood Tries To Pick
Variety writes about the ongoing debate in Hollywood regarding where to invest next. India or China?
Nearly a decade ago, Sony opened a Chinese-language production office in Hong Kong. But the unit has had trouble finding success on the scale of "Crouching Tiger, Hidden Dragon." In fact, it hasn't made a movie in the past two years.

By contrast, India has proven bountiful for Sony Entertainment Television, which has become an established TV player in the country and is now expanding from movie buyer into local production.
Kaiju Shakedown elaborates more on the difficulties facing Hollywood in China:
China is the world's biggest movie market but with four times the population of the United States it only has 2,396 movie screens, one fifteenth of America's 38,000. Hollywood is eager to sell movies to what it views as an underserved market, but China only allows 20 foreign movies to be imported each year. Hollywood wants to increase the screen count by building multiplex chains across rural China, but China won't allow foreign companies to own more than 49% of cinemas outside of the seven major cities. Hollywood is desperate to stamp out piracy, but China's efforts to cooperate are sporadic at best. And so China is the beautiful, unattainable market that drives Hollywood crazy.

China does its best to flummox its suitor. Their State Administration of Radio, Film and Television is a massive Mao-era bureaucracy that operates like an eccentric uncle.

They recently baffled the world by banning all foreign movies that mix live action and animation, such as "Who Framed Roger Rabbit?" and "Space Jams". Then they ruffled feathers further by yanking "The Da Vinci Code" from theaters at the peak of its successful run, with no explanations given.
In addition to being more open, India offers a number of additional advantages. From Variety:
Due to a wave of multiplex construction, the theatrical market is expanding. That's allowing the first steps toward nationwide (rather than state by state) releasing.
The pay TV market may boom if mandatory set-top decoders allow subscription revenues to flow to rights owners, rather than mom-and-pop cable pirates. The country is expected to have five DTH satellite platforms by the end of 2007.
The development of an organized retail sector of chain stores and supermarkets is driving growth of home entertainment, even as it looks wobbly in the rest of the world.
With cell phone numbers growing at more than 5 million per month, mobile entertainment is delivering real gaming and music returns. Because TV penetration is low compared with other, more developed countries, including China, some analysts expect mobile ownership to even outstrip TV.
Other distribution channels like Madhouse and SeventyMM are also emerging. Both adopt the Netflix model with one crucial difference - DVDs are not delivered by mail (the public mail service is utterly unreliable) but via private courier services.
However, as Variety notes, all is not peachykeen in the Indian market. Roadblocks remain:
India's big drawback has been that the level of overall economic development is significantly behind China and its entertainment industry is largely isolated from the rest of the world. Local-language movies account for 95% of the box office, and the soundtracks of Bollywood dominate the music industry.

...

Indian regulators are just as capable of infuriating congloms. Barely a month had passed after a new policy was put in place for mandatory conditional access systems, or set-top boxes, in order to curb cable TV theft by mom-and-pop pirates. But then regulators decreed that pay channels should not be allowed to charge more than 1 rupee (2 cents) per month, in order that the poor also can afford their shows.

Appeals are ongoing, but the notion that either country will enact reforms for the benefit of foreign interests is somewhat ridiculous.

In the big picture, however, the Indian film industry still lags behind that of China in the global sweepstakes:
Although Bollywood is bigger in absolute terms, the Chinese industry has been more successful on a world scale.

"The Chinese films generally have had larger success outside of China than the Indian pictures have had outside of India," says Sony's Michael Lynton. "The market outside India is largely people who are part of the Indian diaspora."
True enough. That's why, while all the cine buffs keep track of Zhang Yimou's latest release (Curse of the Golden Flower), events like Dhoom 2 racking up close to a million bucks in the USA over Thanksgiving weekend while playing in just a handful of screens, continue to surprise. I'm not saying the film is any good mind you - but it just goes to show the power of the brown dollar (and rupee for that matter) cannot be underestimated.

- February 10, 2007 11:46 AM // Bollywood , Diaspora , Film , India , TV
Colbert vs Bollywood & Viacom vs GooTube
A couple of days back, I posted two clips where Stepher Colbert of The Colbert Report ran through a celebrity matchup between the Big B (Amithabh Bachchan) and King Khan (Shahrukh Khan). Now, as it happens, The Colbert Report happens to be a show on Comedy Central which is owned by Viacom . The clips in question were posted to YouTube.
Unless you're tuning in from Ulan Bator, you can see where this is going. On Friday, Viacom asked Google owned YouTube to remove a whole bunch of clips from their site. YouTube evidently has complied. Speedily actually. The clips I linked to are no longer available. If you click on them, that's what it says. The funny part is this: as of the time this post was written, you can still find the same clips on Google Video! Here goes:
and ...
Nice. I wonder how many of the other clips that YouTube have taking down can still be found on Google Video? I'm sure GooTube can claim they are complying with Viacom's request - after all, Viacom asked clips to be removed from YouTube, not Google Video. Still, Google owns both services, so it can't be that difficult to remove titles from the in-house one, can it? Perhaps it's just the principle of it - after all, Google's position is they are doing nothing wrong, so why should they delete anything unless they are specifically asked to? Or perhaps they just haven't gotten around to it yet.

- February 3, 2007 7:04 PM // Bollywood , Technology
Colbert and Bollywood
Here's the latest desi viral video sensation - Stephen Colbert weighs in on the ongoing feud between the Bib B and Shahrukh Khan (thanks Sheela for the tip!):
And, a couple of days later, he does it again, this time reversing his original decision. Major slaughtering of names aside, it's hilarious:
Oh, and if you really wanted to see Mr. Bachchan dance, then a clip from his younger days would seem more appropriate. Here's one from Don:
- January 29, 2007 1:16 PM // Bollywood
Bollywood On Demand - The Sequel
I wrote last year about Bollywood dishum dishum being available at a set top box near you if a) you were so inclined and b) lived in a select market such as the Bay Area. This was a pilot program launched by Comcast in conjunction with BODVOD, owned by [212]media, a NYC based company.
So, how is it doing? A recent press release from [212]Media provides the answer:
Our movies, mostly Bollywood, are available in over 11 million digital cable households and we've been seeing a major uptick in the number of transactions over the last 6 months.
Not too shabby, eh? That's a lot of masala down those cable pipes! Hopefully, the internet tubes won't get too clogged :-) And, there's more on the way:
After a recent trip to India, we've secured the latest content as well as the classic movies. This month, we're airing 'Rang De Basanti' and have 'Bluffmaster', 'Swades', 'Deewane Huye Paagal' and 'Krrish' all scheduled to air this Fall. The rise in interest for Hindi film has also convinced Cable Operators such as Time Warner to invest in the marketing of these movies through buying ads in print, television and the Web. You'll also notice the 'Bollywood' category on Time Warner's International Movies on Demand Channel (Channel 500) here in New York has more films available than any other category.

This is a turning point of sorts for us. Everyone already knows that Hindi movies are only shown in about 80 theaters across the country and people can't purchase DVDs at Barnes & Noble or Best Buy.

The point about availability is particularly important. Renting DVDs from my friendly local desi grocer is becoming less and less of an option - the film transfer is frequently horrendous and popular titles turn out to be too scratched for smooth playback. Netflix? Forget it - the wait is way too long and their inventory is still too limited. For a company who relied on Bollywood rentals in their early phases, that's a damn shame. In any case, there's a market opportunity here and [212]media (not to mention Time Warner and Comcast) seems well placed to capitalize.
- September 17, 2006 8:58 PM // Bollywood , Technology
Screenwriting For Dummies
In his memoir, Hollywood Animal, screenwriter and Tinseltown bete noire Joe Eszterhas, writer of such films as Basic Instinct and Flashdance, shares an anecdote about the Golden Age of Hollywood:
Charles MacArthur was a celebrated playwright/screenwriter who believed that studio executives were some of the dumbest people he'd ever met and didn't know anything about writing. So he decided to prove it.

At the gas station one day, he started chatting with the young Englishman who was filling up his tank. The young man lamented that he was only making $40 a week and Charles MacArthur asked him if he wanted to make $1000 a week. The young man said, "Whoever I have to kill, I will happily do it."

Charles MacArthur bought him a new tweed suit and a curved-stem pipe. He took him in to the studio head and introduced him as "Kenneth Woolcott, the well-known English novelist who is against doing any movie writing because he insists there's no room for creative talent in the movies."

The studio boss did everything he could to persuade Kenneth Woolcott, the well-known English novelist, to be a screenwriter at his studio. He finally offered him $1000 a week. The gas station attendant grudgingly accepted the offer.

The studio was so pleased with Woolcott's work that they kept him under contract at $1000 a week for a whole year. After which Kenneth Woolcott went back to pumping gas.
Later on in the book, Joe Eszterhas confirms our suspicions about LA - yes, everyone there has a script in development of some kind. Consequently, though he lived outside LA and flew in for his meetings, he stopped taking cabs, mainly due to desperate drivers who staked out the lobbies of the hotels where he was staying, waiting for an opportunity to ambush him with their masterworks.
Their Mumbai counterparts, on the other hand, are still apparently too busy terrorizing their passengers and hapless pedestrians with their kamikaze tactics to worry about plot points and story arcs - whatever Bollywood dreams they have are still confined to starring in films, not writing one. But that may change soon. As DNAIndia reports, desi screenwriters, that long neglected arm of Bollywood, are finally getting more than chai and buttertoast for their services, sometimes as much as 25 lakh rupees (that's $50K) a script!
Industry observers point out that till recently, anybody could have scripted a Bollywood "formula" film with its trademark twists and turns. The concept of a script did not exist in the industry for the longest time. So, there was no real need for writers, says trade analyst Amod Mehra.

The script, however, is changing in Bollywood and the storyboard is moving in a new direction.

Though, scriptwriters are yet to get the recognition they deserve, they are suddenly sought after. And new voices are being heard all the time. As producers churn out films for different, even niche audiences, the opportunities for scriptwriters are increasing.

"A screenplay is now being viewed as the most important tool to make money," says Monga. This spells good news for writers who are paid better now-anything between Rs1 lakh to Rs25 lakhs, say industry sources, depending on the budget of the movie.
Time to reach into the desk drawer and dust off that screenplay, methinks. If there's no screenplay, why, a foreign hit DVD will do nicely for "inspiration." And invest in a tweed jacket and hookah.
PS - Thanks to Amar Parikh, as always, for the tip.
- August 4, 2006 10:12 AM // Bollywood , Books , Film
Bald Dread
On a lighter note, more exploits from our favorite, pedal-to-the-metal, ultra Method Actor wannabe, perennial strivers for veracity - you guessed it - from our Bollywood star-sons! In today's episode, Vivek Oberoi admires Saif Ali Khan for ... shaving his head!
"I applaud Saif's commitment and belief. He actually shaved his head for the role. It is difficult to take that plunge."
What cojones! Will these studs stop at nothing to inject realism into their roles? This is madness. What will Saif do next? I mean, he went bald for this part. How do you top that?
Yul Brynner would be so proud.
PS - Hat tip as usual to Amar Parikh.
- July 15, 2006 10:53 AM // Bollywood
Anurag Kashyap
For a man with no released films, Anurag Kashyap may be the single most talked about director in Bollywood. The acclaimed writer of Satya which jump started the Bollywood underworld crime genre in the late '90s and Kaun, a daring three hour thriller with three actors, multiple twists and zero songs, has seen two of his own creations languish in limbo. His debut, Paanch, a dark tale of a dysfunctional rock band is stuck in censor hell. His followup, the excellent Black Friday, has been stayed by the Supreme Court of India. Anurag was in LA recently for the Indian Film Festival of LA where DesiTrain caught up with him. Some excerpts:
Before Paanch

There was desperation and frustration with Bollywood. Anurag wanted to make movies but no one was interested in a non-entity. His desperation to make movies and earn an income led to him making various compromises courtesy the producers and financers.

On his other projects

Among the recent releases, he has written "Water" and "Mixed Doubles."

Most of his time is spent doing films for people who are new and have no money (his own words).

On the other hand he's offered obscene amounts of money by producers who approach him with Hollywood and Asian DVDs. They simply want Anurag to write copies of the originals.

Two of the copies he wrote for producers was "Main Aisa He Hoon" and "Kaante"

On the need for original writers in Bollywood

Bollywood does have many original writers. There is no shortage of talent. The problem is they have no "backing" and no financers who want to invest in new comers.

On where he learnt writing and directing

His main source for learning writing and directing was… movies and Batman comics. He did mention a few illustrators of comics, but I could not catch their names.

Anurag may have the largest personal DVD collection in India.
And, on a brighter note, there's this bit of info:
Paanch has been cleared by the Censors. And will most probably be released in June. Anurag also expects Black Friday to release around the same time.
His current project is Gulel and Mumbai blogger Kim has seen a rough print as part of a workshop Anurag conducted. You can find her impressions here.
- April 28, 2006 4:03 PM // Bollywood
Google's Amitabh Valuation Part II
Some followup up thoughts to How Much Does Google Value Amitabh Bachchan?:
I omitted USA from my list of countries in the initial version of the article when I did include it in the list of territories covered by AdWords. Courtesy an alert reader, that's fixed. Thanks Arnav!
Desi stars are still cheap. Grab 'em while you still can! Even the Big B, barely compares to the average keyword price which, according to Fathom Online's quarterly roundup, is $1.39. As DesiPundit noted, he's still cheaper than "asbestos."
One reason for the actresses costing more than male stars on average could simply be prurience. If you don't believe me, try searching your favorite web search engine for "Aishwarya Rai" with and without the adult filter turned on. Now repeat for "Amitabh Bachchan" - see the difference? These adult web site owners know something about search habits. That, of course, still doesn't explain why Shabana rules the roost.
Wondering whether my ego could handle the bruising and aiming to get a baseline value, I tried finding out the value of my own name. Alas, Google gave me an Online Pharmacy ID Required warning. Apparently, "Soam Acharya" appears to contain pharmacy-related content while targeting the United States.. Most excellent! Consequently, despite her protests, I punched in my better half's name. I won't tell you what value came up but Sunil Shetty and Paresh Rawal can surely cheer up a little. I had to spend considerably more than that on flowers though - hopefully she'll start talking to me again soon.
- April 25, 2006 9:59 PM // Bollywood , Diaspora , Technology
How Much Does Google Value Amitabh Bachchan?
Thar's gold in them keywords, son.
Ever wondered how Google (and, to a smaller extent, Yahoo) get a large chunk of their revenue? Well, you don't have to look very far. Take a look a closer look at your results the next time you do a web search - those little ads that dot the top and side of the page add up to an awful lot of money. "What does any of this have to do with Amitabh?," I hear you say. Well, the ads that show up here are usually related to your search query. For example, if you are searching for Amitabh, there are advertisers willing to pay Google (or Yahoo or MSN) for the privilege of showing up alongside the search results. If you should then happen to click on the ad, the advertiser will pay Google a fee, perhaps a relatively small amount but over the course of many many clicks, it adds up.
Exactly how these prices are determined vary from search engine to engine but popularity plays a big part. You are much more likely to search for "Sachin Tendulkar" than, say, "Robin Singh." No offense to Robin who served India most honorably indeed but Sachin just happens to be one of the most popular cricketers on the planet. Consequently, his name is more likely to be searched, hence there are more advertisers (say sports sites) competing against each other to pay for a higher ad placement on Google resulting in a higher price for Sachin. There are other factors involved, hence a fatter wallet is not a guarantee of top placement, but it certainly doesn't hurt! The upshot is this: words now have monetary value. And what is in a name? A lot of money indeed, particularly for the right one.
Now that we have a mechanism for measuring relative worth, I, of course, had to zoom in on Bollywood. I was curious - who was the most expensive fillum celebrity in the virtual firmament? Did any of our diaspora actors and actresses even rate? I devised a method to find out. I started off by going to Google's start page for advertisers. Once there, I picked the standard edition which allows you to select the territories where you'd like your ads to appear. In addition to the subcontinent (India, Pakistan, Sri Lanka, Bangladesh), I added countries with high desi populations (USA, UK, South Africa, New Zealand, Australia) as well as a sprinkling of smaller territories (Fiji, Qatar, Hong Kong and UAE). Next, I created a fake ad with the title "Come to desi talk." and description "Come to a site to find news about desi celebrities." I provided Dishum Dishum, as the destination url. The penultimate step was selecting keywords for my ad. I entered my celebrity name here and Google then whispered, "want to purchase the most clicks possible?" This was Google's recommendations as to the budget and price per click (ppc) necessary to place my blurb near the top position for all possible impressions. Bingo! The ppc was the value I wanted. I started off with male actors. Here's the resulting list:
Desi Male Actors

| | |
| --- | --- |
| Amitabh Bachchan | $1.36 |
| Kal Penn | $0.40 |
| Om Puri | $0.36 |
| Naveen Andrews | $0.36 |
| Shahrukh Khan | $0.34 |
| Salman Khan | $0.28 |
| Anil Kapoor | $0.25 |
| Naseeruddin Shah | $0.21 |
| Aamir Khan | $0.20 |
| Abhishek Bachchan | $0.20 |
| Sanjay Dutt | $0.20 |
| John Abraham | $0.18 |
| Nana Patekar | $0.15 |
| Boman Irani | $0.10 |
| Sunil Shetty | $0.07 |
| Paresh Rawal | $0.05 |
Well, they don't call him the "Big B" for nothing! Amitabh extends his dominance over all things desi in the cyber arena as well. His name is worth as much as $1.36 a click. That's more than double the next contender, Kal Penn's rate of forty cents. Additionally, Kal "Kumar" Penn has Shahrukh, Salman, Aamir and all of the other Bollywood stars beat. What's more, the Khans are actually behind Naveen "Lost" Andrews and character actor Om Puri as well! What's going on here? If I had to guess, it would be that barring the diaspora, internet penetration (and consequently search based marketing) is still relatively low in the subcontinent. A lot of searches for desi terms is still going to come from the internet population at large - i.e. USA, UK and so on. Hence, diaspora actors who have made a name for themselves in the Western hemisphere but who are still relatively unknown in India will still be worth more. Perhaps Om Puri, by also having an international career (Salon wondered whether he was our greatest living actor?") in addition to his Indian one, avoids this sidelining as well. The Big B, of course, is in another plane entirely.
Some other observations from the list:
Old stalwart Anil Kapoor is hanging in there despite all the competition from young blood.
Aamir Khan is tied with Abhishek. Bluffmaster has a ways to go before we can start comparing him to his dad. But we knew that already, didn't we?
Old stars just refuse to fade away, don't they? Sanjay Dutt, recent bomb blast court case problems notwithstanding, continues to rate. Does Munnabhai have it in him for another charge up the charts? Stay tuned.
Young gun John Abraham has yet to completely escape the character actor ghetto occupied by Boman Irani and Nana Patekar. Nana's recent exploits in "Taxi No. 9211" haven't been enough to drive him up the ppc sweepstakes.
Spare a thought for poor Sunil Shetty and Paresh Rawal, occupiers of the cellar. Mr. Shetty's Bollywood profile has been pretty low for a while but I would have thought Paresh "Malamal Weekly" Rawal had done enough to escape the dungeon.
Moving on to actresses, we have:
Desi Actresses

Shabana Azmi
$0.69
Rimi Sen
$0.50
Rani Mukherjee
$0.43
Mallika Sherawat
$0.40
Lisa Ray
$0.40
Sushmita Sen
$0.30
Lara Dutta
$0.30
Parminder Nagra
$0.30
Aishwarya Rai
$0.28
Kareena Kapoor
$0.25
Preity Zinta
$0.23
Archie Panjabi
$0.21
Priyanka Chopra
$0.20
Riya Sen
$0.20
Bipasha Basu
$0.20
Neha Dhupia
$0.20
Purva Bedi
$0.20
Sheetal Sheth
$0.20
This list draws more questions than answers. How on earth is Shabana Azmi topping the list? Her ppc of $0.69 is actually more than all the male actors barring Amitabh! How does Rimi Sen manage to beat out reigning Bollywood queen Rani Mukherjee? What's Aishwarya Rai doing in the middle of the pack? My previous high-international-profile theory might explain Shabana's preeminence but, by that logic, Aishwarya should be topping the list. She isn't. On the other hand, Mallika Sherawat, despite having starred in a fair number of bombs of late, continues to rate. The diaspora actresses, although virtually unknown in India, are hanging tough as well. Over to you - let me know if you have any theories that fit the bill.

Disclaimer:. This article is for entertainment purposes only. Hat tip to a fellow Yahoo, Amr Awadallah - his original post inspired this article.
- April 22, 2006 5:17 PM // Bollywood , Diaspora , Select , Technology
India At The Oscars Part II
In a previous entry, I looked at Indian presence at the Oscars over the past fifteen years or so. Slim pickings, as you can imagine. The famine continued this year, cool self aggrandizing ad from M. Night Shyamalan notwithstanding. "Why should Indians care about winning at the Oscars?," I hear you ask. Reasons about national pride and filmmakers' lifelong dreams aside, I would simply suggest it is good for business. Succeeding on such a global stage opens more doors and confers more visibility for the industry as a whole. Result? Beaucoup bucks and more smiles for Bollywood financiers than the entire back catalog of Govinda, Johnny Walker and Johnny Lever put togther. Hence, every year, the Indian newspapers flagellate themselves into a frenzy over this issue. A typical article from Rediff reads:
The Oscar nominations announcement for the 78th Academy Awards was certainly bad news for Bollywood film lovers and the Indian media.

After the announcement, a Google search of the word Paheli generated the following news headlines -- Paheli fails to get Oscar nomination (The Times of India), Paheli misses race for Oscars (The Hindu), Brokeback in, Paheli Out (Rediff) and even Paheli, Morning Raga out of the race for Oscars (Webindia 123).

Apparently, the expecation was that after Lagaan's nomination, the floodgates would open. Alas, that didn't turn out to be the case. The reactions for Devdas, India's entry the following year:
One committee member later said the following to this reporter: "We just didn't like it," he said referring to Devdas. "The girls were beautiful, but the story was out of whack. At least last year's one (Lagaan) had great humour. But (in Devdas) everybody was shouting and screaming. They weren't pleasant people."

Perhaps they had seen far too many tedious foreign language films that week, but nearly half of the 250 to 300 committee members reportedly walked out of Devdas' official screening during the intermission. That pretty much sealed the fate of Bansali's film.

And for Paheli:
A member of the Academy's foreign language film committee, contacted by this reporter after the January 31 Oscar nominations were announced, failed to recall details about Paheli.

"It didn't go down very well with the group," he said, on the condition that he would remain anonymous. "I can't remember why though."

The article tries to blame a lot of this on bad luck. Voters were, unfortunately, unable to remember much about Paheli after they had seen it. Similarly, Devdas wasn't handled as well as Lagaan which was shown on a Sunday afternoon and included a lunch intermission that mitigated its three and a half hour running time. Devdas was screened in the middle of the week - so poor Devdas continued to be denied even after his death.
Hogwash. Lagaan is a far superior film and one of the few gems to come out of Bollywood over the past couple of years. It fully deserved its success. As for the rest, here are some candid remarks from a member of the Academy's foreign language committee:
"We look at the films from the American point of view," the Academy's foreign language film committee member said. "What happens (in Bollywood films) is that in the middle of the scene suddenly (the actors) start jumping up and dancing and singing, which, to us, is ridiculous. When we see an Indian film and that happens, we don't know how to react to it. That's the problem."

He added that he was not suggesting that Bollywood filmmakers should change their filmmaking style. "Obviously, they are making the films for the Indian market and not for the American market."

From an Indian standpoint, film critic Raja Sen ("Why can't we win an Oscar?") opines:
ki : Is Indian cinema truly global in terms of standards? I mean, look at the production overseas and you see the difference

Raja Sen : No, we have a long way to go. It's not just budgets and production values, but we work on a very limited creative canvas as well. We need to explore different kinds of cinema, not typical box office-friendly fare.. but I think things are beginning to slowly change.. now if only we had some original stories.

As any follower of Indian films will tell you there is hope, however. Raja Sen, again:
NYSocial : Where do we think Indian Cinema is going ? Our producers just follow trends...comedy movies...shooting abroad..and all that. The basic creativity is missing. What do you think ?

Raja Sen : I know, but there is fast emerging the newly-branded culture of 'multiplex films'. Which means it is actually possible to make a tiny-budget film the way you want to, and keep it profitable. There are creative people in the industry, and they just need avenues to express themselves. I think things are getting better (despite the fact that mainstream films are getting worse and worse, like you said), and I'd like to be optimistic about Indian cinema's future.
- March 15, 2006 7:43 PM // Bollywood , Film , India
Hollywood India Box Office
Something we observed in our visit to the snazzier INOX multiplexes while visiting India in early 2005:
... purely from anecdotal evidence, we found it was much tougher to get tickets to the Bollywood films as opposed to the English flicks on offer. Speaking to the box office clerks confirmed this observation. In addition, the Hollywood films were priced cheaper than most of the Bollywood films. Tickets to Veer Zaara, the then blockbuster, cost close to 200 rupees!
For example, there was a huge publicity campaign underway for The Incredibles
at the time. Dubbed in Hindi, featuring the voice of Shahrukh Khan and entitled Hum Hain Lajawab (We Are Fabulous) it didn't really cause any stir - nothing that we could see anyway. Rediff has an article confirming our observation - India resisted Hollywood's advances last year.
According to market estimates, the box office share of Hollywood movies in India has declined from a high of about 9 per cent, to around 4 per cent last year (about Rs 150 crore in all).

Hollywood representatives are tightlipped on individual takings. But they do accept a reversal. "What is noteworthy is that 2005 was really big for Bollywood," concedes Vikramjit Roy, head, publicity and acquisitions, Sony Pictures Releasing of India (SPRI), "and that newer multiplex screens have been added."

Not that Hindi cinema ever lost its charm. But, for a while, it looked as if Hollywood's domination was inevitable, as its dubbed blockbusters began to do almost as well as Hindi cinema's biggest hits. That fear has now abated. Says Pooja Shetty, director, Adlabs Films, "There were some good movies from Hollywood studios. Yet, last year clearly belonged to Bollywood, especially the new-genre of crossover films. Hollywood could not match its performance of previous years."
Despite this reversal, India remains too big a market to ignore. An alternate strategy seems to be emerging:
That might end once Hollywood studios enter domestic film production, having already managed a foot through the door in distribution. Sony, for example, has announced that it will co-produce Sanjay Leela Bhansali's latest venture Saawariya. This will be a first. And an experiment to be watched closely.
Lastly, Ibosnetwork has a list of the top non-Bollywood grossers in India for 2005:
Top non-Bollywood hits for India
*Collections where available*

Tamil - Chandramukhi (Rs. 60 crore Gross)
Telugu - Chatrapati (Rs. 25 crore gross)
Kannada - Jogi
Malyalam - Rajamanikkam (Rs. 8 crore)
Bhojpuri - Sasura Bada Paisewala (Rs. 17 crore)
Bengali - Juddha (Rs. 5 crore)
The domestic collection for Chandramukhi, the Tamil hit, is easily at par, if not better, with the biggest Bollywood hits of 2005 (Black, Bunty Aur Babli). Just a reminder that Bollywood is not the be all and end all of Indian cinema - as if we needed one!
- January 28, 2006 5:39 PM // Bollywood , Film , India
Hazaaron Khwaishein Aisi
Student revolution in the 1960s wasn't just confined to street fighting men in Paris or US campus agitations against The Man. Inspired by the new noises coming from the West, Che Guevara, the rise of China and the Soviet Union, and the Naxal movement in India itself, well-to-do students in elite Indian universities began to agitate as well. Hazaaron Khwaishein Aisi (A Thousand Dreams Such As These) traces the intertwining path of three such students, Siddharth (Kay Kay Menon), Geeta (Chitrangada Singh), and Vikram (Shiney Ahuja), through this period in their lives and beyond. In doing so, Hazaaron touches a section of recent Indian history not often explored by mainstream Bollywood.
The film opens in 1969 with Siddharth's return from Calcutta (which he found to be an "awesome" experience) to St. Stephens College in Delhi. He has an on-again off-again relationship with Gita, a student who has mostly been educated abroad. Both are activists with Siddharth the hot-head and Gita swept up in the emotion. Both have relatively well off parents. Completing the triangle is Vikram, who loves Gita but doesn't share her politics, preferring to observe from the sidelines. His father is a retired Congress leader who chooses not to benefit from his power, hence Vikram knows indulging in these activities is not a luxury he can afford. Every movement has its poseurs and the film has fun lampooning those upper class doyens who believed in The Cause yet found scholarships from US universities too tempting to pass up. Matters come to a head when Siddharth announces he'll be moving to the backwaters of Bihar to try to exhort the peasants. With threats of police crackdowns and better opportunities beckoning, his fellow revolutionaries drop out one by one.
After the prologue, the film resumes in 1973, several years down the line. Gita is now married to an IAS officer, yet she often leaves for Bihar for secret trysts with Siddharth who is waging his own lone war against the government. Vikram increasingly finds himself being known as a "fixer", a middleman who can pull strings in politcal circles to gets things done. However, he hasn't let go of Gita and when he sees her at a party, his passion reignites.
Epic in its narrative sweep, Hazaaron Khwaishein Aisi is, first and foremost, an examination of how youthful ideals fare when faced with reality. That it does so with the Naxal movement and the Emergency as a backdrop is nothing if not ambitious. I found it impressive that the script was original, it was reminiscent of many Bengali novels of that period (of course, most, if not all, Bengali novels of the '70s had the Naxal revolution in the background). The acting by the leads, particularly a luminous Chitrangada Singh and the charming Shiney Ahuja contribute greatly towards maintaining viewer interest. Additionally, the way the film is able to effortlessly veer from comedy to tragedy to horror to pathos ensures a feeling of off-balance throughout - you never can quite predict what's going to happen next. However, once the final frames roll, the final feeling is that of an elegy for the post partition generation. Perhaps the title of the film itself, taken from a poem by the Urdu poet Mirza Ghalib, is an allusion to their loss.
Overall, director Sudhir Mishra has crafted a worthy followup to Chameli, yet a few flaws prevent Hazaaron from being an international sensation on the lines of Farewell My Concubine and other films of that ilk. First, there isn't enough context here for a foreign audience - anyone unfamiliar with Indian politics might find it hard to understand some of the events occuring in the film. Second, the film itself doesn't always flow very smoothly - characters appear and then disappear. Sometimes, it feels parts of the exposition are missing as well. Nonetheless, the nits don't prevent Hazaaron from being a strong entry into the growing genre of "multiplex" films, so called because the additional screens afforded by such theatres allow non-masala fare such as this to find an audience. It's just a shame that audience could have been a global one with a little bit more care. As Hazaaron shows, all the necessary pieces are in place!
- January 22, 2006 11:19 AM // Bollywood , Film , Review
Paheli
Apparently Paheli stands for "riddle" in Hindi. First, kudos to Amol Palekar, Shahrukh and Gauri Khan and the rest of the production team on the packaging. The costumes and sets shine, the dances are eye catching, the music is pleasant, and the CGI effects are mostly well blended into the narrative. Even the acting is nowhere near as over-the-top as could be expected. Paheli has been labeled as an experiment and, to its credit, it reaches for something a little different, namely infusing a touch of folksy magic into the story of a lonely newly-wedded wife whose husband has deserted her for family business but whose needs are filled by a ghost. Looking at the premise, it seems it would be hard to get more chick flick than this - not that there's anything wrong with that. But somehow, the whole combination just doesn't generate enough heat for lift-off. The whole affair is strangely leaden and that's the real mystery here. And yes, in case you are wondering, Amitabh Bachchan makes yet another guest appearance in his ongoing attempt to kill any desi version of Six Degrees of Kevin Bacon (tentatively titled Zero Degrees of Amitabh Bachchan).
- January 4, 2006 10:38 PM // Bollywood , Review
Nanopses
The Monster Jilebi Strikes Again

Inspired by the original Bollywood lexicon and the notion of short shorts, here are some nano film synopses (or nanopses, if you will) for 2005. If anything, I was even more stringent:

Paheli - Love conquers gall.
D - Pre.
Black - Eyewash.
My Wife's Murder - My Husband's Blunder(s).
Ramji Londonwaley - High carb, low fibre.
Kya Kool Hai Hum - Kya Bozo Hai Tum
- December 31, 2005 3:30 PM // Bollywood , Review
The 2005 Bollywood Lexicon
We're all familiar with sites such as Bollywhat that have lexicons mapping showbiz Hinglish. You know, stuff like:
USP: Unique selling point. "The USP of KNPH was Hrithik Roshan. Or more specifically, Hrithik Roshan's killer abs. And killer biceps, and killer dancing, and his hair looked cool..."

Paisa Vasool Means something akin to "worth every penny," I think. "Wow, I've had this toothbrush for three years now--that sure was a paisa vasool investment!"

Item Number The totally gratuitous dance number, often a show number, in which a scantily clad young vixen who has nothing to do with the plot bounds out, shakes it for a few minutes, and disapears. Item numbers can star men ("One Love" from Rakht) and don't have to be racy ("Chamma Chamma" from China Gate was pretty family-friendly). "Sonali Bendre really rocked that item number in Mani Ratnam's Bombay."
And of course:
Dishum-Dishum is the sound made while people are hitting each other IN the end scenes of violence....when the villian gets his comeuppance. So it stands for violence; "I don't like this movie, too much of dishum-dishum."
For the more cynical and filmi-familiar, Mahesh Nair uses this device for an excellent summation of Bollywood in 2005. Some choice definitions:
Aashique Banaya Aapne (n): when a picture is worth one song.

Black (adj): the emotion you feel when you watch a fantastic film wherein a deaf, mute and blind girl narrates how a ranting old man taught a mentally retarded child to eat with a spoon.

DVD (n): another term for "original idea" or "script". When a director says, "I worked on the script for two years", you know instantly that he has been watching DVDs of Man on Fire (Ek Ajnabee) or OldBoy (Zinda).

Item Number (n): a skin show to lure people away from the theatre's toilet to the screen.

Mangal Pandey (adj): to look silly after five years.

Multi(per)plex (n): a place where filmmakers are clueless as to which film will click. The only success guaranteed here is of Pepsi and popcorn.

Myth (n): as in Jackie Chan spoke to Mallika's breasts.

(Aishwarya) Rai (n): a misguided opinion that Indians are creating ripples in Hollywood.

Swades (n): when you love your country but it does not love you.

Yashraj (v): an old Indian proverb that means packaging is profit. (n) a place where superstars hang out.

I don't necessarily agree with all of them but they're hilarious. Enjoy!
- December 27, 2005 7:33 PM // Bollywood
Diaspora Director Roundup
Ever wonder what our favorite diaspora directors upto these days? Never fear, here's a summary:
- November 25, 2005 1:18 PM // Bangla , Bollywood , Diaspora , Film
Dwarves Living In Oblivion
It had to happen eventually. Remember Living In Oblivion
? There was a great rant in it about dwarves and dream sequences. Specifically:
Tito: Why does my character have to be a dwarf?

Nick: He doesn't have to be.

Tito: Then why is he? Is that the only way you can make this a dream, to put a dwarf in it?

Nick: No, Tito, I...

Tito: Have you ever had a dream with a dwarf in it? Do you know anyone who's had a dream with a dwarf in it? No! I don't even have dreams with dwarves in them. The only place I've seen dwarves in dreams is in stupid movies like this! "Oh make it weird, put a dwarf in it!". Everyone will go "Woah, this must be a fuckin' dream, there's a fuckin' dwarf in it!". Well I'm sick of it! You can take this dream sequence and stick it up your ass!
"How much longer," I hear you ask, "before dwarves start appearing in Bollywood dance numbers?" After all, for all intents and purposes those are interchangeable with dream sequences anyway and India is progressing so rapidly on all fronts. Well, worry no more. On the bonus materials for the DVD to D, a recent offering from Ram Gopal Varma's Factory production arm, we spotted the music video Dhokebaz replete with muscled men, vamp and, yes, this:
We've come a long way, baby.
- November 9, 2005 11:29 PM // Bollywood , Film , Select
What's Up Bolly Lily?
Here's an idea whose time has come. What's Up Tiger Lily started it all, Wayne's World used a similar device for chop socky and Mystery Science Theater milked bad sci fi for all it was worth. Now, as Sumana Harihareswara writes in Salon, "Uncle Morty's Dub Shack," a TV program on the ImaginAsian TV network, extends it to Bollywood:
The conceit of the show is that four loser friends -- Trevor, Alladin, Jimbo and John -- earn a little extra cash dubbing martial arts, action and Bollywood films into English at the Dub Shack, run by an old crank named Morty. Uncle Morty doesn't have the translated scripts, so the friends turn the movie scenes into sketch comedy. For those of us who didn't warm to MST3K, "Uncle Morty's" is easier to love, because it's only half an hour long (the films are significantly, and mercifully, edited down), and the writers create believable alternate narratives for the flicks instead of merely smirking at them.
For Bollywood, their main attraction seems to be re-writing the song sequences:
Is it easier to write funny commentary for Chinese kung fu/action movies or Bollywood musicals?

Trevor: I think they each have their advantages. The kung fu films tend to have these great, expressive, comic-relief characters that are just so easy to write jokes and come up with voices for. And the Bollywood films have all of those musical numbers that you can write songs for.

Jimbo: I love writing new songs for the Bollywood musicals. It's great to watch with the sound off and think, "What are they just not singing about?" and then have them sing about it.

Apparently, the guys don't try to do bad Indian accents. Jimbo says:
For instance, we never use outrageous Asian accents on our characters. That would just be lame, predictable and insulting. We do, however, use outrageous French accents and such, because it's just absurd and silly. The French have a right to be offended at our show! We consciously don't use stereotypes as humor, because to us it's just not funny. Our viewpoint is, "Hey! Let's have some fun with these old B films!"
Are you listening, Apu?
- October 12, 2005 11:36 PM // Bollywood
Mangal Pandey - The Rising
Over the course of the history of Indian films, us desis have evolved our own rating terminology. These include "it's ok," "timepass" and "don't expect anything." This is in addition to the usual "good", "great music!", "xxx Khan is wearing cool clothes in the movie, yaar!" and "big in Chennai!" Okay, I made up the last two but, on a more serious note, there is a phrase I do use: "honorable effort." This refers to Bollywood films, often by directors who made a name for themselves on the art film circuit, that attempt to tackle worthwhile issues yet are too flawed to earn a "good" rating. A good example is Thakshak, directed by Govind Nihalani of Ardh Satya (Half Truth) fame. Page 3 is a more recent illustration. The Rising, helmed as it is by former art house darling Ketan Mehta (Mirch Masala, Maya Memsaab), barely escapes falling into this category. It is a rousing effort with epic aspirations that is ultimately marred by the little things. It's a good, but not great, film.
How best to bring well known events alive for an audience? That's a key challenge faced by a historical epic. How do you hold an audience's interest over a story for which the ending is already known? One possibility is to get the ending over with first and retrace the steps that led up to it. Nine Hours to Rama tried this approach, starting off with Mahatma Gandhi's assasination. When The Rising opens and we see Mangal Pandey (Aamir Khan) getting ready to be hung, my first thought was the film was attempting the flashback approach, since anyone familiar with the Sepoy Mutiny of 1857 (or the first Indian War of Independence) will know that's how Mangal Pandey met his end. But Ketan Mehta and writer Farrukh Dhondy have other ideas and, just before the signal is to be given, a messenger comes running with the news that the executioner is nowhere to be found. No local will hang this man. The execution is stayed and we are left with sufficient doubt so as to focus on the proceedings that follow. A nifty twist.
Rewind to a skirmish in Afganistan in 1853 where we see the bravery of sepoy Mangal Pandey as he rescues officer William Gordon (Toby Stephens) from certain death, becoming gravely injured himself in the process. As both men recover, we see the disparate way the East India Company treats its officers who are housed in tents vis a vis the native Indian soldiers who are left outside. William is powerless to help Mangal but he does gift him his own gun for protection. Thus, a bond starts to form between the two men. By 1856, the division is housed in Barrackpore in Calcutta and Mangal and Wlliam are becoming inseparable. But there are clouds looming over the horizon regarding the origins of the grease used for the cartridges for the new Enfield rifles. A combination of cow and pig fat, it is equally abhorrent to the Hindu and Muslim sepoys who must bite down on them as part of the loading process.
One of the interesting curveballs the film throws at us is that it's agenda is not necessarily anti-colonialism. Sure, there's talk from the British officers about the "burden of the white man" but it's all intended to justify the policies of the British East India Company. Those were all about profit - specificially, draining as much wealth as possible from the Indian countryside. This involved forcing the farmers to grow poppy seeds which then could be sold to China as part of the opium trade. By paying the farmers fixed prices and using the Indian sepoys to keep them in line, the Company reaped huge dividends. In that sense, most of the film is more about the evils of capitalism, monopolies and globalization. That the film includes a sympathetic British character and points out some good accomplished by the Company, namely the banning of sati, supports this notion. It's the profit motive then that ultimately leads to the uprising as the Company tries to cover up the origins of the grease because replacements would be too costly to the bottom line. The sepoys, smarting at their inferior treatment, finally have had enough.
That Mangal Pandey is able to raise these issues in an entertaining manner is its biggest strength. However, a number of nits ultimately prevent the film from rising to its potential. First, Mangal Pandey himself is just not sufficiently well developed. Though well acted by Aamir Khan, we really have no information on his background and he remains a cipher. Whatever dramatic license the script takes, namely his relationship with the prostitute Heera (Rani Mukherjee), is controversial and arguably unnecessary. On the other hand, the character of William Gordon is much more well rounded - perhaps because it is completely invented. Next, the device of having some fellows on an elephant chanting out "mangala, mangala" at periodic intervals serves no discernible purpose and can get annoying to boot. Additionally, some of the song sequences, particularly in the second half, are unnecessary and impede the flow. Also, the climax and ending of the film somehow left me unsatisfied. With a title like "The Rising," I was expecting more on the actual rebellion but the film just ends with the incidents that triggered the whole thing. Finally, a small fashion blooper nearly took Shari out of the film - she noticed that Heera's nails were manicured in the French style, quite in vogue currently and, therefor, unlikely to be used by someone of that era in India. All in all then, the film could have been much more. But, if it serves to remind folks that there was much more to India's fight for independence than one half naked fakir, it will have served its purpose.
- October 11, 2005 9:56 AM // Bollywood , Film , Review
Kronos/Asha at the YBCA
There have been many words of praise for Asha Bhosle over the years, some conventional ("most recorded artist"), some musical ("largest vocabulary of vocal techniques") and some offbeat ("grandmotherly Elvis"). To this I would simply add: she must take her share of blame for India's population explosion. The reason is simple enough. In her own words:
As Asha Bhosle struggled to make her mark, her biggest competition and mark for comparison was her own sister. "Didi [the elder sister] was singing the love songs, the sad songs, and I knew that if I did something different, something new, only then would people give me songs," says Bhosle.

The "something different" was cabaret songs. At that time, in Bollywood films the heroine had a holier-than-thou virginal image that was made even more ethereal by Lata Mangeshkar's singing. But filmmakers also wanted a little masala to spice up their films. That was where the vamps came in. Some actresses, like the exotic-looking Helen, made an entire career playing the vamp in hundreds of films. And the voice behind the vamp was invariably Bhosle's. In the film "Taxi Driver" she sings "Jeene Do Jiyo" [Live and Let Live], probably the first cabaret song in Hindi cinema.

It clicked. "Many have tried to imitate Lata, and some have come close. But no one has tried to imitate Asha, because no one can," says music aficionado Arvind Kumar, the founding editor of India Currents magazine.

To date, the songs she sung under the aegis of R. D. Burman have probably been some of the most remixed/covered songs out of Bollywood. Additionally,
Instead of cringing at the remixes that were pouring into the market, she did the next best thing - she joined the bandwagon and brought out the remixed variety of own old numbers. She also came out with a video cassette entitled "Janam Samjha Karo". Then there is the new album "Rahul and I". Asha never ceases to amaze. She is constantly repackaging herself. And so the Asha magic continues to enthral.
However, the Kronos Quartet represented a new level of collaboration for Asha-ji and I was curious as all heck to see how it would turn out on September 22, 2005, at the Yerba Buena Center Theater in San Francisco, the first of a limited set of dates. I needn't have worried - Asha-ji sounds as great as ever. But first things first - the first half of the concert was devoted to Kronos premiering San Francisco based minimalist composer Terry Riley's The Cusp of Magic, a work in six parts. In tone, the parts varied from apocalyptic (The Cusp of Magic) to staccato (Buddha's Bedroom) to whimsical (The Nursery). The latter, in particular, was augmented by a backdrop of noises from stuffed animals, the last sound of the movement being that of a lone toy frog being wrung. Throughout, I was impressed by the sheer aural variety on offer, not to mention the virtuoso ensemble playing. In addition to Wu Man on pipa, the Quartet featured David Harrington on violin (and various percussive instruments), John Sherba on violin, Hank Dutt on viola and keyboards and Jeffrey Zeigler on cello. In addition, we had the wild and wacky samples being triggered from time to time. A good harbinger for the second half and the main event!
"Atithi Deva Bhava - the guest is god. You are my guests and I'll try my best to please you," were Asha-ji's opening words when she strode to the stage at the start of the second half of the show. Apart from a little feedback in the first song and perhaps the hint of a cracked voice in another, this was an audio sensory experience. That included Asha-ji's banter between shows. She apologized for her poor command of English and asked band leader David Harrington to translate the song titles. Her in-song banter quickly endeared her to the audience, an eclectic mix of desis and the San Francisco art crowd. The choice of songs was inspired - a mixture of Bollywood staples such as Dum Maro Dum ("Take Another Toke") and Chura Liya Hai Tum Ne ("You've Stolen My Heart") with more leftfield titles. "They picked the most difficult songs," she complained to the audience at one point, rather jokingly of course and that endeared her to us all the more. Of the more adventurous songs, we were particularly impressed by the choice of two Bengali songs of R. D. Burman. Asha-ji sang Ekta Deshlai Kathi Jalao ("Light a Match") with all the coquettishness of a sixteen year girl. For Nadir Pare Uttche Dhoa ("Smoke Rises Across The River"), she took a break, and Quartet played with all the might and passion of many times their number. Upon returning, she commented that, accustomed as she was to working with hundreds of musicians at any given time, she found Kronos' versatility to be simply amazing. Their arrangements sparkled as well - subtly extending Asha-ji's vocals in one song, setting up a counterpoint in another, they were always less than obvious. By the time she started Piya Tu Ab To Aaja ("Lover Come To Me Now"), the incongruous sight of a grandmotherly figure providing breathy, panting vocals had been replaced by that of a diva still in regal command of her faculties (if you closed your eyes).
I found the audience attendance for the first show to be disappointing but, in retrospect, it was to be expected given the eclectic nature of the musical marriage. I understand the attendance was much higher the next day and, overall, CD sales outside the hall were unusually brisk. A good harbinger of things to come perhaps?
- September 28, 2005 6:27 PM // Bay Area , Bollywood , Music , Review , Select
Brimful of Asha II
Both the San Francisco Chronicle and the San Jose Mercury News are carrying articles on the Asha Bhosle and Kronos Quartet concert at the Yerba Buena Center for the Arts tomorrow. Both pieces are intended to be introductions to the music of Bollywood (and legendary music director R. D. Burman in particular) that will be performed tomorrow. What I find interesting, though, is the differences in the tone of the two articles, perhaps due to the gap in desi population between San Francisco (not very many) and South Bay (lots). The San Francisco Chronicle piece is more explanatory, although not necessarily accurate:
While Bollywood cinema is more visible in American pop culture today than ever before, the music of Bollywood, which millions of Indians just have hardwired into their brains, has a harder time crossing over. The West might have MTV, but "Indian films, each with 6-10 songs, are the original MTV," says Bhosle's son and manager, Anand. American audiences have difficulty relating to the songs, missing the cultural references and the poetry of the lyrics, fixating instead on the crescendo of 101 shrieking violins.
Of course the truth of the matter is shrieking violins have been out of vogue in Bollywood for at least the past ten years. In addition, of late, big budget films such as Black and Sarkar have eschewed embedding music sequences all together. They've been hits, thus showing films don't have to contain music for audience acceptance. And there is such a beast as MTV-India.
The San Jose Mercury News article is more concise, perhaps trusting many of its readers to already know about the basics of Bollywood and Asha Bhosle. But this way, you can miss some nuggets. Consider this graf on Asha in the Mercury News:
She also became the wife of R.D. Burman, who by Harrington's formulation stands alongside other giants of 20th-century music. The ingenious songwriter and film composer has some 330 film scores to his credit. In many cases, it was Bhosle who ended up introducing his songs, such as ``Dum Maro Dum'' (Take Another Toke), a giddy international hit from Dev Anand's 1971 study of the hippies drawn to Nepal and India, ``Hare Rama, Hare Krishna.''
This is expanded greatly in the Chronicle to:
Tongues wagged when she married R. D. Burman in 1980. In fact, the two had met years before: He was first a fan while she was singing for his father, himself a leading composer. "I remember he was thin and short, and I of course looked older and was also quite fat," she laughs. "He just took my autograph and left." Years later, when he quit his studies to become a composer, she scolded him for not graduating. "He didn't like it -- he got up and left," she recalls.

Later, she became one of his best-known collaborators. When rumors bubbled about their professional relationship turning romantic, conservative Indian society frowned on this middle-aged mother of three embarking on a love affair. "People don't like it if you live honestly," says Bhosle with a shrug. "They like hypocrisy and lies." She married Burman to end the swirling gossip around their relationship.

But their collaboration set the music industry ablaze. Her son Anand remembers going to a concert in 1972 or 1973 where all the biggest stars of Indian music, including his aunt, Lata Mangeshkar, were performing. "Right at the end it was Mom's turn, and when she and R. D. Burman entered together the audience went berserk," says Anand.

At that time their biggest hit, "Dum Maro Dum" (literally, "Take Another Toke") from a film about hippies, was banned on All India Radio. People listened to it on neighboring Sri Lanka's Radio Ceylon. When R. D. and Bhosle came on, says Anand, "it was as if Tom Jones had been performing and suddenly a superstar like Michael Jackson or Elvis Presley came on stage."
Should be a great concert tomorrow. Looking forward to it.
- September 21, 2005 8:27 PM // Bay Area , Bollywood , Music
Lip Synching Banned
Take a look at this: Turkmen President Bans Lip Synching.
ASHGABAT, Turkmenistan -- He has outlawed opera and ballet and railed against long hair and gold teeth, but now the authoritarian president of Turkmenistan is determined to wipe out another perceived scourge: lip synching.

President Saparmurat Niyazov has ordered a ban on lip synching performances across the tightly controlled Central Asian nation, citing "a negative effect on the development of singing and musical art," the president's office said Tuesday.

"Unfortunately, one can see on television old voiceless singers lip-synching their old songs," Niyazov told a Cabinet meeting in comments broadcast on state TV on Tuesday. "Don't kill talents by using lip synching... Create our new culture."

Under Niyazov's order, lip synching is now prohibited at all cultural events, concerts, on television -- and at private celebrations such as weddings.

Can you imagine if Bal Thackerey somehow got it into his head to do the same to Mumbai and, by extension, to Bollywood? The mind boggles. All those pretty vacant starlets forced to sing for themselves. It would have the same impact as silent movies being replaced by those with sound. Not all stars survived the transition in Hollywood. Someone like Vasundhara Das would do really well. As for others, well they better start brushing up on their scales. And as for the men, well we've seen Aamir Khan (Ghulam) and Amitabh Bachchan do their thing. The rest have spared our eardrums. So far, thanks to the good lord.

PS - Thanks to Amar Parikh for the link.
- August 24, 2005 9:03 PM // Bollywood , Select
Rising Khan
The Rising finally releases this week. If nothing else, it's been an effectively marketed film. The trailer has been available for a while, yet:
For the past six months, irrespective of the film being screened, the audience at Chennai's Melody theatre gives a standing ovation to the trailer of Mangal Pandey - The Rising. The 90 seconds theatrical trailer showing Aamir Khan walking in shackles with the patriotic song Mangal ... Mangal ... , tuned by A. R. Rahman, in the background creates a stir.
What took so long? Well, there were personnel changes:
Aishwarya Rai has been thrown out of Ketan Mehta's The Rising starring Aamir Khan. The film that has been in the news for a year now was once again hit with controversy when Ash's international agents demanded that the producer Bobby Bedi double her fee after initially having agreed to a nominal one. They argue that the film will be released internationally as it is being made in English and Hindi so Ash should get her international price of 3 crores. Bobby Bedi refused and cast Amisha Patel instead. Bedi says that Ash had given him a content letter in May, and the shooting for the film was due to start in January - so how can she be so unreasonable at such a later stage. It seems Aamir Khan tried persuading Ash but she was incommunicado. On the other hand, Amisha Patel is thrilled to bits about doing the film.
And of course, there is the famous Aamir Khan attention to detail (a quality conspicously missing in much of India's film output). From BollyWhat:
Before every take of the sword fight, Aamir Khan would snarl to get into character. 'I've already shot one man,' he said. 'I'm sweating with the madness of complete violence.' A doctor was standing by. On Aamir's first swipe, he bends Toby's aluminum sword. Another take, and the sword is bent again. Another, and Toby's sword is broken in two. 'Shite,' Toby said. Then another breaks. 'He chews up swords like candy, yaar,' Ketan Mehta said, walking over. Only three swords are left for Toby.

The swords are kept in a bucket of ice water to keep them cool on the fighters' hands, and there is a discussion about whether the cold water is making the metal brittle.

Aamir insists on fighting with different, stronger swords. The audience will see what we've shot here and say, 'They're not really fighting,' he said. He wants to show the feeling of violence, or else get rid of the sword fight entirely. The next day, swords made of stainless steel are brought from Mumbai, and a day later the sword fight scene is shot again.
Naturally, there's the usual share of controversy:
Mumbai, July 30: Several theatre artistes organised a protest in Ballia (U.P.) against Aamir Khan starrer 'Mangal Pandey-The Rising'.

As the director Ketan Mehta did not shoot the film in the revoltionary's native village Nagwan in Ballia district. Asserting that if portions of the film were not shot in Mangal Pandey's native village Nagwan , they would also protest against the films screening . The protestors also burnt effigies of film's director Ketan Mehta.
Bwahaha. One of the master strokes in marketing this film was Aamir Khan's endorsement deal with Titan watches during production. In ad spreads, Aamir appears in full sepoy regalia and manages to pull it off. His mustache and long hair made for near universal saturation of the Mangal Pandey image in the Indian market. Talk about synergy!
But how is the actual film? Advance word seems to be really positive! Variety writes:
Bollywood cracks the epic code with The Rising: Ballad of Mangal Pandey, a gorgeously lensed, well-structured audience-pleaser that harks back to classic Hollywood blockbusters of the '50s and '60s. Based on the 1857 Indian Mutiny that signaled the slow decline of BlightyBlighty's rule in the subcontinent, pic sidesteps the usual pitfalls of historical action-dramas made with Anglo-local casting for a good old-fashioned tale of heroism with a political slant. Opening-night attraction at the Locarno fest goes out worldwide through Yash Raj Films Aug. 12, and could cross over to fractionally wider bizbiz than usual Bollywood fare.

Largely shot in English, the movie has none of the awkwardness in dialogue or playing that's afflicted similar productions in the past, despite being directed by an Indian, Ketan Mehta ("Mirch Masala," "Sardar"), and using a largely Bollywood crew. Dialogue falls naturally into English or Hindi as circumstances dictate and, apart from a couple of overplayed supporting roles, the Brits come over as real characters rather than colonial stereotypes.

Thanks to good perfs by leads Aamir Khan ("Lagaan") and Toby Stephens, the personal conflict -- which, in true epic style, mirrors the wider drama -- is socked over at a human level that's finally very moving.
Interesting. From the trailer, The Rising had seemed to me to be India's answer to Braveheart. At any rate, perhaps this might be the next breakout film from India after Lagaan. And with the same star. Coincidence? I don't think so.
- August 9, 2005 11:47 PM // Bollywood , Film
Sarkar
Somewhere in the course of the past two decades, Amitabh Bachchan went from an "angry young man" to being an ubiquitous old man. Oh sure, in between there were the dog days of the collapse of his ABCL venture and his subsequent rehabilitation via the Kaun Banega Crorepati (Indian version of Who Wants To Be a Millionaire) TV show. Post career resuscitation, Mr. Bachchan seems to have tucked into his new onscreen career with relish. But for the rest of us, it's a case of too much pickle ruining the chapati. If he's not invoking that distinctive voice of his for a film voiceover, he's busy lecturing some young buck on family values or hectoring the audience on patriotism. Even if he's not on the bill, there's no escaping a cameo appearance from the man. These days, a major Bollywood production is made notable by his absence. And of course, if you turn on Indian TV, he's selling something in a commercial near you!
Thus, director Ram Gopal Verma chief achievement with Sarkar, as far as I am concerned, is that he restores Amitabh Bachchan's grandeur as an actor. He does this by stripping away the bombast and the many layers of acting tics Amitabh has accumulated over the years. Here, Amitabh speaks volumes via the stillness of his face and eyes - gone are the usual dramatic flourishes. Of course, if you see Ajay Devgan's performance in Company, you'll see this is a tactic often used in Verma's productions. But the danger there lies in underacting the role, particularly as Indian audiences are not usually served up subtlety very often in their cinematic diet. All credit then to Amitabh for communicating with a look or a glance what would take pages of exposition and thundering soundtrack to convey in a standard masala flick.
If only the rest of the film stood up so well! This film was tirelessly publicized on two fronts: first, as the Indian answer to the Godfather and, second, as a vehicle for both father Amitabh and son Abhishek Bachchan. It may be argued that the marketing went overboard on both counts. Certainly, the sight of the two stars walking to the Siddhivinayak temple on foot for "personal reasons" on the eve of the film's release didn't hurt it's chances.
As for the film, even if you were holed up in an ashram in the Himalayas, Ram Gopal Verma explicitly reminds you that this is a tribute when the film starts to roll. Unfortunately, this tactic distracts from enjoying the film on its own merits. Matters aren't helped when, in the opening sequence, a man trudges to the Sarkar's residence, looking for retribution for his raped daughter. Okay, there is no wedding going on at the time, but still ... Thus, throughout the film, I was left drawing comparisons between it and the original. Would Sonny get killed this time around? How about the Godfather? How would they handle the transformation of Michael Corleone? Where the hell was Fredo? And Sarkar suffers by comparison. There are places where it hints at some original twists but it doesn't explore them in sufficient detail. What remains is Godfather-lite, a place where the head honcho, Sarkar, really is a good man who eschews organized crime, where the women are mere window dressing and where Abhishek Bachchan and Kay Kay Menon's fine performances are wasted because their roles are so poorly developed. Don't get me wrong - this is a polished production that is an order of magnitude better than Verma's last film, Naach, although the music is too bombastic in places, frequently building to false climaxes that lead nowhere. Like the bulk of Ram Gopal Verma's productions, it's eminently worth watching. It just doesn't scale the heights of the maestro's previous achievements.
- August 1, 2005 11:56 PM // Bollywood , Review , Select
Definition of Dishum Dishum
So, what exactly does "Dishum Dishum" mean? The actual origin of the name comes from the fight scenes in a Bollywood film, specifically from the sound of the punches thrown. They have a distinct cardboard drum like sound, not surprising because perhaps that's what was used in the foley process! Here's an audio sample. In a more general sense, however, dishum-dishum refers to action as an ingredient in a Mumbai potboiler. People will tell you, "go see this film, there's a lot of dishumdishum in it!" In that context, dishum-dishum conjures up images of a very specific type of stylized action sequence i.e. cheesy blaxploitation/kung-fu type gyrations. Think of it as the Indian version of chop-socky!
Want more? Have a look at this clip from Dil Hai To Mangta Nahin, a huge Bollywood blockbuster from the early '90s. In this excerpt, Aamir Khan single-handedly beats up the baddies and rescues the damsel in distress. Wasn't that fun?
However, for the record, dishum-dishum, like chop-socky, has evolved with the '90s and beyond. Serious productions from Bollywood have genuinely thrilling action sequences and Aamir Khan is one of the main folks responsible for this update. Check out his work in Ghulam for example - serious jaw-dropping material. However, current frivolous efforts, instead of being lame kung-fu knockoffs, are now lame Matrix copies.
- July 31, 2005 10:08 PM // Bollywood , Film
Brimful of Asha
Asha Bhosle is coming to SF in September! But, this is not a standard greatest-hits concert. She'll be playing at the YBCA together with the Kronos Quartet:
India Calling

Songs from Rahul Dev Burman's Bollywood. Featuring special guests Wu Man, pipa, and Debopriyo Sarkar, tabla

This spectacular event will play only four venues (Premium ticket packages available. Call 415.321.1341 for info.) worldwide - Carnegie Hall, LA, London and YBCA! The Bay Area's own Grammy Award-winning Kronos Quartet will perform with living legend, Indian film singer Asha Bhosle, who has released more than 20,000 songs to date! This exclusive tour celebrates the new album by Rahul Dev Burman, Bhose's late husband and one of India's most influential Bollywood composers. Don't miss this pairing of musical luminaries!
Asha Bhosle routinely sells out theatres across the USA. So, what is she doing playing at a hall that seats less than a thousand? And what's YBCA doing hosting Asha? I suspect this is more a reflection of India's growing economic clout (rather than a sudden re-evaluation of the art of Bollywood) as well as Ms. Bhosle's desire for a wider audience to perpetuate her and her former husband's (R.D. Burman) quite considerable legacy. The tie-up with Kronos, in that sense, is somewhat reminiscent of AR Rahman's collaboration with Andrew Lloyd Webber. There's already an album, You've Stolen My Heart: Songs from R.D. Burman's Bollywood
, reflecting the Asha and Kronos Quartet union. Can't wait for the show! If we can afford to get in that is ...
- July 29, 2005 12:15 AM // Bay Area , Bollywood , Music
Bollywood On Demand
Comcast has finally figured it out. Us desis just can't seem to get enough of this stuff:
In response to Dish Network's and DirecTV's success with multicultural programming, Comcast of Northern California this year launched ``Bollywood & Beyond,'' its latest ethnic video-on-demand (VOD) service that's becoming a hit with the Bay Area's growing Indo-American community.
More details:
B&B, which was launched by Time Warner Cable in New York last August, offers Comcast's 800,000 digital subscribers a chance to purchase seven Indian films each month for $3.99 each.

Among the 17 festival titles that will be available ``on demand,'' which allows subscribers to pause, rewind and view movies as many times as they want over a 24-hour period: ``Chokher Bali,'' starring superstar Aishwarya Rai as a widow who moves in with another family, and ``Khwahish,'' with the popular Malika Sherwat as a low-born daughter who marries into a prominent business family.
An interesting contrast between arty and earthy fare. But very limited, both in terms of title selection and time for rental. Given the length of the average film, getting through them in 24 hours, particularly on weekday can't be easy. So, Mukesh, our local grocery/video rental store owner can relax for the time being. He might lose out on some popular recent releases but his huge back catalogue of masala films will continue to keep him in business. Another point from the article:
Veena Kamath, an elementary school teacher who lives in Los Altos, is a fan of the new service. She stumbled upon the Bollywood movies three months ago and saved herself a trip to her favorite video store.

``It's great to be able to watch a Hindi film when you want, and share it with your children, who may be losing touch with their culture,'' said the mother of two who emigrated from Bombay 24 years ago.
Of course! Who better than Bollywood to teach your kids about "family values" and what a fairyland India really is - especially those parts in Switzerland and New Zealand.
- July 26, 2005 10:04 PM // Bay Area , Bollywood
Retrospective: Black
Note: This review was originally written on March 24, 2005, when the film was still playing in the movie halls.
After hearing much hype about Black, its truncated length of two hours (as opposed to three hour bladder busters) and "performances of a lifetime" from Amitabh Bachchan and Rani Mukherjee, I have to admit I was curious to see whether Sanjay Leela Bhansali had overcome the excesses of Devdas and delivered a taut, art-house type feature. So, we went to see it at the Naz in Fremont on Tuesday. It had been miserably wet in the Bay Area over the past couple of weeks - yet the theater was packed.
The storm und drang inside the theater started right from the opening frame and didn't really let up (with a couple of merciful moments), until the very end. I would have been surprised if the projectionist hadn't taken mounds of towels to dry down the film reels before the next showing, so intent was the film in wringing out juice from every scene, every character, every prop. It rained incessantly. It snowed. There was a water fountain in case the first two weather elements didn't come through. The plot? Rani Mukherjee plays Michelle, a blind-mute girl and Amitabh Bachchan is her teacher, who sticks by her despite all the odds. Mr. Bachchan has easily any number of films where he gave performances far superior to this. You only have to look as far as Khakee to see his real ability. Here, his performance becomes a wholehearted tribute to William Shatner - no scenery was left unchewed. As for hers, well it is always tough to evaluate the performance of someone who is playing someone disabled. Play someone like this and the decks are stacked in your favor - but I wasn't sure whether her wild flailings were typical of folks similarly afflicted or because of what the director had deliberately asked her to wildly overact. After all, Sanjay Leela Bhansali did make sure we know of his nod to Charlie Chaplin through her physical performance! And in case we missed the point, a Charlie Chaplin flick plays in the local theater which the characters walk past - I kid you not! But did the film really intend to pay tribute to The Exorcist? It certainly seemed that way, particularly during the younger Michelle's histrionics, rolled eyes and all.
As for trimming down the fat, well, yes there were no songs. But all the other elements of a standard Bollywood masala film were present. The ever present score, replete with deep drums and throaty aahs, hammered away in the background, filling in emotion when the words weren't enough. The gestures were grand, the dialogue grandiose ("it is not the eyes that dream, it is the mind"), the setting a burnished, grand India that really never existed (except as India-on-the-Alps or wherever this film was shot). But I was left wondering - were they substitutes for character development? For effective storytelling? The film is a big hit and so, I suppose it did click with many people. It is being hailed as being Oscar material but I seriously doubt it'll get that far here. Just seems that it's a lot easier to gain audience sympathy if your leading character is disabled in some way. And if you look at past Bhansali productions, a certain pattern arguably does arise in this respect. Khamoshi featured a mute/deaf family. The titular character in Devdas was an emotional cripple - and an alcoholic. Hum Dil De Chuke Sanam was the exception and, in my personal opinion, the best thing he's done so far. Anyway, I boldly predict that Mr. Bhansali, for an encore, will do a film featuring a wisecracking (but autistic), gin swigging quadriplegic. Should be a triple hanky feature.
- July 18, 2005 10:19 PM // Bollywood , Review , Select
Theme to Swades
Make no mistake, AR Rahman was on a serious roll last year. The soundtracks to Yuva, Meenaxi and Swades are astonishing achievements, even by his lofty standards. It is a tribute to his (and his production company's) talents that he could actually leave out perfectly wonderful pieces of music out of the actual albums. In particular, I am referring to the Swades opening theme. This haunting tune plays during the opening credits and at places throughout the film. I also remember it accompanying the TV promos in India. One of the main thrusts of the film itself is how India still exerts its pull on the folks departed from its shores. The main riff is a perfect encapsulation of that sentiment, yet is not on the CD! Thus, I've taken the liberty of making it available. Without further ado, here's the Theme to Swades. Notice the transition to the Yeh Tara Woh Tara opening in the bridge section. Also, is it me or does the airline captain speaking over the intercom sound suspiciously like Shahrukh Khan's voice filtered?
- June 24, 2005 12:34 AM // Bollywood , Music
$145 Million Film Deal In India?
Mid-Day is reporting that a Mumbai based production house, Percept Picture Company, is all set to announce Tree of Life, a $145 Million dollar project:
The film is a drama and will star Hollywood bigwigs Mel Gibson and Colin Farrell, and will be directed by Oscar-winner Terence Malik (Thin Red Line, Days of Heaven, Badlands).
Additionally,
Fifteen per cent of Tree of Life will be shot in India, while the rest will be shot on locations abroad. A source from Percept, who does not wish to be named, says, This film will take India places in the Hollywood circles.

Not confirming the news, Shailendra Singh, managing director, Percept Picture Company says, I cannot comment on this right now. When I have something to say, we will announce it officially.

If true, it's safe to say it'll be unlike any other Indian production. Frankly, I find it a little hard to believe myself. Firstly, the most expensive Indian films have had budgets in the tens of millions. This is an order of magnitude higher. Also, the most recent films produced by Percept (Makdee, Phir Milenge) have been relatively low cost affairs, even by Indian standards. Secondly, the star power - again next level stuff. Thirdly, the director, Terrence Malick, is one of the most reclusive and slow working auteurs out there. All I can say is, grab your popcorn as sparks are sure to fly!
- June 17, 2005 12:06 AM // Bollywood , Film , India
Retrospective: Waisa Bhi Hota Hai Pt II
In a curious sequence of affairs, an ad copy writer, Punit (Arshad Warsi), finds himself on wrong end of an sixteen hour bender, initiated by his brother's death and his subsequent eviction from his girlfriend's house. He wakes up in the midst of a gangland shootout and unwittingly saves the life of one of the biggest hitmen in Mumbai. In the days that will follow, he, again without any clue whatsoever, will be responsible for the demise of two of the Mumbai underworld's biggest gangs.
Writer/director Shashanka Ghosh makes no bones about hiding his influences. The film opens with the statement "the plot has been plagiarized from several films" and concludes with the statement: "This film is a reaction to Bollywood." Then follows the name of a list of directors including R. G. Verma, M. Manjrekar, R. Sippy, and B. Kitano, Q. Tarantino, and J. and E. Coen. The inclusion of R. Sippy is signifcant - as director of Sholay, Sippy was responsible for the first "curry western." Presumably, Ghosh is aiming for quirky curry pulp fiction in the line of films such as Snip, Mumbai Matinee and so on.
The film opens with the inevitable music video shoot, a staple of Bollywood directors trying to shoehorn a song sequence into the film flow. If your impression of India just came from watching films made in Mumbai, you'd think half the folks there are nothing but film directors, ad copy-writers and singers struggling for a living and the other half were somehow connected with the underworld. Not promising. But, the lyrics of the song being sung (something to do with smelly lovers reeking of onions) and the fact that they are being lip synched by some very fat crew members immediately tells you this film is trying to make a statement. Cut to a Baristas coffee house, where a disaffected trio of two desis (who talk in Hindi) and an Aussie gentleman (who speaks in English but has no trouble understanding the other two) provide running commentary on the headlines of the day. Cut to a bunch of rowdy Sikh mundas crowded into a Tata Sumo, careening towards Mumbai and looking for some fun. And this is just Aisa Bhi Hota Hai Part I! We then get titles for Waisa Bhi Hota Hai Part II. Will the rest of the film be as madcap as the first five minutes?
The short answer is no. But it does entertain greatly in many places. Arshad Warsi plays straight man with aplomb to a procession of ruthless gangsters and even more fearless, psychotic women. There is much grandstanding and cursing a la Tarantino, severing of body part (a la Tarantino and Kitano) and, of course, quirkiness (a la the Coen brothers). Using the Barista trio as Greek chorus is a great idea as well. However, I just couldn't help the feeling that I'd seen all of it before. Given that Ghosh himself claims the film is inspired from various sources, perhaps that's not surprising. But whereas Tarantino is past master at filching from many places and producing something original out of the mix, that spark of demented genius is missing here. Two songs are standouts: Allah Ke Bande and Gurdeepa (which really should be called Punjabi Rap although it features no rapping, not in the strict sense of the term, anyway).
Okay, rant alert: do all of Mumbai parallel cinema have to feature the shenanigans of ad agency employees? Just off the top of my head I can think of Jhankaar Beats, Mumbai Matinee, Phir Milenge, and I am not even thinking of mainstream Bollywood!
However, the film did turn heads, deservedly so, and I'll be following what Shashanka Ghosh does next with great interest.
- June 12, 2005 8:54 PM // Bollywood , Film , Review
Sen-se and Sen-sibility
It seems Bollywood is under inva-sen by the Sens. Look around and you'll sen-se them everywhere! As far as I know, most of the recent inva-sen is courtesy of the Suchitra Sen parivar. Suchitra was one of the leading Bengali actresses of the '60s and '70s with her daughter Moonmoon Sen keeping the family tradi-sen going in the '80s and '90s. Moonmoon's daughters are Raima and Ria Sen. There's also Rimi Sen who's no rela-sen. Neither is Konkona Sen, daughter of Aparna Sen, or Sushmita Sen, the real "Get Out Of My Dreams And Into My Car" woman (quoting Billy O-Sen). Oh and let's not forget director Somnath Sen. In-sen in the membrane indeed!
- June 5, 2005 12:14 AM // Bollywood
The INOX Factor
On our last trip to India, we checked out several of the new state of the art multiplexes (by INOX) in Kolkata. We were blown away, particularly by the City Center INOX in Salt Lake. The seats, the screen, the air conditioning and the sounds were all top notch, easily comparable to the better theaters in the Bay Area (AMC Van Ness comes to mind). As a matter of fact, I wish our local Bollywood multiplex, Naz8, would hurry up and actually go through with their long awaited remodeling. Their current digs are really rather threadbare - AC ducts are visible through holes in the ceiling, the carpets cling to the shoes, and the seats just don't provide the posterior support necessary for staying awake and alert for three hours. INOX, in our mind, had another big plus - in India movie theater seating is not first come first served. Tickets come with seat numbers printed on them and ushers guide you to your spot in the theater. This to me is much more preferable, particularly in INOX where you can see the theater seating plan on screen in the box office and pick out what you like.
Anyway, the very first film we went to see at an INOX theater after getting into Kolkata was Musafir. Supposedly a loose copy of U-Turn, the film was an excellent advertisement of Bollywood's technical proficiency. It really put the theater through its paces - techno music pulsed in the background while explosions and gunshots rattled the main speakers. On screen, we had fast-forwards, splitscreen shots, rewinds, jumpcuts, hooded bad guys striding in slo-mo through dark, rain drenched streets and forty-something heroes accessorized in the latest Italian leather and the latest young-enough-to-be-their-daughter starlets. The combined assault was as good a cure for jetlag as any and let us know emphatically that the days of getting bitten by mosquitoes while sitting on hard wooden seats was over. Alas, the hi-fidelity nature of our experience also revealed some inherent visual flaws in the source material - as one of the starlets (Sameera Reddy) leaned over suggestively, it was possible to see the stretch marks on her back. Similarly, in a slow motion shot of Anil Kapoor whirling around after getting punched, we could discern the laws of inertia - his fat was moving in one direction while he rolled in another.
When emerging from the theater, I finally understood Bollywood's cunning plan for holding on to its audience. First part of the plan consisted of filling the pictures with as much ear and eye candy as possible. The second part was to actually find some worthwhile content - but only if the first part didn't work. After all, who wants to pay writers? Judging by the pictures we saw, they have the first part down pat. And is it working? Well, purely from anecdotal evidence, we found it was much tougher to get tickets to the Bollywood films as opposed to the English flicks on offer. Speaking to the box office clerks confirmed this observation. In addition, the Hollywood films were priced cheaper than most of the Bollywood films. Tickets to Veer Zaara, the then blockbuster, cost close to 200 rupees! I guess most Bollywood films will remain content-free for a while longer then.
So, the theaters were excellent. How about the patrons? In his Reelthoughts for May 2005, internet movie critic James Berardinelli writes about the pain of going to a multiplex in the USA:
The Living Room Factor

There are plenty of things to complain about regarding movie theaters: poor audio & video quality, out-of-frame pictures, sticky floors, indifferent employees, uncomfortable seats, an endless stream of ads before the start of the feature, and so on... But the biggest complaint concerns other patrons, especially those who aren't yet old enough to drink alcohol. They walk in late, don't turn their cell phones off, munch loudly on popcorn and slurp their sodas, and chatter incessantly. (My apologies to those of you in this age group who are not guilty - and I know you're out there. Tarring you with the same brush is unfair. Unfortunately, you are the exception.)

Yesterday, I got a first-hand look at another example of movie-theater rudeness. It happened while I was watching an afternoon showing of Unleashed. Shortly before the commercials were about to start, a couple walked in and seated themselves across the aisle from me. They were both around 18 or 19. The guy settled into his seat and dug into his popcorn. The girl removed her shoes and propped up her bare feet on the back of the seat in front of her. I momentarily gawked, scarcely believing what I was seeing. Appropriate behavior for a living room? Yes. Appropriate behavior for a movie theater? Not in my opinion.
One thing became glaringly apparent when we were in the INOX theaters: the prevalence of cell phones in modern Indian life and their potential for irritation. During the course of a film, it wasn't uncommon for folks, particularly the teens and twenty-somethings, to hold up their camera phones to record what's occuring onscreen. Additionally, many simply never turned their cellphones off. I could hear people holding conversations during the movie. If the film in question was of the masala variety, there's enough continual background noise to drown out the neighbors' yakking on the phone, but if it's a more thought provoking effort, then it was a tougher ask. Still, a small price to pay for such gorgeous visual and aural splendor. At least that's what I'll tell myself the next time someone tucks into their bag of chips in the next aisle. Or starts a conversation with their long lost aunty.
- June 1, 2005 12:10 AM // Bollywood , Film , India , Select , Travel
Retrospective: Khakee
A surprisingly entertaining production from industry veteran Raj Kumar Santoshi, Khakee (translated as Khaki, a reference to the color of the uniform worn by Indian police) stars Amitabh Bachchan as an aging police instructor Anant Kumar Shrivastav who is suddenly entrusted with leading a convoy to transport some criminals from Chandangarh to Mumbai for a court case. He's helped in this by a casanova young inspector (Akshay Kumar). The convoy soon runs into trouble on the return journey when a gang led by Ajay Devgan tries, by any means necessary, to stop them from reaching their destination. Aishwarya Rai also makes an appearance as a stranded motorist.
Several factors separate Khakee from a dance-by-numbers Bollywood production. First is the plot and character development: they exist! In particular, the film takes time to add detail to the lives of even the supporting characters and this helps greatly in building the tension that follows. Because there is a coherent narrative, we are better able to appreciate some of the subsequent twists and they do occur. Secondly, Amitabh Bachchan deftly combines both gravitas and levitas in his role, using his age to lend vulnerability to his character, but not afraid to poke fun at it. This is not the first time he's acknowledging his age (Baghban) but rarely has he done it with such elan (think Sean Connery in The Untouchables). Akshay Khanna too fits into his role with an easy charm. Ajay Devgan, venturing to the other side of the fence, does just fine as a scenery chewing villain as does Ms. Rai, as love interest/vamp. Finally, as this is old school Bollywood, we have to have songs and dances, but, as a measure of how times have changed, they are kept to a minimum and when they do occur, they play in abbreviated form. I particularly liked the shifting of the color palettes for "Dil Dooba." In addition, the songs are actually very catchy indeed - the heavily techno-ized "Aisa Jadoo" was a huge hit in India. So, overall, great entertainment, though things slow a little in the second half.
- May 18, 2005 11:42 PM // Bollywood , Film , Review
Retrospective: Ab Tak Chappan
This is the debut film of Shimit Amin, the LA based editor who went back to India after Ram Gopal Verma offered him an opportunity at his production arm, The Factory. The title of the film can be roughly translated as "56 And Counting" and it refers to the number of kills that lead Police Inspector Sadhu Agashe (Nana Patekar) has notched up in his pursuit of terrorists and criminals in Mumbai. The film is a bleak look at the phenomenon of "encounter killings" - a convenient way of disposing off criminals for the police unwilling to entrust them to the vagaries of the Indian judicial system. The fireworks really start when Sashu Agashe, hitherto accustomed to meting out rough justice, starts finding himself at the receiving end. The ensuing cat and mouse game is riveting and the subsequent denouement is both shocking and cathartic. It's made all the more remarkable by Nana Patekar's searing performance. Present in nearly every frame of the film, he's as magnetic as he was in his breakthrough roles in Parinda and Prahaar, yet he never resorts to cheap histrionics. Special mention must also be made for the background score consisting mainly of stark, analog soundscapes, very unlike Bollywood, yet very fitting. A tough police thriller in the tradition of Heat
and Internal Affairs
, Ab Tak Chappan is one of the best films of 2004.
- May 15, 2005 11:54 PM // Bollywood , Film , Review
DeNiro Watch Out!
Here's something you film aficienados will truly appreciate. Not content pumping up their bods, our young thesps have decided there's more to acting than just pouting and yelling. Just like their western counterparts, Bollywood actors now go all out to prepare themselves for a role. Rediff reveals the grueling research undertaken by Dino Morea for Chehra (Appearance):
"I've just finished Rakht and played a negative role. It was a volatile aggressive character. And in this film I play a well-off doctor. If people see Rakht and this film, they will get to know my versatility as an actor," claims Dino Morea...

About his preparation for Chehra, Dino revealed, "I have met up with psychiatrists and found out that they don't wear white overcoats like doctors do. I met them to get a feel of the character. A psychiatrist's job is only to talk to the patients."

No lab coat? Wonder how many notepads Mr. Morea had to fill before he gained that priceless insight.
PS - Link courtesy Amar Parikh.
- May 12, 2005 8:49 PM // Bollywood , Select
Phoren Heroines In Bollywood
How easy is it to get a bit part in a Bollywood flick if you are white? A Salon article, I Was A Bollywood Stuntwoman, provides details:
What unfolds daily, especially now, at the height of the shooting season, is an odd scene where Westerners resemble certain Mexican laborers –- picked up from street corners, without the proper work papers, by shady middlemen who keep a generous dose of a long day's pay for themselves. And yet, being a Bollywood extra is a growing tourist attraction. For most travelers it's a one-time playground, a future freak story to tell over beer. For others, it's the entry to a possible job.

Already, young foreigners -- from film-school graduates to short-skirted women waiting in the lobbies of high-class hotels -- are nibbling at Mumbai's entertainment industry.
Given how desis worship all things fair, I suppose it was inevitable Bollywood would take matters to its logical outcome and try non-desis as heroines proper. From the same article:
The pinnacle of my short but glorious career came a few weeks ago, when the Indian epic "Kisna" opened at theaters around the world, including in the U.S. It was Bollywood's biggest release so far this year, by India's showiest director, Subhash Ghai, and marked a significant step in international relations: The lead actress isn't local, but British and blond. I was her stunt double. On holiday in India, and with no acting experience, I found that the fastest road to filmdom may begin in Mumbai.

Yes, aspiring starlets. Get there now, before the small but savvy number of booby Russian and Bolivian girls, already clutching portfolios, takes over. The average Indian film is a challenge of taste -- "Our biggest problem today is that 90 percent of the films are flopping," Ghai has said -- but it's a mistake to ignore the colorful job market behind them. The Mumbai film industry makes more movies a year than anyone in the world, and the need for non-Indians is growing, especially now: As Bollywood producers see larger chunks of their box office from overseas, they're making more films with foreign faces.
Other than Kisna, Rog was the other film to get on the bandwagon. Here, the filmmakers went one better - they actually tried to pass off the South African model turned actress, Ilene Hamman, as Indian!
So did the audiences buy it? No. Both films did poorly. Now, there can be any number of reasons as to why. However, regarding the foreign heroine angle, here are some thoughts:
The trend seems to target heroines, not heroes. In other words, sexist as it is, the gamble is on what Indian men prefer to see on screen. My brother in law had an interesting take on this - he felt Indian men prefer the girl-next-door type of looks the most. Hence, he predicted these films wouldn't succeed. He had a point.
Making Bollywood films for mass foreign (read Western) consumption is still a laughable concept. Rather, a big chunk of Indian films receipts come from the overseas NRI audience. One of the reasons the NRI audience is attracted to Bollywood is that it shows brown folks i.e. them on the big screen, doing cool things. It fills a need that doesn't come from the local TV station or multiplex. Having non-desi heroines breaks that arrangement.


There's the curiosity factor of course - but I don't think it's likely to be a regular occurrence. Sure, we'll continue to see phoren extras writhing in the background for the musical numbers, but the foreground is sacrosanct for the short term. How about the long term? As India becomes more cosmopolitan, as more foreigners start living in India, perhaps this will become more acceptable. Then, the "brown is beautiful" movement will no longer be confined to second generation desis, but instead will spread to disenfranchised desi Bollywood actors and actresses!
- May 7, 2005 8:42 PM // Bollywood
Bold Bollywood
Consider how far love scenes in Bollywood have come. Or not. Once upon a time, we had demure Bollywood maidens looking down shyly as the face of the hero approached only to turn away in the last possible moment. Alternatively, our romantic hero, zooming in on the heroine's lips, would abort his mission in the very last second and nuzzle her throat instead, thus displaying yet another slick collision avoidance technique and saving blushes all around.
Alas, the introduction of satelite TV, phoren (foreign) films and other pernicious sources of corruption, put pressure on Bollywood to do more. Efforts by Raj Kapoor notwithstanding, Bollywood resisted like any good girl would. But finally, with films like Murder, Julie and others, we had the advent of "dare bare" heroines and "bold" and "sleazy" films. The main purpose of all of this was to consume acres and acres of newsprint of breathless hype and speculation over who would show what inch of flesh next. The films themselves were little more than hours and hours of heavy handed melodrama followed by a glimpse of somebody in a bikini. Whee. Rog continues this glorious trend. Consider this still from the film: how daring indeed! However, it's curious that if you stage such a steamy scene, you wouldn't turn up the AC in the room so high. Clearly, the lady is feeling the chill. But, props to Rog for the "illation". Maybe, in a couple more decades, we can get the rest of (t)it. Meanwhile, this elaborate striptease continues at its glacial pace, one tree at a time.
- May 7, 2005 8:19 PM // Bollywood
SFIFF 2005: Black Friday
Black Friday (2004, dir. Anurag Kashyap) is a ten ton haymaker punch into Bollywood's bloated midriff. When the film starts, you'll see the usual censor board certificate and then the legend "Jhamu Sugandh Presents." All resemblances with your usual run of the mill masala flick end thereafter. Comparisons with docudramas such as JFK and The Battle of Algiers are much more apt. Yet the film also has Indian roots, blending the worlds of the underworld dramas Satya and Company.
Based on a book by S. Hussain Zaidi, Black Friday is a reenactment of the investigation into the Mumbai bomb blasts of 1993. Inspector Rakesh Maria (Kay Kay Menon) is assigned the unenviable task of tracking down the perpetrators. And to make matters worse, this is the holy month of Ramadan - a false move by the police can exacerbate the tense situation in Mumbai, already reeling from riots in 1992.
Many, many factors contribute to Black Friday being a landmark Indian film. These include:
It's based on a non-fiction book. Not a frequent occurrence in the Mumbai film world.

The narrative flow: Kashyap opts for an episodic approach, jumping back and forth in time to focus on specific threads that converge at the explosion and then unravel again, as the perpetrators scatter across India (and outside). This technique has been tried in Bollywood before (see Yuva) but here it feels less a gimmick and more a legitimate storytelling device.
Mixture of TV footage and live action. The montage of stills that end the film.
The authenticity: this movie feels real. From the gritty interrogation scenes to the locations all over the country, this is the India the ITDC will not be displaying on their posters. The BBC film crews, on the other hand, will be busy making notes on what slums to visit the next time they get down from their planes in Mumbai. One minor quibble: the Dubai scenes don't feel like they could've been from the early '90s, largely because of the car models featured are from a later date.
The investigation: the crime thriller, as a genre, is moribund in Bollywood. There are many reasons for this, notably the stylistic straitjacket that most Bollywood products have to be trussed up in. There have been exceptions (like Tarquieb) but for the most part, it is an uphill battle to introduce logic in a business ruled by emotion. Here, the film poses a tantalizing question in the beginning: how do you find the culprits in a country of billions? Where do you even start? The film provides many insights as to how it is done and a lot of it is not pretty.
The performances, largely by a cast of unknowns, are outstanding - the remarkable part of this is the understated nature of the acting. For example, we see one of the perpetrators, tired of being continually on the run from the police, on the verge of giving himself up voluntarily. To illustrate his desire for normalcy, for marriage, the camera simply focuses on him staring at a couple of attractive girls in a Calcutta tram. Too often, the temptation in a project like this would be to resort to soul stirring speeches, scenery chewing grandstanding, and much melodrama. There are a couple of confrontational scenes but their effectiveness is underlined by the fact that there are so few of them.
The even handedness: Black Friday does not take sides. It goes out of its way to make the point that this cycle of violence has been continuing for centuries. And for the good of the country, it is best to find ways to break the cycle, not find blame. To drive home the point, the film opens and closes with a quote from Mahatma Gandhi: "an eye for an eye makes the whole world blind."
The chase scene: there is a chase on foot that must rank as one of the best I've seen. William Friedkin (The French Connection, To Live and Die In LA) would be proud.


The one nit with Black Friday is that it drags on a little too long in the end, thus diluting its impact. But that's not to take away from its overall effect and message: violence of this type, by creating more poor and dispossessed, simply begets more of the same. Spellbinding yet resolutely uncommercial, this is the best release from India we've seen this year.
In a recent development, the film has been embroiled in legal court wrangles:
In January this year, Mushtaq Moosa Tarani and 36 other accused in the Bombay bombings case had moved court on the grounds that the film would create a bias against them at a time when the court verdict is awaited.

Last week, the Bombay High Court imposed a stay on the film's release till the designated Terrorist and Disruptive Act (TADA) court in the blast case delivered its judgement. The producers now intend to move the Supreme Court against the decision.
Let's hope these issues are resolved soon - the filmgoing public deserve no less.
- May 3, 2005 10:12 PM // Bollywood , Film , Review , Select
Page 3
Many Bollywood flims suffer from what I call the "second half" syndrome. The first half of the film actually works. Post intermission, however, it's a different story - literally. Usually ultra crappy. It's like the filmmakers had a contractual stipulation to deliver a three hour magnum opus but used up all their good ideas (and budget) in the first half. I could go on and on about this but for the time being, I'll just name two films, both made by talented directors, that fell prey to this: Abhay (directed by Kamal Hasan) and Jungle (Ram Gopal Verma).
Page 3 has the opposite problem. For the first sixty percent of the movie, I was wondering what precisely was the plot or the point as we meandered from one fashion show to another. Everybody onscreen seemed to be having a lot of fun. We, alas, weren't. Then an explosion occurred and the film tightened up considerably and actually seemed to head into interesting territory before ending a little abruptly. Page 3 intends to be an expose of the Mumbai glitterati - the folks who attend the glamour parties and of the journalists that cover said happenings for page three of the English newspapers. Konkona Sensharma plays a naive journalist that gets sucked by the hoi-polloi into their world before discovering, poor lamb, that they are not very nice people after all. Atul Kulkarni plays a reporter assigned to the crime beat of the same newspaper and is thus, naturally, a man of substance that can serve as a conscience to Ms. Sensharma (and often does). Before the blast occurred, I was thinking this film could effectively be summarized by the tagline "five parties, a funeral and a whole lotta moralizing", as it seemed too preachy yet exploitative, a classic case of trying to have your chaat and eat it too. Anyway, the post explosion events went a long way towards redeeming the film, but wasn't quite enough to rescue it completely. See Satta by the same director for a much more effective piece of filmmaking.