My Theory On Why Indian Americans Excel At Spelling Bees
The pattern has become all too familiar. This time of the year, every year, there's a new spelling bee champion. Invariably, he/she is Indian American. Commentary abounds on the preponderance of desis in this event. Someone points out that most of the finalists are also Indian American. Theories like first generation immigrant drive and strong family values are trotted out.
Dhingra is heading up an exhibition at the Smithsonian next year on Indian-Americans that will try to explain the phenomenon. He says spelling bees offer a kind of perfect mix of everything that resonates deeply with Indian-Americans: the competition; the focus on academic achievement; the discipline it takes; and the way a tightknit family can team up to train together.
Me? I think there's a simpler explanation. You see, us desis are born with an innate advantage. As kids, one of the first things we have to learn is how to write our names in English. That's one of the basic requirements of entry into a private kindergarten school, for example. I don't know about you but I think learning to spell a name like Ranjana Kuruppuarachchi, just to pull something out of thin air, would be excellent preparation for xanthosis, vivisepulture or succedaneum five or six years down the line.
Ah, but what about those parents that have already anglicized our names in anticipation? Well, at some point early on, we have to spell their names too. And our grandparents, uncles and aunties. There's just no getting away from it. My two rupees. Told you it was simple!
- June 2, 2012 10:01 PM // Diaspora
East Indians in American Media
Cross posted on sharidelic.
Over the past few years we certainly have seen more South Asians in the American media though the term "South Asian" is becoming obsolete. I see more ads looking for "East Indians" than anything else. Not quite sure why but my guess is because India is becoming more prominent amongst the South Asian countries and hence taking over the identity. Anyway, though the numbers have risen, the roles in Hollywood still fall prey to stereotypes. As filmmakers, Soam and I have watched this evolution closely and have had long discussions on what the requirements might be for Indian actors in Hollywood. About 10 years ago, it would definitely be the short, dark, simple looking Indian guy who was non-threatening and could be a cab driver or, if he got lucky, a doctor. 9/11 opened up the floodgates for Indian actors to play terrorists. However, the cabbie, the doctor and the New York street vendor continue to appear.
The few actors who have been able to make a breakthrough in recent times are Naveen Andrews (Lost), Kal Penn (Harold and Kumar), Sendhil Ramamurthy (Heroes), Mindy Kaling (Office), Rekha Sharma (Battlestar Galactica) and Aziz Ansari (Parks and Recreation). Though Andrews was typecast as an Iraqi soldier (falling into the "terrorist category"), it was good to see Kumar's character break away from the stereotype. That being said, Kal Penn played a doctor and a terrorist subsequently in House and 24….poor guy has to make his living after all! Ramamurthy plays a nerdy scientist in Heroes who drones on with profound insights….oh come on, can there be no normal Indian guy ever? I know his character has evolved from the first few episodes I saw but I haven't re-visited Heroes since then, so pardon me if I'm blatantly wrong. As for Kaling, she created her role herself being the co-executive producer and writer of Office! The role of Sharma in Battlestar Galactica is probably the most experimental out of the lot, though she doesn't quite play an East Indian. I haven't seen Parks and Recreation yet but from what I've read Ansari's character is pretty interesting. He is called Tom Haverford, again not an East Indian name. Color blind casting at work?
Apart from these few successes there seems to be very few opportunities for the majority of East Indian actors in Hollywood. I'd say it's worse for the desi sistas – they have to make do with the occasional demand for a brown face in a "diverse" crowd or a bit role as an exotic girl friend/coworker.
Being an actor/model myself, I've been noticing the trend over the last few years. Though I've been cast as a doctor and as part of an East Indian family, most of my gigs were for ethnically ambiguous roles where they needed a non-Caucasian. For example, for one of my auditions from a few weeks ago, I was supposed to play an East Indian doctor for a well-known Pharmaceutical company. My agent hadn't briefed me on the details but the moment I arrived at the casting, I was quite certain that I would not make a good fit. I was a little too glamorously dressed for the occasion. And here I was thinking in terms of Scrubs and House while choosing my wardrobe. Go figure! I guess the same rules don't quite apply to East Indian actors! You would think all the talk of Bollywood and seeing Bollywood actresses like Aishwarya Rai and Freida Pinto in the media would change perspectives a bit? I guess it will take longer for the casting directors here to realize that East Indian actors/models can be "versatile" too! However, my experience is limited to San Francisco and doing this as a side profession, which means I don't go to that many auditions. So, I welcome my desi brothers and sisters to fill me in on this, if I'm wrong.
Shari Acharya - April 25, 2010 5:49 PM // Diaspora , Film , India , TV
Buddha Casting Call
From the author of this posting on Deadline Hollywood:
"dunno. I'm sure these projects sound great on the celebrity Buddhist circuit, when you're saying "namaste" to Richard Gere or Uma Thurman, but I just don't know how much appeal they have in Des Moines."
What do you think? While Buddha won't play like Passion of the Christ in Des Moines, isn't it still worthwhile to get these kinds of projects off the ground and into the western media mainstream?
Here's the link.
Biraj Lala - April 22, 2010 8:24 AM // Bollywood , Diaspora , DishumDishum , Film , India
Loins Of Punjab Presents
Manish Acharya's debut film is finally out on DVD in the USA and not a moment too soon. I remember it taking the 2007 Third I San Francisco South Asian Film Fest by storm. I recall hearing the audience not letting him go until he had obliged them with a vocal rendition of a song in the film (Manish appears in the film himself in a small role). I remember being introduced to Manish at the reception over there and coming away impressed by the two minutes we spent together (for the record, we were also both featured in a Sandip Roy article, interestingly enough). I also remember apologizing for not being able to see the film myself - Virj was due to be born in three days. Last night, with the fruit of our labors knocked out after a day's worth of mall mayhem, we finally had a chance to sit down and view Loins in all its digital glory. So, how was it?
Loins of Punjab Presents is a sweet, mostly gentle film with many moments of laugh out loud hilarity that nonetheless conceals great craftsmanship. There are no deaths in the course of this film. No change-the-game plot twists. Characters don't stumble into massive insights. Relationships mostly remain intact. About halfway through, someone (it turns out to be co-writer Anubhav Pal in a bit role) actually gives away the ending. It doesn't make a whit of difference. The fun here is the ride, not the destination.
The setup is simple enough - over a weekend in New Jersey, a number of contestants gather for a "Desi Idol" type contest complete with auditions, judges, audience selections and a $25000 first prize. Of the contestants, we have your garden variety honors student Preeti Patel (Ishitta Sharma) and her driven Patel clan, scheming socialite Rrita Kapoor (Shabana Azmi), aspiring Bollywood actress Sania Rahman (Seema Rahmani) sadly hampered by not knowing a line of Hindi, an original Sikh OG, Turbanotorious BDG (Ajay Naidu), a white-on-the-outside-brown-on-the-inside fellow (Michael Raimondi) and his supportive desi girlfriend (Ayesha Dharkar) and the director himself as a suddenly unemployed financial analyst Vikram Tejwani, a fellow living in the land of logs and probabilities. Shepherding the proceedings are the Loins of Punjab representative Mr. White (Kunal Roy Kapoor) and event organizer Mr. Bokhade (Jameel Khan). This is not counting the numerous other contestants, bit parts, MCs, irate hotel managers, judges (of which, musician Trance Sen played by Samrat Chakraborti and fashionista Chris G, played by Sanijv Jhaveri, are standouts), wise cracking bystanders and audience members that pepper the proceedings. My knees buckle when I think of the sheer number of speaking parts and the shooting challenges - the exterior shots were filmed in NYC but the bulk of the interiors, set in a New Jersey hotel, were shot on specially constructed sets in Mumbai's Film City. The latter was ostensibly for cost savings, yet, as Manish acknowledges in the commentary, shooting for the USA in India posed its own set of difficulties such as finding appropriate light switches, and caused the film to actually come in over budget. As a first time feature director and producer, Manish certainly did not make things easy for himself!
As you can imagine, with the huge cast of characters it would have been very easy to reduce each to cliched stereotypes. That everyone has their moments in the spotlight is a tribute to the strength of the script and the actors. Once again, it was enlightening to hear in the commentaries that Manish genuinely feels casting is 50% of directing and the pre-production involved a grueling series of auditions. It works. Not a bum note in the entire lot and, as I mentioned before, many, many bright moments. Consider the opening monologue from Mr. White who strolls into view holding a cup of coffee:
Mr PK Singhal. He came into this country with nothing. Zero. And then ... he got into loins.
Pork loins.
In 1960, Mr Singhal started a wholesale meat company, "Loins Of Punjab." Today, we are the largest supplier of pork loins on the East Coast. In the biz, he was known as ... "The Loin King."
Loins of Punjab are proud to present "Desi Idol."

He then takes a sip from his coffee cup, revealing the bottom of the cup shaped as a pig snout.
Puns, visual humor, deadpan delivery and the American Dream. Left unsaid is the subversion of the general imagery of Punjabis as the lions of India into a generally lubricious lot, something illustrated with great gusto by Mr. Bokade throughout the film:

All of this achieved by a brilliant title that appears to be a typo but is far more.
Similarly, the Patel clan could have easily degenerated into a mess of badly accented, kanjoos (stingy) cliches. Consider the haggling at a strip club: "$20 for topless? I'll give you $10, show me one breast." Here though, it works since their primary motivation is a sweet one. They are helping a family member win.

Finally, Turbanotorious BDG - the film is careful to show that beneath the bluster, there lies a deeply vulnerable man. It doesn't hurt that Ajay Naidu is an accomplished rapper and B-Boy. Consequently, not only is the dancing excellent, but his lyrics actually makes sense. "The Goonda Philosophy" indeed!
All in all, well worth 88 minutes of your time. Can't wait for the followup.
- April 11, 2010 9:37 AM // Bollywood , Diaspora , Film
#IndianMoviesTaught - A Choice Collection
I can't do justice to them all but the meme #IndianMoviesTaught on twitter is a hoot and a half. I put together a quick collection. Had to leave creds out to make it more readable (but thanks to bhalomanush for staying on top of most of 'em). Enjoy!
#IndianMoviesTaught me that God listens to your prayers when u go to the mandir and yell at Him
#indianMoviesTaught me that the thing I am missing in my real life is the background score!
#indianmoviestaught that every christian guy is mostly named peter or michael and d dialogs suffixed with a "man"..tum kya karta hai man!
#IndianMoviesTaught me that ma ke haath ke gajjar ka halwa is the best!!
#IndianMoviesTaught that if you are a famous south Indian hero, you will become the CM of your state soon.
#indianmoviestaught me that I should address my husband by saying "Aji Sunte Ho?"
#IndianMoviesTaught me that the Indian villain is always the host & chairperson of the International Gangster Meet
#IndianMoviesTaught me that putting a fake mole on ur cheek leaves u unrecognisable & is an efficient way of disguise...
#IndianMoviesTaught that everything can be blamed on daru consumption (liquor) http://bit.ly/99rfx7
#IndianMoviesTaught The bomb won't explode even if you cut ANY one of the wires (blue / red).
#IndianMoviesTaught me that if you say a sentence in english, it has to repeated in hindi immediately after
#indianmoviestaught when judge gives a wrong decision against hero, the scales in the hand of blindfold statue go down one side
#IndianMoviesTaught mere paas maaaaaaaa hai ...
#IndianMoviesTaught me that when a bee pollinates a flower, a human child is born.
#indianmoviestaught me that a Harward MBA writes his diary in Hindi
#IndianMoviesTaught me ladies much prefer throat nuzzling to kissing.
#indianmoviestaught that kanoon ke haath bahut lambe hote hain
- March 31, 2010 1:10 PM // Bollywood , Diaspora
A Desi Filmmaker's Manifesto Part I
If I ever get around to finishing something creative, its title will not have the words karma, masala, chutney, chai, namaste or curry in it.
It will not star Om Puri, Naseeruddin Shah, Shabana Azmi, Nandana Sen, Rahul Bose or any of the Jaffrey clan. I will make an exception for Tabu and Irrfan Khan, however.
It will not be about identity crisis.
It will not be a Fish Out Of Water film.
It will not feature well off programmers yearning for meaning beyond Atherton mansions.
There will not be any straight up Bollywood dance pastiches in the film.
There won't be fake Gurus taking advantage of gullible Westerners. Tempting, I know.
There's more to be added. Let me know of some of the things you'd like to see and some you'd rather never ever see again.
- March 7, 2010 10:45 PM // Diaspora , Film
Baby Names IV
Rant from friend, edited:
A couple of us expectant parents were talking about baby names last night and the balancing act Indian parents-to-be in the US have to perform in picking a name that retains some sense of Indianness while at the same time is pronounceable and doesn't condemn the child to a lifetime of ridicule.

Apropos of that, I just ran into a sweet indian lady at work who recently had a baby boy. She named him .... (drum roll) ... Sripadh. Now that's what I call muchos cojones! Naming your child Sripadh is basically raising the middle finger to any future trauma that name might inflict on the child.

But I don't mock her decision. Maybe that's another way to go about it -- if the name speaks to you, don't give a damn how it would play in this country (or in India, for that matter).

You want to name your child after his dada Sukhdeep? No other name but Hardik suits your cutie pie? Don't worry, just go for it!
With apologies to Russell Peters.
- October 24, 2009 10:53 AM // Diaspora , Humour
There but for the grace of ..
In this article (In San Jose's east hills, owners at The Ranch 'had it all' until housing bust) detailing the collapse of a high end gated community in San Jose there's this tantalizing description:
"It's a mess," said Joe Fierro, who built a waterfall that cascades between his front steps. When he moved into The Ranch, he had a lucrative loan business; now he's a property manager. "I know of three in the immediate area that got foreclosed on."

Fierro looked out across Mountaire Lane to the hulking shell across the street, where his neighbor left behind dying palm trees, children's toys next to the outdoor kitchen, and an iron archway leading to the sport court customized with the family's name: "Som Residence." They vanished five months ago.
Yikes. I don't usually see many news articles involving variations of my first name so this stood out. I find it surprising though to hear about more and more desis falling prone to the housing bust. I suppose owning a million dollar house in Silicon Valley is of such high cachet, it shouldn't be so discomfiting. Many people over-leveraged themselves and why shouldn't desis be part of that wave too?
What I find more interesting though is seeing some of our acquaintances jump feet first into the current housing market in the Bay Area. Were I to be consulted (and I am not), I'd be the first to say prices still have a ways to go down, particularly in the more desirable zip codes. Who wants to catch a falling knife?
As this graph from one of the local housing bubble blogs shows..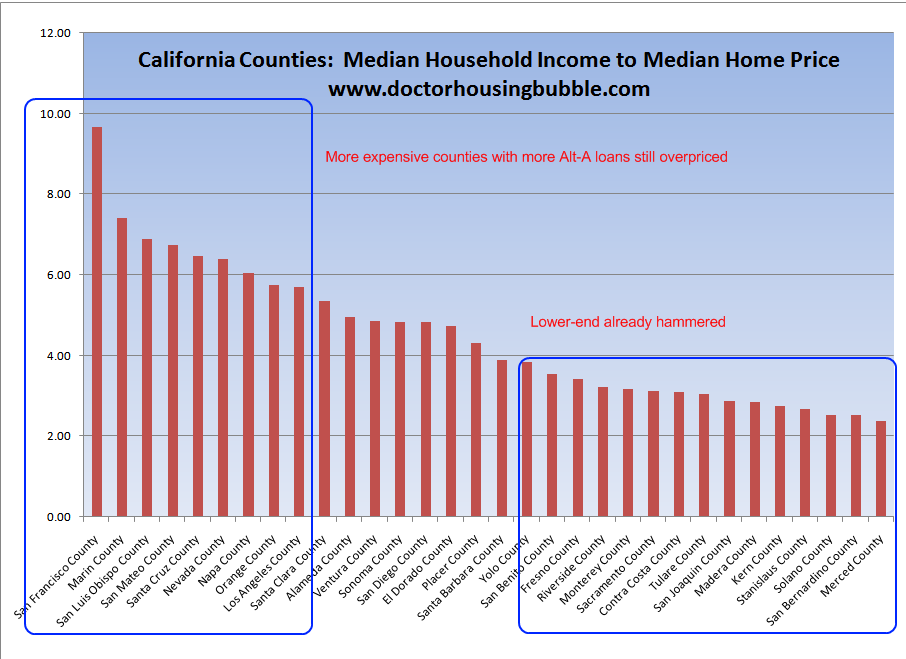 .. median income to median housing price ratios in the high price areas are still way out of whack compared with the lower income counties.
However, cold numbers notwithstanding, owning a house has still been very much an emotional decision, a statement saying "I've made it in America" and this holds even more resonance amongst Indians in the Bay Area. We've known folks who saved for years and years, staying in one bedroom apartments and limiting their expenses, only to go hogwild when it came time to put down a downpayment. Now, with California ground zero for the mortgage crisis, unemployment and host of other ills, it's somewhat sobering to see even the model minorities aren't immune.

- July 5, 2009 8:59 PM // Bay Area , Diaspora
Bhakti Fail
Picture taken at the Livermore Temple here in the Bay Area. For those times when demonstrating your devotion reduces line throughput:
BTW sashtanga namashkara can roughly be translated as worship while prostrated. You can imagine why this might slow things down when others are in line.

- April 19, 2009 3:41 PM // Bay Area , Diaspora
Desis In Odd Places IV
During the past year or so, the story of Rinku and Dinesh have been doing the rounds on the sports, news and talk show circuits. In brief, they are winners of a reality show ("The Million Dollar Arm") held in India to find some top class baseball prospects. That anyone would look for pitching talent in India where it has been customary for generations of cricket fans to bemoan the lack of genuine fast bowlers (something only changing now with the advent of Ishant Sharma) is amazing and easily attributed to a marketing gimmick designed to sell sneakers to India's middle class consumers. That the winners of said gimmick would actually sign with a Major League Baseball organizaiton, in this case the Pittsburgh Pirates, is nothing short of mind blowing:
The Pittsburgh Pirates hope Rinku Singh and Dinesh Patel really do have million-dollar arms.

The two 20-year-old pitchers, neither of whom had picked up a baseball until earlier this year, signed free-agent contracts Monday with the Pirates. They are believed to be the first athletes from India to sign professional baseball contracts outside their country.

Singh and Patel came to the United States six months ago after being the top finishers in an Indian reality TV show called the Million Dollar Arm that drew about 30,000 contestants. The show sought to find athletes who could throw strikes at 85 miles per hour or faster.

While neither pitcher threw hard enough to earn the $1 million prize, Singh made $100,000 from the contest and Patel made $2,500, plus his trip to the United States.

The contest was sponsored by a California sports management company that believed it could locate major league-worthy arms in a country of more than one billion. After working extensively with Southern California pitching coach Tom House since May, the pitchers staged a tryout in Tempe, Ariz., on Nov. 6 that was attended by 30 major league scouts.
and
"Think of them as two Dominican kids," House told the scouts. "They're very raw. But I think this has a huge upside."

When they first came to the United States and began playing catch, the pitchers were mystified by the concept of gloves and had to be taught not to try to catch the ball with their bare hands.
:
:
Patel and Singh are learning English, most of which they have picked up from watching ESPN's Baseball Tonight and by taking online classes.
And they are practicing their English on their blog, The Million Dollar Arm, which they update regularly. Intially, I thought the language on the blog was a joke, ghostwritten to be deliberately raw and conform to Indian English stereotypes. However, reading through the entries convinced me of its genuineness. It's hard to fake excitement at the opportunity of a lifetime. And the notion of desi athletes excelling in a game so far outside Indian norms is pretty cliche busting anyway.
What I liked most about the blog, in addition to the cameos by baseball superstars (tips from Barry Bonds, Randy Johnson and Brian Wilson? Really?), are the observations about living in a different, foreign country for the first time, the same problems encountered by immigrants such as homesickness and all that, but from a slightly different perspective i.e. not a student or white collar or blue collar worker and similar temptations. From that standpoint, a genuine voice on a ten dollar a month blog is worth more than a million dollars worth of marketing. Amidst much talk about practice and strength training, some choice excerpts on life in the USA:
More nuggets on their blog, a must read if you want to follow two wild and crazy guys blogging their slice of the American Dream.
- January 25, 2009 10:20 AM // Diaspora , Sports
Doubtsourcing: The Sitcom
I'd first heard about doubtsourcing, the comic strip, in a techcrunch writeup. I think all desis with a) an internet connection and b) a funnybone are well familiar with the output from Badmash and this latest offshoot from one of the core group members, Sandeep Sood, seemed to have hit the ground running. Then I stopped hearing about it and the website stopped responding (it's down as of the time this post was written).
What happened? I figured with the US recession going global and a rise in forecasts for the decline in outsourcing, perhaps Sandeep's strip itself had fallen victim to the ongoing trends.
I was wrong. I caught this ad on craigslist looking for voice talent:
Male Voice Actor needed for Animated Sitcom (berkeley) Reply to: gigs-940863403@craigslist.org [?] Date: 2008-12-01, 12:56PM PST


Badmash.tv is an animation studio working on its first animated sitcom, called Doubtsourcing.

We are looking for a voice actor to play the part of Jamie.
Further web hunting revealed a slew of such ads, a Sepia Mutiny comment:
As for the studio, we are working on an animated sitcom called Doubtsourcing (should have the pilot done in a few months)
and this interview:
His most visible success, though, has been the "Doubtsourcing" comic strip and it caught the attention of a venture firm in the Valley. His potential investors suggested that "Doubtsourcing" be developed into a full fledged animated series, a sort of The-Simpsons-meets-The-Office. With Badmash already making a foray into developing an animation studio in India, it seems like a natural progression.
I found the last part of the interview to be particularly interesting:
Where do you plan to air the show? Here in the US or in India?

SS: That is an open question. We are negotiating with a few different channels including the more mainstream ones like Warner. There's also the option of bypassing TV altogether and going straight to the web.
The italics are mine. With pundits proclaiming online video to be the killer app this year (and my day gig reliant on that fact :-), the timing for a straight to internet play couldn't be more appropriate. The recent successful VC rounds of sites like funnyordie and jibjab show the interest in generating online original humor content. There are plenty of risks with this type of endeavour, however, particularly when relying on content to go viral. As Sandeep noted himself when commenting on another piece:
There's a 'Jib-Jab' effect to these types of animations. Your first piece is totally fresh, delightfully amateurish, and funny as a result. Then, unless you come with something totally new, it's hard to recapture the same buzz again.

This is something we've learned first hand at badmash - if you're trying to be purely viral, you can't ride the same idea or style for too long.

With the badmash crew leading the way in this space for the desi diaspora, it'll be fascinating to track their approach to promoting the latest incarnation of doubtsourcing, their revenue model and, most importantly, how well it catches on. Fingers crossed. One thing is true though: with fiascoes like Satyam's going on right now, there certainly won't be any lack of material or interest on this topic!
- January 10, 2009 7:44 PM // Diaspora , Humour , Technology
Chaiwalla
Think of an Indian chaiwalla and the following images come to mind:
and
In an interesting twist, a cousin of Shari's, Neil Sanyal, decided to upmarket the idea and open his own version in tony Hampstead, London. I found mentions of it in a bunch of places including The Telegraph in Kolkata:
BREWING MAGIC: Chaiwalla, the teashop
Tea, anyone?

A challenge to the Starbucks coffee culture has been mounted in Hampstead in north London by Neil Sanyal, who was born in Britain and educated at St Paul's School but whose parents and grandparents come from Calcutta.

In March this year he set up Chaiwalla, a teashop which has just been named runner-up by Time Out London in its "Best Tea Room" competition.

Neil, who is 19, has sought to create the atmosphere of adda in Calcutta. "When walking into Chaiwalla it is like stepping straight into a part of Calcutta from the bustling streets of Hampstead Village."

Whilst searching for ideas in India to bring back to London, he was drawn to the chai drinking culture in Calcutta. "Here, many millions of people drank chai, purchased from road-side chaiwallas, in disposable clay cups that are smashed after use. My idea was to create an Indian alternative to the western coffee shop, as well as importing hand-made clay cups from West Bengal."
Ah yes, those clay cups. Where would desi tea be without them? Here's how they're made:

Here's what some final versions look like:
And here's how they're recycled:
This is the UK version:
Neil's brainchild has a website and offers much more than just masala tea. You can find free wifi, sisa, an extensive breakfast and lunch menu (including biriyani), kulfi, desi sweets and fruit smoothies. Oh yeah, love the external setup as well:
Though I don't drink tea very much myself (or coffee for that matter), I find the whole endeavor extremely interesting starting from the way we heard about it. We first got word about Chaiwalla from internal family sources and not in a particularly effusive way either. As in what's the son of bhadralok (Bengali term for middle class gentlemen) doing opening a tea store? Shouldn't he be slogging his butt off in engineering or medicine or something?
This is something I've heard throughout my life - if you walk the chosen path of computers and doctorhood and engineering, the Goddess Laxmi will shower her largesse upon you. You'll get all that and a 500SEL Benz. However, woe betide you if you stray. The Lord Vishnu himself cannot save you from the Bengali middle class "chee chee" styled derision. Sometimes I wonder how we produce any artists or entrepreneurs at all. So, it's great to see someone bucking the trend and going their own way. Looking forward to Chaiwalla going international and opening a branch in San Francisco, preferably next to the Bollyhood Cafe in the Mission district. It's only fitting. Bangla represent!
- November 2, 2008 3:14 PM // Bangla , Diaspora , Food
Meipporul The Movie
Earlier this century, in the beginning of our tenure in the Bay Area, Shari and I found ourselves singing to a hall full of people. In Tamil. This by itself might not remarkable except for one fact: we are utterly clueless when it comes to that language. And the fact that the occasion was the Tamil New Year's celebrations in the Bay Area enlivened the entire experience all the more. Of course, we weren't singing entirely by ourselves - we were part of of an a cappella group that did standards in Hindi and Tamil. That group wouldn't have been possible without the drive and enthusiasm of our friends, Rani and Nari, an indefatigable couple who worked like maniacs during the week, but devoted their weekends to the practice of the higher arts.
All of us have gone our own ways since then. However, it was with great pleasure I heard about their latest venture: a Tamil film set in the Bay Area. Meipporul The Movie:
MEIPPORUL is the pioneering venture of three Bay Area friends who aimed to set a new trend in Tamil cinema. With the goal of creating a movie without the standard formulas, MEIPPORUL aims to be a "Hollywood-style movie in Tamil." Filmed entirely in the San Francisco Bay Area in the USA, MEIPPORUL has an diverse all-new cast and crew spanning different ethnicities and professions.

The movie tells the story of Sam (Krish Bala), a successful neurosurgeon, who leads a contented life with his wife Devi (Anusha), a reporter for a Tamil-language magazine. The entry of old (Narayan Sundararajan, Ritu Bhargava, rani) and new friends (Suren Vijaykumar, Natty Kumar) wreaks havoc with Sam's emotions, causing ripples of doubt and mistrust. In the meantime, Devi finds friendship elsewhere, leaving Sam to wallow in his own despair. Amidst all this turmoil, Sam tries to hold on to his marriage and cling to his rational side.

As the suspense heightens and the movie reaches its climax, Sam is unsure whom to trust, and you will yourself looking for the truth behind every phrase and every corner. Little do Sam - and you - know of the dangers that lie ahead...
In addition to their filimic venture, Nari and Rani have also produced a different kind of release recently: the one with dirty nappies and nocturnal vigils. Our best wishes for both!

- October 5, 2008 8:48 PM // Diaspora , Film
Mataji
Sandip Roy profiles Sujit Saraf, founder of the Bay Area theater group Naatak and their upcoming production, "Mataji:"
Saraf says he's realizing that the stories he wants to tell increasingly don't happen in India anymore. "We didn't do plays in English in the beginning," he says.

"Over the years it's become clear that some Hindi plays we do are as foreign to us as 'A Streetcar Named Desire' is in India," he says. " 'Mataji' is really our play." The house it's set in could belong to any of the cast. The play skewers India's penchant for exporting gurus and god-men. Some promise to manifest themselves on the moon. Others conjure up Rolex watches or cure cancer by touch. Saraf's Mataji hugs.
Over the years, we've had any number of films from Hollywood trying to poke fun at the same thing: fake gurus with tenuous Indian connections. The Guru and The Love Guru come to mind. It's good to see the same creative territory explored from a different and more realistic perspective which I am sure Naatak will bring. Here's to a complete absence of tired Bollywood pastiches that seemed to fill those aforementioned films and to something different.

- July 24, 2008 6:38 PM // Bay Area , Diaspora , Theater
Aishwarya Rai PSA Poster
Amar Parikh e-mails:

So guys, I took the kid to the public library here in Nutley, NJ, last week. We were wandering aimlessly somewhere between Juvenile Biography and Children's Literature when I came upon this PSA from Ms. Rai. She must have some really good reps. She hasn't done much in this country and yet she's been on Oprah and Letterman, in Revlon commercials and now, presumably, in public libraries across America.

But the poster would mean nothing to an American kid. It probably has the same impact as a poster of, say, Gerard Depardieu in rural Bihar warning kids about the dangers of drinking water from mud puddles.
Note: Ms. Rai-Bachchan appears as part of the Celebrity READ campaign which places posters in libraries encouraging kids to read - an effort, that at first appearance, seems analogous to putting "Please Eat" signs in restaurants or "Definitely Shop" signs in malls. But they seem to work apparently and include such other noted persons of letters as Shaq, Kareem Abdul Jabbar, Colin Farrell and Bernie Mac.
- July 16, 2008 11:19 AM // Bollywood , Diaspora
CA Cash For Kal
In "Your lost cash just waiting for a reunion", San Jose Mercury News' Patty Fisher writes:
If you haven't checked the state's unclaimed property registry lately, you could be costing yourself some bucks. That utility deposit you didn't bother to get back when you moved, the safety deposit box you forgot to clean out, a gift certificate you didn't get around to using - they all could be listed at www.ClaimIt.ca.gov.

The database includes millions of names, and billions of unclaimed dollars. Even if yours isn't there, it's great fun to search. Clint Eastwood has $300 in salary coming from MGM Studios - probably a rounding error. Lindsay Lohan has an outstanding legal award of $1,559.80. Steve Jobs can claim a $120 from an insurance company and Larry Ellison has $59.30 coming from Hertz. My neighbors Judy and Richard are due more than $200 from various insurance claims and deposits.
Call me voyeuristic, call me a good samaritan, whatever, I couldn't resist the urge to see whether any California company owed any money to the desi diaspora's finest. Of course, first I had to try my own name. Nothing. No overlooked rent deposit or gift certificate. After that initial search, I tried putting in some of the brighter names in the desi firmament. And was surprised to see some actually come up. Here's what I found:
Deepak Chopra
The web site came up with a couple of hits. I ignored the fellow living in the Bay Area and picked the entries with the Palos Verdes address. Here's what I found:

That's right. Allstate owes $48 to Dr. Chopra. Somehow, I doubt he'll be rushing to collect it anytime soon, flush as he is.
Another entry was this:

What kind of court settlement? The good doctor has been in the courts a fair amount but this amount of money is piffle, barely enough to buy one or two of his hardbacks. What could it be? Neighbors playing Van Halen too loud perhaps? The mind boggles.
Vinod Khosla

These were all for prescription overpayments, the well known (and exceedingly well off) venture capitalist presumably not needing to bother with insurance co-payments like the rest of us mere mortals.
Kal Penn

Paydirt! Kal Penn is owed a cool $5K for his acting services. I know brother is living large what with Harold and Kumar doing boffo box office but I am sure this is still not chump change territory. Hey Kal, throw me a 10% finders fee when you claim the money, will ya? :-)
- May 7, 2008 9:26 PM // Diaspora , General
Rice Rationing
While we're on the subject of rice, MSNBC reports:
BENTONVILLE, Ark. - Sam's Club, the membership warehouse division of Wal-Mart Stores Inc., is limiting how much rice customers can buy because of what it calls "recent supply and demand trends," the company said Wednesday

The broader chain of Wal-Mart stores has no plans to limit food purchases, however.

Sam's Club said it will limit customers to four bags at a time of Jasmine, Basmati and long grain white rice. Rice prices have been hitting record highs recently on worries about tight supplies as part of broader global inflation in food costs.
Howls of outrage from the local "Passage To India" and "Lucky Pot Chinese" establishments were not included in this article. Probably because:
The warehouse chain caters heavily to small businesses, including restaurants. Spokeswoman Kristy Reed said she could not comment on whether the problem was caused by short supplies or by customers stocking up in anticipation of higher prices.
So gentle readers, the next time your Indian curry night cookout is ruined by lack of basmati, you know who's hoarding the grain.
The whole affair is sadly reminiscent of the Great Dal Shortage of 2006 when:
The Indian government's decision to ban the export of dal (lentils) has hit Indian Americans hard.

The ban, imposed in June, has resulted in the commodity getting scarce in Indian grocery stores in the US, with prices almost doubling at some places.

"The minute (the ban) was announced, wholesalers put up the price," Jalil Hay, owner of an Indian grocery store in Stockton, California, told India New England , an ethnic newspaper. "(Prices) have almost doubled and tripled."
Ouch! Forget the recession, the lack of dal-bhaat (rice/lentils) is the one-two punch that's likely to hurt us Indian Americans the most.

- April 23, 2008 4:02 PM // Diaspora , Food
200th Entry: Desi Jersey Mafia
This post marks the 200th entry on dishumdishum and I debated on how best to celebrate. An obvious thing to do would have been to list some of the better posts but I do that already as a sidebar feature called The Dishum Primer. Instead, I thought it would be fun to showcase an older piece of writing I am particularly proud of - the saga of the "Desi Jersey Mafia", a desi version of Spinal Tap, if you will. They would have been big in Bangladesh. Except they didn't really do Bangla Rock, you see. Apache Indian style dancehall and Digable Planets era hop hop was more their scene. The rap itself grew out of an exchange on the newsgroup alt.culture.us.asian-indian. You can find the early seed here. That was in April 1994, nearly fourteen years ago. Talk about dating yourself!
I didn't do any work on it for nearly a year until it came time to trot out some stuff for the annual Holi function at my grad school. With my partner in crime, Subra, we fashioned an entire narrative with verbal nods to A Tribe Called Quest, GangStarr and Das EFX. Yes, they were very big then. Given I was already mucking about with a high end Mac Quadra for my thesis work, it was a no brainer to actually record and create a track. I wish I had it lying around now to share but the files ended up in digital nirvana, sadly.
I remember being worried on the eve of the performance that the audience wouldn't be able to hear the words, so we passed out lyric sheets in advance. To no avail as it turned out. The whole thing fell a bit flat, at least by my standards. I consoled myself with thoughts of being too ahead of our time etc etc and went on to other things.
It wasn't until I began occasionally e-mailing out the lyrics that things started to happen. Somehow, one such missive triggered a chain e-mail reaction amongst desis in the Northeast - from what I understand, the usual comment was "check out this cool rap. Grad students in Ithaca seem to have entirely too much time on their hands!"
Then, in '99, I received the following e-mail from noted Asian American scholar Vijay Prashad:
You will no doubt be rather surprised to hear from me after all these years (admittedly only three years). My reason for writing is rather urgent, so forgive me for getting right to the point. I have a book that is in production (Karma of Brown Folk) with the University of Minnesota Press. In it, I use several lines from "Desi Like That" by your fine group, Desi Jersey Mafia. Of course, I give full credit to you and the group.
Indeed, Karma of Brown Folk
came out later that year and we were in it. I have my own complimentary copy of the book to prove it too. Courtesy Google, here's the actual place in the book where the excerpt appeared, ahead of a chapter, "On Authentic Cultural Lives", dealing with Asian migration to the United States.
Enough of the preamble. Here's the whole thing. Enjoy:
Yo my name is Soam , that's foam with an S
them dudes like my duds, see I'm dressed for success
I higgedy diggedy my Mama, I'm as built as Bhima
taller than a tree and I sting with my degree
I drive a Honda Civic, but to me it's a Ferrari
Hemanta on the speaker - 'cause I'm a Bengali
but hey, 'nuff of me, I got work to do,
so let's go and chill with the rest of my crew
see my man Subra, he's smooth with the ladies
they call him every night, just to ride in his Mercedes
he takes them out to dinner, he makes them laugh and scream
When stuff is getting rough, he wakes up - "just a dream!"
And my homeboy Harish, what else can we say?
He's cooler than December, he's hot, hot like May
He's well educated, got a high school diploma
"What's two plus two?", "I'll leave you in a coma!"
Yo, I'm Suresh and I'm a supah jock
I read Byron, I pump iron, I'm built like a rock
some say I'm da brain, but I'm tha body too
I'm supah badd, hottah than vindaloo
But we be to rap what raga be to veena
'Cause we're cool like dat, we're cool like that, we're desi like that,
yeah we're desi (echo)
(Reporter)
Desi Jersey Mafia: really happening band
Tell us how they formed, please make us understand
Arre bhai aur bahen, sab shuno shuno
let me tell this story, that you really ought to know
Back in the days when I was a teenager
Dazed and confused was the status of my nature
Desi, pardesi what was I? "Just crazy?"
Easy said my daddy, stop sweatin' bout your future
Be hittin' all your books like there be no tomorrow
Straight A's, it pays, that'll drown your sorrow
"O bhai" said I, must give this s*** a try
So EE was to me, like the Nile was to the Pharaoh
The years be passing by and I wasn't getting younger
One day, hai hai hey, it hit me only stronger
No life, no wife, no culture, just this drive
Like vindaloo with no aloo, no way to kill my hunger
My brain was cast again in a frizzy stormy state
Then I got the answer and this I now relate
"Rap, all that, add some bhangra, it's so phat
Mix like begoon-bhartha, you'll down it just like that"
I be to rap what gulli be to danda
'Cause we're cool like dat, we're cool like that, we're desi like that,
yeah we're desi (echo)
(Reporter)
Desi Jersey Mafia, go on with your story
how you found each other, your way to fame and glory
Well I was low on dough, Harish was on the dole
Subra had been dissed, and Suresh was on parole
it didn't take too long, to make us understand
to get those checks and chicks, we had to form a band
We tried fusion-grunge, Suresh played the sitar
Harish beat the drums while Subra picked the guitar
Had to get a deal, with a record label
show them our stuff, showed them we were able
( Pseudo ragga rap interlude )
well that didn't work, but we had to get heard
I got my man Mark, to put in a good word
....................................Word
this did not work either, things were getting hectic
we had to change approach, try another tactic
it was no use, we had nothing to lose
we made him an offer, offer he couldn't refuse
We be to rap what raga be to veena
'Cause we're cool like dat, we're cool like that, we're cool like that
we're cool like that, we're desi like dat, we're desi like that, we're
desi like that, yeah we're desi(echo)
I'm Bengali like dat, charm the lerkis with my bhasha
"arre moshai kemon achen, ei to bhalobhasha"
but we have brains and Karl Marx, our russgoolas are sweet
I sing and dance like Rabindrasangeet
I'm Tamil like dat, I'm a Testarossa
I'm hot and I'm spicy, like masala dosa
I count like Ramanujam, you gotta give me dap
and here comes Badri, to blast you with his rap
I'm Punjabi like dat, I drink lotsa lassi
I also drink whisky, I'm not really fussy
I like tandoori roti and I dance like I'm langra
don't dare laugh at me, just check out my bhangra
I'm Gujrati like dat, no I'm not called a Patel
let me make things clear: I've never owned a motel
echoes of my name resound the Khyber Pass
you wanna know why, do the Dandiya Raas
We be to rap what Kapil be to cricket
'Cause we're cool like dat, we're cool like that, we're desi like that,
yeah we're desi (echo)
Well I've been to the east and I've been to the west
One thing is for sure, Desi girls are the best
We dig Madhuri like that, we dig Dimple like that
Juhi, Raveena and Sushmita like that
my girl she's no ho, don't take her name in vain
She's Lakshmi, she likes me, She's a devi just the same
And for the local girls, what more can we say
Parul, Anusha, Alpa, Make our day
Monami, Raguini, Rash and Deeya too
Mridula, Shonali, Dhati, Reena, Indu
and for those that dis us, you don't know what you're missing
come on Soam tell them - "It's all in the kissing"
if we left you out, and you want to let us know
we are new age guys, meet us past this show
We be to rap what Kama be to Sutra
'Cause we're cool like dat, we're cool like that, we're cool like that
we're cool like that, we're desi like dat, we're desi like that, we're
desi like that, yeah we're desi(echo)

Yeah, some of the references are really dated. Who remembers Digable Planets' "Rebirth of Slick (Cool Like Dat)" anyway? Or Dimple Kapadia? And yes, there are some real cringe worthy moments in there. But it still brings a smile to my face. Surely, that's worth something after all those years.
- April 7, 2008 9:48 PM // Diaspora , Humour
What's In A Name?
A little while back, I wrote about the naming process for our son, Virj, and I hoped:
Now, if everyone would only pronounce it properly :-)
I thought I was being facetious. Hard to go wrong with something so succinct, right? It's been four months now, so what's been our experience?
Amongst folks originating from the subcontinent there wasn't a problem. More or less perfect enunciation every time. However, for everyone else, particularly if they happened to have been born and brought up in the USA and had little or no exposure to Indian culture, it was more hit and miss. Correct pronunciation is "veerj" with stress on the "e" sound. But we were equally likely to get "verge" as in parents on the verge of a nervous breakdown. I exaggerate but imagine our plight. The early months of parenthood are particularly brutal - add to that regrets about picking a name that I thought was bulletproof, but one that turned out to have loopholes regardless - it certainly doesn't help.
At this juncture, we found the following skit from the hit BBC show Goodness Gracious Me particularly calming. The sketch, which came out around 1998 or so, is eerily prescient. We have Jonathan moving from the UK to join a firm in India where they have trouble with his name:
I don't see you progressing in this firm with a name like that!
In today's mobile, intertwined, economically shifting world, there's really no guarantee our son will choose or even necessarily be able to live in the USA. Consequently, we tried to pick a name for all seasons and continents. On the whole, we're pleased.

- March 29, 2008 3:08 PM // Diaspora , TV , Virj
Link Love
Props to Nirali for making us one of their daily delicious picks. We can always use the link love. I first came across Nirali when trying to do a dd entry on Mindy Kaling and Vali Chandrasekaran - desi writers on hot comedy shows The Office and My Name Is Earl - and saw they had written a most wonderful piece already. Great stuff. Thanks and keep spreading the dishum!
- March 14, 2008 9:21 PM // Diaspora
Diaspora vs Avant Garde
In an interview with the Guardian, Turkish-German filmmaker Fatih Akın has this to say about his audience, in particular the Turkish diaspora vs those in Turkey itself:
This can make pleasing everyone a bit tricky: his films tend to meet with a better reception in Turkey itself than among the emigres, perhaps because any uprooted traditionalists are more liable to be rubbed up by Akın's unvarnished, street-level portraits. He sees it as purely a matter of numbers, the same problem faced by any director working outside the mainstream: "It's just the avant-garde who like my films. In Turkey, you have 60 million people and an avant-garde of a couple of hundred thousand. But in Germany, you have just 2.5 million. Most came here for economic reasons and work, and they're not from well-educated circumstances - so the audience for my films is probably only 2,000 to 3,000."
This is a challenge faced by any diaspora filmmaker. Take South Asia - are desi diaspora films likely to do better amongst NRIs in the USA or in India directly? NRIs tend to be better educated, yet their tastes tend to stick to whatever fare they were seeing back in India. However, those in India are likely to be more adventurous. Akin's argument about the sheer numbers making an avant garde audience possible even more the case here. Lack of box office numbers and the weak rupee prevent my listing any diaspora films that did better in India than abroad though. Perhaps Hyderabad Blues?

- February 19, 2008 10:47 AM // Diaspora , Film
Benny Lava And Globalization
In this day and age of easy multimedia dissemination, there's no real place to hide. On the 25th anniversary of Michael Jackson's Thriller, I went hunting for evidence of its influence on desi dance and Bollywood on YouTube. If anything, I found the South Indian film industry to be far more overt in their "homage." But globalization is a two way street and one particularly egregious copy of Michael's moves, once intended for a regional Indian film audience, is now available for all and sundry. In fact it was a huge viral video hit. By now you must have seen it already but here goes anyway:
Now, here's the part about the two way street: after it gained in popularity, YouTube users began taking the video and adding their own twist. Like farts. Or splicing in the original Thriller video such that you can now see the desi version with Jackson warbling on the soundtrack juxtaposed against Michael dancing with the audio from the Tamil soundtrack. The latter actually works better, IMHO:
The best remix, however, was done by popular YouTube prankster, buffalax. He added subtitles, not intentionally bad translations a la Wayne's World, but vaguely phonetically accurate transliterations with hilarious results:
This was a big hit by itself, garnering over 2 million views. Interested, I dug into buffalax's back catalog. He's done Punjabi bhangra as well (Daler Mehndi's video for Tunak Tunak but his greatest hit was for a dance sequence from South Indian star Prabhu Deva. It's a scene from the movie Pennin Manathai Thottu. Entitled Crazy Indian Video .. Buffalaxed, this clip was a monster YouTube hit, garnering around 3.7 million impressions:
As you see in the opening credits, Buffalaxed has no idea about the context of the original video, nor does he care. His is a strictly phonetic deconstruction of the Tamil lyrics and it's brilliant. Blogger Pramodh writes:
Mike Sutton is a 24 year old dude from Ohio. His hobby is to find some foreign videos in YouTube and make up the lyrics just the way they might sound in English. The twist is that he makes the lyrics hilarious. And he calls himself Buffalax in YouTube. On August 18 2007 he relased a video and called it a "Crazy Indian Video Buffalaxed!" And in a few months its popularity in the internet went up so much that Urban Dictionary decided to add the term Benny Lava in their Lingo. So far it had 2+ Million views and still going strong.
Searching for views on Benny Lava, I found an interesting trend: bloggers (by and large non South Asian) and YouTube commentators found it to be hilarious. But some also noted their enjoyment of the actual dancing in the video itself. An interesting way of crossing over: come for the humor, stay for the moves. Pramodh adds:
Prabhu Deva the actor in the video is now known as Benny Lava all over the internet. Yesterday I was having a conversation with a friend who studies in Ohio. She said that some of the students performed the Benny Lava dance in her school.
This subtitling approach by buffalax has inspired others but by and large, it seems to be a one trick pony. Buffalax's recent efforts in other languages haven't really garnered anywhere near as many hits. Still, it's another example of the ebb and flow across cultural divides that a megabazaar like YouTube can produce.
- February 15, 2008 1:45 PM // Bollywood , Dance , Diaspora , Humour , India
Rajesh Is Like Steve
A headnod to Scrubs, consistently one of the funniest and most integrated shows on TV. Scrubs may not feature desis or other Asians in the meatiest roles, but it never condescends to any race, not the colored ones anyway. Engaged as I was in a quest to name my son, I found the following exchange particularly hilarious. This is from Season 6, episode 3 ("My Coffee"):
[JD and Turk have just finished a game of basketball]
JD: Man we got smoked. That's what you get for playing a bunch of Gs from the hood.
Turk: Those guys are Indian.
JD: So Rajesh isn't one of those cool black homie names like Anfernee?
Turk: No, Rajesh is like Steve in India
JD: Oh.
Turk: Yeah.
[Later in the scene]
Vijay: Could you guys look at my shoulder? I tweaked it pretty good
JD: Come on Vijay, first you dunk on me and yell "who's your bitch!" and now you want free medical advice. How did I not know these guys were Indian?
[Vijay holds out some money]
Vijay: I'll give you 20 bucks!
JD: I am sorry my friend, that's just unethical.
[Vijay turns to Turk who takes the money]
Turk: Done and done!

Free medical advice indeed. Ha ha!

- December 10, 2007 11:47 PM // Diaspora , TV
Introducing Our Son
<
Created with Admarket's flickrSLiDR.
So, here he is. But before I introduce you to him, I wanted to tell you about our first challenge of parenthood - finding a name for our son. Here, I am reminded of Alex Haley's Roots. After his son is born, Omoro faces a challenge:
By ancient custom, for the next seven days, there was but a single task with which Omoro would seriously occupy himself: the selection of a name for his firstborn son. It would have to be a name rich with history and with promise, for the people of his tribe - the Mandinkas - believed that a child would develop seven of the characteristics of whomever or whatever he was named for.
Okay, it's not like we locked ourself up in a room for seven days and refused to emerge until we'd come up with some earthshaking moniker for our kid. But it would have been nice had we the luxury of doing so. A name is serious business - this is something the fellow is saddled with for life. Unless he changes it himself or goes into show business or something - but even then, there is the realization, often painfully acquired in grade school, that the name you were given is a lemon. What parent would want his kids to go through that gauntlet? School is cruel enough as it is! Consequently, in the nine months prior, whatever leisure time we had was spent poring over books of names, Bengali dictionaries and the web, in search of a moniker. Our criteria was as follows:
Has to be short, snappy and sweet.
Has to mean something, preferably in Sanskrit i.e. no nonsensical terms
Can't have side-effects in English. No offense to Dixits or Dikshits, but I am not going anywhere near there if I can help it.
Has to be somewhat unique
Choosing a unique name in a country of a billion people is hard. Forget Rama, Bhima, Shyama and Jadu, the law of probability dictates that whatever you come up with something remotely unusual, it's been taken. A friend asked recently:
What's the Bengali tradition for middle names? Gujaratis give father's first name as a middle name (even women have to take their husband's first name!). Talk about a patriarchical society.
I really couldn't think of any Bengali naming traditions per se other than the preference for fancy names. Remember I was telling you about my futile search? In many cases, the interesting twists or variations on names were taken by Chatterjees/Banerjees etc. Good for them! But it didn't make our task easier.
In desperation, we considered an approach that seems to be common in the US - creative misspelling. Consider Andruw instead Andrew or Jhonny instead of Johnny. Taken in the desi context, how about Deepakk or Rraja? Okay, I am kidding. But it did seem attractive for all of 3 milliseconds! Our friends, Devora and Manish, took note of our state and even included a "Name The Baby Contest" in Shari's baby shower festivities. Notable entries included:

Good for laughts, yes, although the first one was pretty good. However, this did spark our thinking and three days before he was born, we finally settled on a name. Shari had liked Vir (hero/warrior) for a while and it and its variation, Veer, had seemed relatively uncommon. Still, I thought a variation on the sound itself could yield something interesting. My contribution was a single letter: "j". "Virj" is Sanskrit for the quality of bravery and strength. The sound itself seems to resonate. And web searches show it to be relatively rare. Now, if everyone would only pronounce it properly :-)
So, there you have it. Hopefully, this is something our son will keep. We can but hope. I'll conclude with some lyrics from Jim Croce from his song, "I got a name":
Like the pine trees lining the winding road,

I've got a name, I've got a name
Like the singing bird and the croaking toad,
I've got a name, I've got a name

And I carry it with me like my daddy did
But I'm living the dream that he kept hid.

Moving me down the highway, rolling me down the highway
Moving ahead so life won't pass me by.
- December 3, 2007 12:46 PM // Bangla , Diaspora , Virj
Press For Devi Brown
Sandip Roy writes about the new Bollywood (The New Bollywood: Slick, Sophisticated and High-Tech) in New American Media and we're in it! Go read the article, it's good. Not because we're in it mind you but because it's a succinct summary of the current state of affairs in filmiland. First, some excerpts to set the context:
"The films are definitely far more slick and technically really smooth," says Ivan Jaigirdar, artistic director of 3rd I, whose annual festival of South Asian cinema opens today in San Francisco. A festival that showcases "independent South Asian cinema" might once have turned its nose up at Bollywood's crass commercialism. But no longer. "Bollywood is definitely part of the language of cinema coming out of South Asia," says Jaigirdar.
And
Globalization has been good for Bollywood," says India-West's Tsering.

It's opened up a whole new market in the diaspora. It's also opened up the industry to a new pool of talent. Indians, like Manish Acharya, who went to film school in the United States, are returning to India with new ideas and tech savvy.
That's a good thing. In addition to there being more Acharyas in the industry (sadly, Manish is no relation - although I am certain if we spoke at greater length, somewhere some connection might emerge, particularly if he goes on to attain Shyamalan levels of success :-), the influx of talent from abroad and the emergence of multi screen film complexes has allowed the proliferation of multiplex films, something I've talked about before.
However, there are consequences. In addition to increased audience fragmentation,
"Rural India has fallen off the map," says Shyam Benegal, probably India's most famous art house director, who made a landmark rural quartet of films in the seventies. "When your revenues come from overseas or from the cities, it influences the kinds of films that are being made."
Finally, there are issues such as external audience perception and others that crop up regularly in dishumdishum entries. This is where we come in:
But the bigger issue is Bollywood's image. "Even the term Bollywood implies it's a copy of something," says filmmaker Soam Acharya. Bollywood's image in the West is still all about camp and kitsch. Soam gave up on Bollywood years ago until his wife Shari reintroduced him to the films as a condition of their marriage.

Now their short film, Devi Brown, a blaxploitation-style twist on Bollywood action films of the seventies, plays with everything that he once hated about the industry. Stripping the macho hero out of the plot and overdubbing it, the Acharyas created Devi Brown, kickass heroine out to avenge the loss of both her honor and "her famous egg biryani recipe." At four minutes, Soam says Devi Brown is "the deconstructed Cliff notes version" of a Bollywood film that has mayhem, romance and everything else. But more importantly, it's been a way for a new generation to come home to an old faithful.

To be mentioned in the same column as Shyam Benegal and other industry heavyweights? We're still pinching ourselves.
- November 18, 2007 9:49 AM // Bollywood , Devi Brown , Diaspora , Film
Netflix, "Watch Now" and Bollywood
Netflix made waves last month by launching "Watch Now", their snazzy Video On Demand feature. The New York Times reports
Netflix-by-Internet, in other words, is deliciously immediate, incredibly economical and, because it introduces movie surfing, impressively convention-shattering.

It will not, however, change the way most people watch movies in the short term, for many reasons.

First, it works only on Windows PCs at the moment; a Macintosh version is in the works.

Second, only 1,000 movies and TV shows are on the Play list. There's lots of good, brand-name stuff here -- ''Zoolander,'' ''Chinatown,'' ''Jaws,'' ''Sleepless in Seattle,'' ''Twister'' and so on -- but Netflix's lawyers and movie-studio negotiators have a long way to go before the number of movies online equals the number of DVDs available from Netflix (70,000). Still, the company says that at least 5,000 movies will be on the list by year's end. So far, the sole holdout among major movie studios is Disney, perhaps because of its partnership with Apple's movie service.
Netflix is rolling out the service over several months, so not all subscribers can access it the first time around. For those wishing to jump the queue, however, Hacking Netflix describes a possible workaround. It worked for me and I was able to check out the service. First, kudos to Netflix for an impressive start and a very cool online viewing model - I've now upped my subscription level to five discs out at a time. Next, Netflix wasn't kidding when they said the number of online titles are limited. I actually counted them last weekend (my list of all the "Watch Now" titles are here) and it came to around 750. This includes such classics as Mulva 2: Kill Teen Ape! and Bad Movie Police Case #2: Chickboxer. Okay, okay, I'm kidding! As NYT points out, there is good stuff (and many documentaries and old Doctor Who episodes) in there. The good news is Netflix is continually adding new titles. Consequently, this week I see new items such as Round Midnight that I didn't find last week. I was surprised, however, by the Asian fare on offer. Here are the Indian related films I could find on the "Watch Now" list:

Aadmi Sadak Ka (1977)
Aamne Saamne (1967)
Aas (1953)
Abhimaan (2000)
Barsaat Ki Raat (1960)
Basant (1960)
Baton Baton Mein (1979)
Bhagam Bhag (2006)
Bollywood / Hollywood (2002)
Charno Ki Saugandh (1988)
Charulata (1964)
Chhalia (1960)
Chhote Nawab (1961)
China Town (1962)
Chirag Kahan Roshni Kahan (1959)
Dayar-E-Madina (2006)
Dharkan (1972)
Door Ki Awaz (1964)
Dus Lakh (1966)
Ek Mahal Ho Sapno Ka (1975)
Ek Phool Do Mali (1969)
Ek Ruka Hua Faisla (1986)
Ek Saal (1957)
Ghar Ek Mandir (1984)
Ghar Ghar Ki Kahani (1970)
Howrah Bridge (1958)
Immaan Dharam (1977)
Inaam Dus Hazaar (1987)
Jaali Note (1960)
Jai Santoshi Maa (1975)
Joi Baba Felunath (1978)
Kapurush (1965)
Kitaab (1977)
Lakhon Ki Baat (1984)
Lakhtar Ni Ladi Ne Vilayat No Var (2006)
Maa-Baap (2006)
Madhubala Song Compilation (2006)
Madine Ki Galian (2006)
Mahal (1949)
Mahapurush (1965)
Mamta (1966)
Meharbaan (1993)
Nanha Farishta (1969)
Nayak (1966)
New Delhi (1956)
Night in London (1967)
Prem Geet (1981)
Pyaar Ka Saagar (1961)
Pyar Mohabbat (1966)
Ram Aur Shyam (1967)
Rishta Kagaz Ka (1983)
Sara Akash (1969)
Saraswati Chandra (1968)
Swarg Narak (1978)
Swarg Se Sundar (1986)
Swayamwar (1980)
Thodisi Bewafaii (1980)
Us-Paar (1974)
Vachan (2006)
Zahreelay (1990)

That's about 61 titles out of 750, or about 8%. Not too shabby, particularly as the number of non-desi Asian titles on offer are minimal. As a matter of fact, I only counted Ghost In The Shell and Ninja Scroll but there could be more by now. On the other hand, I was pleasantly surprised by the Satyajit Ray films available online (Nayak, Kapurush, Mahapurush, Joi Baba Felunath, Charulata). The print on these will, hopefully, be better than the scratchy VCD transfers.
Look at the Bollywood titles, however, and a pattern starts to emerge. There are some real oldies here. Don't be fooled by the release dates on some of the titles - those aren't correct. In fact, there's nothing here from the past ten to fifteen years. Other than Abhimaan and the Satyajit Ray films I didn't see very many of what you would call classics either. In fact, it's mostly filler.
I'm sure a lot of this is due to the difficulties in obtaining broadband rights from the distributors. However, as I noted earlier, desis tend to be tech savvy in these things (just check out some the desi torrrent sites if you don't believe me) and, in fact, were early Netflix adopters. "Watch Now" can be a real trendsetter here too. If I was a desi grocer depending on renting out Bollywood titles for a lot of ancillary income, I wouldn't be worried just yet. But that could change soon if Netflix play their cards right.
- February 10, 2007 7:56 PM // Bollywood , Diaspora , Film , Technology
Brown Power or Kung Fu? - Hollywood Tries To Pick
Variety writes about the ongoing debate in Hollywood regarding where to invest next. India or China?
Nearly a decade ago, Sony opened a Chinese-language production office in Hong Kong. But the unit has had trouble finding success on the scale of "Crouching Tiger, Hidden Dragon." In fact, it hasn't made a movie in the past two years.

By contrast, India has proven bountiful for Sony Entertainment Television, which has become an established TV player in the country and is now expanding from movie buyer into local production.
Kaiju Shakedown elaborates more on the difficulties facing Hollywood in China:
China is the world's biggest movie market but with four times the population of the United States it only has 2,396 movie screens, one fifteenth of America's 38,000. Hollywood is eager to sell movies to what it views as an underserved market, but China only allows 20 foreign movies to be imported each year. Hollywood wants to increase the screen count by building multiplex chains across rural China, but China won't allow foreign companies to own more than 49% of cinemas outside of the seven major cities. Hollywood is desperate to stamp out piracy, but China's efforts to cooperate are sporadic at best. And so China is the beautiful, unattainable market that drives Hollywood crazy.

China does its best to flummox its suitor. Their State Administration of Radio, Film and Television is a massive Mao-era bureaucracy that operates like an eccentric uncle.

They recently baffled the world by banning all foreign movies that mix live action and animation, such as "Who Framed Roger Rabbit?" and "Space Jams". Then they ruffled feathers further by yanking "The Da Vinci Code" from theaters at the peak of its successful run, with no explanations given.
In addition to being more open, India offers a number of additional advantages. From Variety:
Due to a wave of multiplex construction, the theatrical market is expanding. That's allowing the first steps toward nationwide (rather than state by state) releasing.
The pay TV market may boom if mandatory set-top decoders allow subscription revenues to flow to rights owners, rather than mom-and-pop cable pirates. The country is expected to have five DTH satellite platforms by the end of 2007.
The development of an organized retail sector of chain stores and supermarkets is driving growth of home entertainment, even as it looks wobbly in the rest of the world.
With cell phone numbers growing at more than 5 million per month, mobile entertainment is delivering real gaming and music returns. Because TV penetration is low compared with other, more developed countries, including China, some analysts expect mobile ownership to even outstrip TV.
Other distribution channels like Madhouse and SeventyMM are also emerging. Both adopt the Netflix model with one crucial difference - DVDs are not delivered by mail (the public mail service is utterly unreliable) but via private courier services.
However, as Variety notes, all is not peachykeen in the Indian market. Roadblocks remain:
India's big drawback has been that the level of overall economic development is significantly behind China and its entertainment industry is largely isolated from the rest of the world. Local-language movies account for 95% of the box office, and the soundtracks of Bollywood dominate the music industry.

...

Indian regulators are just as capable of infuriating congloms. Barely a month had passed after a new policy was put in place for mandatory conditional access systems, or set-top boxes, in order to curb cable TV theft by mom-and-pop pirates. But then regulators decreed that pay channels should not be allowed to charge more than 1 rupee (2 cents) per month, in order that the poor also can afford their shows.

Appeals are ongoing, but the notion that either country will enact reforms for the benefit of foreign interests is somewhat ridiculous.

In the big picture, however, the Indian film industry still lags behind that of China in the global sweepstakes:
Although Bollywood is bigger in absolute terms, the Chinese industry has been more successful on a world scale.

"The Chinese films generally have had larger success outside of China than the Indian pictures have had outside of India," says Sony's Michael Lynton. "The market outside India is largely people who are part of the Indian diaspora."
True enough. That's why, while all the cine buffs keep track of Zhang Yimou's latest release (Curse of the Golden Flower), events like Dhoom 2 racking up close to a million bucks in the USA over Thanksgiving weekend while playing in just a handful of screens, continue to surprise. I'm not saying the film is any good mind you - but it just goes to show the power of the brown dollar (and rupee for that matter) cannot be underestimated.

- February 10, 2007 11:46 AM // Bollywood , Diaspora , Film , India , TV
Surya Dub @ Club Six
"When they'd strung the cables, according to some complex scheme of Molly's, they hung them with battered sheets of yellow plastic. As they worked, Case gradually became aware of the music that pulsed constantly through the cluster. It was called dub, a sensuous mosaic cooked from vast libraries of digitalized pop; it was worship, Molly said, and a sense of
community." - Neuromancer - William Gibson (1983)
Towards the fag end of last year, I received an e-mail from Maneesh The Twister. The gist of it was that the Dhamaal collective was coming to an end and there was something new in the works: an aggregation called "Surya Dub" (Surya meaning sun in Sanskrit). The focus of the new outfit would be on "Global Dubwize Vibes and Dread Bass Culture - more of a dub aesthetic but still incorporating a world element."
Honestly, I was bummed about Dhamaal coming to an end - apart from providing high quality night outs for those of us uninterested in the rest of the desiparty scene, the outfit genuinely pushed into new musical territories, particularly in the field of asian electronica. Check out their two releases if you haven't already. I pressed Maneesh for more detail and he would merely say he felt the outfit had "run its course." More's the pity.
In an interview with SFWeekly, Maneesh provided more info about his new dub direction:
Evidently, the definition of dub is open to multiple interpretations. The Surya Dub DJs share different ideas on the subject, but they all believe the music has universal qualities. To bhang ragga — a musical style combining bhangra and ragamuffin reggae — innovator-DJ-producer Kush Aurora, "Dub music is musical meditation." To dubstepper Kid Kameleon, "Dub is like a code word for experimentation, and a license to do things in a nonlinear style." DJ Ripley, meanwhile, says he feels that "Dub has always been ahead of its time, based in playful misuse of technology for creative purposes." And to hip-hop/reggae head Ross Hogg, dub is "as much about what's missing in the music as what's present. The silence, the dropouts, the echoes ... "

To Maneesh, dub — usually defined in its original sense as an instrumental, remixed form of reggae — isn't just a musical genre or production style, but a culture in and of itself that's shared influences with other cultures all over the world. For example, "Indian music has had influences in the Caribbean; there's a lot of sociohistoric things that tie those things together on a nonmusical level," he says.
Dub's status as future music has been around for a while and while the Wachowski brothers co-opted the community part of it for their Matrix trilogy, I was curious to see how it would play out in real life. As the pics show, I needn't have worried. With block rocking beats and bowel loosening bass (well, nearly :-), Surya Dub is off to a flying start. Some snaps: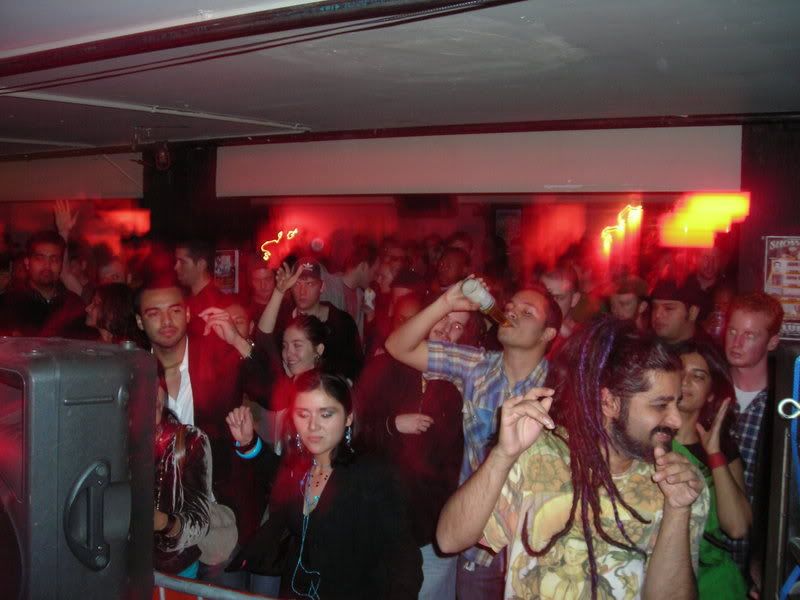 Yah mon! And here are some pics of Maneesh and Kush in action:
Note to the gentleman who left his shots on the speaker stacks: no one took them. It is usually not a good idea to park breakables on speakers generating deep sub bass. Said objects tend to vibrate and fall off :-)
- January 28, 2007 8:06 PM // Bay Area , Diaspora , Music
Naatak Presents Sleuth
Hey folks, breaking my silence to announce Naatak is presenting its 25th production, Sleuth this weekend at the West Valley College Center in Saratoga, CA. From their announcement:
Sleuth is an Indianized adaptation of the play by Anthony Shaffer, one of the greatest ever thrillers performed on stage. It was also adapted into a Oscar-nominated movie starring Michael Caine and Lawrence Olivier. Sleuth is directed by Harish S. Agastya and features Harish Agastya, Ashish Joshi and Kal Pandya in the cast.

This is the last week to get your tickets for this action-packed production. Don't miss out on this one for sure and please don't reveal the suspense to your friends until they've had a chance to check it out too.

I guess desi audiences aren't that good at keeping secrets then. I remember an anecdote about a group of friends sitting down to see Kaun, that Ram Gopal Verma thriller from a couple of years ago. Anyway, said friends had their experience ruined completely by a wiseass in their group who gave away the main twist just to score a cheap point. Sort of like going to a group of people waiting to see The Sixth Sense and yelling, "he's dead!"
Oops.
Anyway, here's the poster for the production:
- January 16, 2007 7:50 PM // Bay Area , Diaspora , Theater
Macaca Fracas Revisited
What a difference a month makes! In mid July, polls showed Senator Allen leading his opponent, Jim Webb, by 11 points. After the Senator's macaca moment, Zogby finds Allen trailing. Admittedly, he's only behind one percentage point, well within the margin of error. But such a severe loss of momentum is liable to go down in history, as Zogby puts it, as one "colossal political crackup."
To gauge the national impact of this brouhaha, look no further than CafePress where the number of entrepreneurs hawking macaca themed products are up to about 235, nearly double from a week ago. Yes, you too can own a rectangle magnet, bumper sticker, t-shirts, mousepads, and, um, thongs with one or more of the following designs:
Update: For an absolutely great rejoinder, check out RamR's diary, Sen Allen, Welcome To America. Bravo!
- August 28, 2006 8:43 PM // Diaspora , Fashion , Politics
The Macaca Fracas
On this, India's Independence Day, it's worthwhile to take a moment to reflect on our heritage and spare a minute for those folks who toiled so we could enjoy swaraj (freedom). This applies for the diaspora too. Where would we be in the USA without the Civil Rights movement, for example? However, as Thomas Jefferson said, "the price of freedom is eternal vigilance" and, as we keep getting told, there are those who envy us our freedom. In this particular case though, said enviers are right here in the USA and in positions of power. Case in point: Virginia Senator George Allen (R). The Washington Post has the details:
Democrat James Webb's Senate campaign accused Sen. George Allen (R) of making demeaning comments Friday to a 20-year-old Webb volunteer of Indian descent.

S.R. Sidarth, a senior at the University of Virginia, had been trailing Allen with a video camera to document his travels and speeches for the Webb campaign. During a campaign speech Friday in Breaks, Virginia, near the Kentucky border, Allen singled out Sidarth and called him a word that sounded like "Macaca."

"This fellow here over here with the yellow shirt, Macaca, or whatever his name is. He's with my opponent. He's following us around everywhere. And it's just great. We're going to places all over Virginia, and he's having it on film and its great to have you here and you show it to your opponent because he's never been there and probably will never come."

After telling the crowd that Webb was raising money in California with a "bunch of Hollywood movie moguls," Allen again referenced Sidarth, who was born and raised in Fairfax County.

"Lets give a welcome to Macaca, here. Welcome to America and the real world of Virginia," said Allen, who then began talking about the "war on terror."
Here's the video as captured by Sidarth:

Bear in mind, this is a standing Senator of the United States! Initially, the Allen campaign tried to pass off the remarks as a reference to Sidarth's hairstyle. Not so fast. It's an ethnic slur specifically aimed at North Africans. And Allen's mother is of European and Tunisian descent, so he certainly couldn't claim ignorance of its implications.
So, why did Allen do this? Jeffrey Feldman over at Daily Kos comes to this conclusion:
In a few words: George Allen used a white power word in his stump speech. And he did it on purpose.

Why he did it is a question I cannot answer. There cannot be more than a handful of people in Virginia who could have understood this term. Perhaps there were some in the audience? That is hard to say. Perhaps he has used the word 'macaca' before in similar situations that have not been caugh on tape? Also hard to say. Perhaps 'macaca' is a word that he uses normally in his private life, but that he typically does not incude in his stump speeches? Difficult to answer that question.

Whatever the case may be, journalists, voters and elected officialsin Virginia have ample reason to ask George Allen an extended series of questions about this incident.

It is fair to say that if a sitting U.S. Senator is identified as using a word identified as part of a broader white power vocabulary--that is cause for serious alarm.
Today, the Allen campaign issued a classic non-apology apology:
"In singling out the Webb campaign's cameraman, I was trying to make the point that Jim Webb had never been to that part of Virginia – and I encouraged him to bring the tape back to Jim and welcome him to the real world of Virginia and America, outside the Beltway, where he has rarely visited. I also made up a nickname for the cameraman, which was in no way intended to be racially derogatory. Any insinuations to the contrary are completely false.

"Yesterday, I apologized to anyone who may have offended by the misinterpretation of my remarks. That was certainly not my intent ...

"I never want to embarrass or demean anyone and I apologize if my comments offended this young man. Even though he has signed onto my opponent's campaign, I look forward to seeing him on the trail ahead.
Translation: If anyone in the media misunderstood why I made up a racist nickname for the cameraman, it's your fault. And if you were offended, it's your problem too.
Thanks a lot, Senator. I think you just stepped into a huge pile of caca there. I wonder what Republican stalwarts like Dinesh D'Souza, Ramesh Ponnuru or Bobby Jindal have to say about this one.
- August 15, 2006 8:53 PM // Diaspora , Politics
Desi-esque: A Playlist
Arguably, the music of the subcontinent has been far more influential than its cinematic output. Courtesy WebJay, this playlist puts together a sampling of artists and tracks outside South Asia, both from diaspora artists and others, who have been influenced by its riddims. Just hit play in the embedded player and enjoy. Don't forget to make sure the latest version of Flash is installed.
We open with that chestnut from Nusrat, "Mustt Mustt", as remixed by Massive Attack. A must for all world-music best-of lists everywhere. "Nadia" by Nitin Sawhney is one of the best tracks from his album, Beyond Skin, a great blend of yearning vocals and drum and bass. The next couple of tracks are filched from
Feed Me Good Tunes excellent Asian Underground sampler playlist, so mad props to them. Here's their take:
Ananda Shankar & State of Bengal's 'Betelnutters' is a great up-beat track set to a sweet sitar, it's hard to ignore the groove that these guys set.

Not enough can be said about Asian Dub Foundation, my buddy Rob introduced me to these guys and I've been loving them ever since. At times their political undertone can undermine the actual music [I do not intend to discount their message however]. 'Rebel Warrior' is one of their finer tracks - it gives you something to move to as well as a theme for airborne fist thrusting.

Death in Vegas, are not true members of the Asian Underground by any ethnic means, but their track 'I Spy' fits our mood today quite well, with the welcome addition of an organ to the sitar and an almost saddening beat.

Kid Koala & Dynamite D's 'Third World Lover' is a turntablists' gem, in fact the entire album [containing fused beats and well sewn samples from various Bollywood films] is a must-listen [so listen now!].

Topping it off with Talvin Singh's 'Traveller' wouldn't have been enough [because the album that it's on is quite easy to find] - so instead I opted for 'Kid Loco's Once Upon a Time in the Mid East mix' [taken from the elusive 'RemixSingh' album] which takes an already fantastic track and takes it to a different level

The next-to-last entry is the Mung Bean remix of Banco De Gaia's "Heliopolis." Toby Marks, who is Banco De Gaia for all intents and purposes, has been at the forefront of the electronica world beat movement and this track is a lovely reminder of his abilities. We close off with a version of Martin Luther King Jr.'s famous "I Have A Dream" speech cut up to tablas. We know of how MLK was influenced by Gandhi - this mix literally morphs that connection.
- August 9, 2006 4:32 PM // Diaspora , Music
Lady In The Waterloo?
Many moons back, the Society For India (SFI) at Cornell held a screening and QA for a thesis film from a fresh out of school NYU filmmaker. Only about ten folks showed up. The treasurer and president had a heated discussion afterwards about whether precious funds should be spent on events with such poor attendance or whether such monies were better utilized on organizing meat market .. ahem .. social gatherings on campus. The filmmaker himself was quite a nice, approachable guy and was clearly happy to receive his $500 honorarium. The treasurer remembers writing out the cheque himself. As well he should. M. Night Shymalan has yet to make that film, his first, Praying With Anger available on video but it's safe to say he no longer has to trudge up to college towns in the dead of winter and cadge speaking engagements for a living.
Following The Sixth Sense in 1999, it was impossible to meet a desi who didn't have a connection with Manoj. I remember meeting the proprietor of the Manali Cafe in Ann Arbor who swore she and Manoj's mum were best buddies. Likewise for a resident doctor at the University of California San Francisco - why she'd had dinner with Manoj and his entourage just the other day! And so it went. He was the guy who had defied his parents' wish that he become a good little doctor boy and had followed his dreams to the pot of gold lying at the end of the rainbow. What desi kid could possibly quibble with that? And he'd done it on his own terms, staying back in Philly when it clearly would have been better for him to be with the movers and shakers in LA. He was living proof that an NRI filmmaker could find a massive worldwide audience without kowtowing to the nacha-gana obsessed feudal families that had hermetically sealed off Bollywood.
But somewhere, all of that began to change. Perhaps it was the fact he kept putting himself in his films instead giving chances to other struggling desi actors who could definitely use the break. Perhaps it was his insistence on promoting himself as a brand a la Hitchcock or Spielberg. Perhaps it was that American Express commercial. Maybe at some point he began believing in the myth he'd created around himself. Who knows? What I can tell you is last week, on Friday 21st, on the eve of the opening of Lady In The Water, a couple of us held a heated e-mail roundtable on all topics Water and Night.
Prem kicked it off with:
It's getting horrible reviews and the book about his rift with Disney is being deemed an unintentional laugh riot. Newsweek even suggests it's time for an intervention (I thought so too after I saw Signs). Has the next Spielberg hit the iceberg? Apparently he got his knickers all bunched up because a Disney exec didn't give the LITW script the proper respect and eventually he fled to Warner Bros. Does he expect studio heads to perform elaborate Vedic rituals to honor his supernatural offerings? Shyam-a-crazy like a mental patient or crazy like a fox? Maybe neither. I think his problem is more
mundane. In terms of creativity he hit the skids after Unbreakable. But perhaps the same self-belief and faith in his inner voice that served him so well early in his career is also making him blind to his creative decline.
But if I was a studio exec I'd let him be -- at least for now. I may cringe watching his recent efforts or, better yet, sneak out the back door at the private screening, but his movies are a great business bet. They are modestly budgeted compared to your average summer flick and the built-in audience for the Shyamalan brand generates solid returns. That's as good a bet as there is in Hollywood.
What do you guys think? If you go see the movie let me know your opinion.
Devdoot replied:
I read an article about him in E Weekly (an excerpt from the book) where it described a meeting between the Disney execs and Shyam at a restaurant in his beloved Philly. At the end of the meeting, he had decided to take the script elsewhere and after the execs left, he began to cry uncontrollably. Um, wow...so I ordered the book - can't wait to read it.
But you make a good point Prem. Leave him be for now -- his movies come in at budget, the built in audience spans the globe, and returns on the investment are healthy.
I pointed out that the bidgets on his previous films were as follows:

Lady In The Water (LITW): $75M
The Village, Signs, Unbreakable: all around $70 - $72M
Sixth Sense: $55M

With the possible exception of the Sixth Sense, these weren't "modest" budgets. Prem's ripose:
Certainly not Wayans brothers-cheap, but for a major summer movie still quite reasonable. The fact that average Hollywood movies cost $60-70 mil is ridiculous, but we can save that for another day.
I read somewhere his movies have grossed 2.5 billion. He has lost street cred among hollywood-types, but that town is still all about the bottom line and as long as he's bringing in the profits there will be a studio willing to let him continue drinking his own kool-aid.

He added:
He needs to stop talking to the aliens and fairies in his head, step out of the supernatural environs of his Pa. mansion and mingle with the earthlings again. But if LITW does good BO I'm afraid he will use the critical slams and Hollywood putdowns as fuel to continue down the creative deadend.
Devdoot did something funny amidst all of this back-and-forth. He actually went out and saw the movie in question.
In the spirit of this roundtable discussion, I went out and just watched LITW.
Spoiler alert: do not read any further if you will be seeing the movie.
OK, so I didn't dislike the movie as much as I expected. Surprisingly funny, although his use of the stereotypical Korean girl as a means of explaining the fairy tale was nothing but a weak way to get through the exposition.
A lot of fine actors like Bill Irwin and Jeffrey Wright are way underutilized.
The numbers came in on Sunday night and they weren't particularly encouraging. From boxofficeguru:
Suffering his worst opening since becoming an A-list director, M. Night Shyamalan saw his latest thriller Lady in the Water struggle in its debut grossing an estimated $18.2M from 3,235 theaters. The PG-13 film about a mysterious creature from the water who must return to her world averaged $5,629 per site. The opening was less than half the size of the $50.7M bow of Shyamalan's last film The Village and less than one-third of the $60.1M that his previous film Signs took in when it opened in 2002. Critics panned Lady which was promoted as being a "bedtime story" as the Oscar-nominated filmmaker earned the worst reviews of his career.
Ouch! So, what do you think we as a roundtable did next? Yes, it was true Night needed to come to grips with his roots and all of that but it was possible to take that sort of stuff way too far. In typical desi style, we were hardly short of advice. From Prem:

He's been obsessed with magic realism for so long one wonders if he can make the transition to stories rooted strictly in an earth-based reality. Hey Night, can you create characters who are NOT leading tortured lives, burdened with knowledge of other dimensions? Can your characters NOT mumble awful lines in hushed, portentous tones...for the length of the entire friggin' movie! Just for a change, ya know. Mix it up a little, dude.
Anyway, I hope he can recover from this because I'm a sucker for comebacks.

As am I. As is the USA for that matter. Actually, I have no doubt M Night will return in full force in his next production - he's too talented not to. However, it is possible to go too far in the opposite direction from magic realism i.e. urban in-yo-face-ism. Consequently, we came up with a list of films that Manoj should absolutely not be doing next. Here goes:
The Seventh Sense - I See Rich People: A tough, tell-it-like-it-is thriller from the mean streets of Philly where LaShawn and Devawn are carjackers with hearts of gold - they only rob SUV driving people who deserve it. Plus no one actually sees Devawn 'cause he's a ghost! But he doesn't know it yet.
Unbreakin' II - Electric Vindaloo: After failing for the umpteenth time to get "AtMan", a desi soul food joint, going in Center City, PA, Devi Shah hits upon a curry recipe guaranteeing wild gyrations for three hours upon consumption. Alas, AtMan is located next door to a Pottery Barn and Devi's clientele is really testing their "if you break it you own it" policy. Hilarity ensues.

Signs 'N' The Hood - Somebody's been scrawling wild graffiti on the SEPTA buses in Philly and those are attracting some really freaky riders.



- July 28, 2006 12:31 AM // Diaspora , Film
Asian Superheroes
Jeff Yang has an excellent article in the Chronicle today summarizing the state of Asian superheroes. He talks about the fascination Asian American kids have with superheroes:
"Comics have always been a refuge for kids who are shy or socially unconfident," says Chow. "The storylines of many titles, like 'Spiderman,' are all about outcasts who are also heroes. For many Asian Americans, the parallels with a title like 'X-Men' are really strong: You grow up in an all-white neighborhood, you feel like an outsider, and then when you go away to school, you meet other people like yourself, you discover your secret heritage, this thing inside you that makes you special. Even if you can't shoot lasers out of your eyes. And I think that's why so much of the fan base is Asian American kids -- go to a comic-book convention, a quarter of the kids are Asian."
And of the special fascination with Superman:
Superman has always appealed to Asian Americans. He has dark hair, his public identity is a meek guy with glasses, he's from a faraway place -- why not? ("Sure there are parallels," says Hama. "But remember he was created by [Jerry] Siegel and [Joe] Shuster. He's a Jewish immigrant fantasy." Jewish, Asian -- same difference.)
I've always been partial to Spiderman myself, perhaps because unlike Superman, Spiderman is human in origin, cursed with powers he cannot control, always self-questioning and chock full of raging hormones. If that's not the quintessential adolescent, I don't know what is. Perhaps other desis feel the same way, why else would there be an Indian version of Spiderman? Ironically enough, the artwork is done in Bangalore.
One more interesting tidbit from the original article:
The real joy, however, may come in the fall, when NBC debuts its new sci-fi-esque thriller "Heroes," about a bunch of normal folk who discover that they have paranormal powers. Japanese office worker Hiro Nakamura, played by Masi Oka, is a member of the super-ized select, while Sendhil Ramamurthy plays Mohinder Suresh, the researcher who uncovers the secret of the hidden talents among us. Wow, two Asian American males in a 10-person ensemble cast -- the success of "Lost" is really revamping the television landscape.
This reminds me of Unbreakable
, M. Night Shymalan's tribute to comics, but Alan Sepinwall feels otherwise:
The idea of "What would happen if people got super powers in the real world?" has been done plenty of times before, from "Watchmen" to "Unbreakable," but Kring has a nice spin on it: not nearly as solemn and pretentious as "Unbreakable," but serious enough that it doesn't seem like camp. I particularly liked Masi Oka as the Japanese hero (named Hiro, of course) and Sendhil Ramamurthy as an Indian genetics professor obsessed with proving that humans can evolve into superhumans. Also, director David Semel finds a way to shoot certain scenes as if they were comic book panels without cribbing the visual style of Ang Lee's "Hulk."
Could be interesting!
- June 1, 2006 8:44 PM // Diaspora , TV
Google's Amitabh Valuation Part II
Some followup up thoughts to How Much Does Google Value Amitabh Bachchan?:
I omitted USA from my list of countries in the initial version of the article when I did include it in the list of territories covered by AdWords. Courtesy an alert reader, that's fixed. Thanks Arnav!
Desi stars are still cheap. Grab 'em while you still can! Even the Big B, barely compares to the average keyword price which, according to Fathom Online's quarterly roundup, is $1.39. As DesiPundit noted, he's still cheaper than "asbestos."
One reason for the actresses costing more than male stars on average could simply be prurience. If you don't believe me, try searching your favorite web search engine for "Aishwarya Rai" with and without the adult filter turned on. Now repeat for "Amitabh Bachchan" - see the difference? These adult web site owners know something about search habits. That, of course, still doesn't explain why Shabana rules the roost.
Wondering whether my ego could handle the bruising and aiming to get a baseline value, I tried finding out the value of my own name. Alas, Google gave me an Online Pharmacy ID Required warning. Apparently, "Soam Acharya" appears to contain pharmacy-related content while targeting the United States.. Most excellent! Consequently, despite her protests, I punched in my better half's name. I won't tell you what value came up but Sunil Shetty and Paresh Rawal can surely cheer up a little. I had to spend considerably more than that on flowers though - hopefully she'll start talking to me again soon.
- April 25, 2006 9:59 PM // Bollywood , Diaspora , Technology
How Much Does Google Value Amitabh Bachchan?
Thar's gold in them keywords, son.
Ever wondered how Google (and, to a smaller extent, Yahoo) get a large chunk of their revenue? Well, you don't have to look very far. Take a look a closer look at your results the next time you do a web search - those little ads that dot the top and side of the page add up to an awful lot of money. "What does any of this have to do with Amitabh?," I hear you say. Well, the ads that show up here are usually related to your search query. For example, if you are searching for Amitabh, there are advertisers willing to pay Google (or Yahoo or MSN) for the privilege of showing up alongside the search results. If you should then happen to click on the ad, the advertiser will pay Google a fee, perhaps a relatively small amount but over the course of many many clicks, it adds up.
Exactly how these prices are determined vary from search engine to engine but popularity plays a big part. You are much more likely to search for "Sachin Tendulkar" than, say, "Robin Singh." No offense to Robin who served India most honorably indeed but Sachin just happens to be one of the most popular cricketers on the planet. Consequently, his name is more likely to be searched, hence there are more advertisers (say sports sites) competing against each other to pay for a higher ad placement on Google resulting in a higher price for Sachin. There are other factors involved, hence a fatter wallet is not a guarantee of top placement, but it certainly doesn't hurt! The upshot is this: words now have monetary value. And what is in a name? A lot of money indeed, particularly for the right one.
Now that we have a mechanism for measuring relative worth, I, of course, had to zoom in on Bollywood. I was curious - who was the most expensive fillum celebrity in the virtual firmament? Did any of our diaspora actors and actresses even rate? I devised a method to find out. I started off by going to Google's start page for advertisers. Once there, I picked the standard edition which allows you to select the territories where you'd like your ads to appear. In addition to the subcontinent (India, Pakistan, Sri Lanka, Bangladesh), I added countries with high desi populations (USA, UK, South Africa, New Zealand, Australia) as well as a sprinkling of smaller territories (Fiji, Qatar, Hong Kong and UAE). Next, I created a fake ad with the title "Come to desi talk." and description "Come to a site to find news about desi celebrities." I provided Dishum Dishum, as the destination url. The penultimate step was selecting keywords for my ad. I entered my celebrity name here and Google then whispered, "want to purchase the most clicks possible?" This was Google's recommendations as to the budget and price per click (ppc) necessary to place my blurb near the top position for all possible impressions. Bingo! The ppc was the value I wanted. I started off with male actors. Here's the resulting list:
Desi Male Actors

| | |
| --- | --- |
| Amitabh Bachchan | $1.36 |
| Kal Penn | $0.40 |
| Om Puri | $0.36 |
| Naveen Andrews | $0.36 |
| Shahrukh Khan | $0.34 |
| Salman Khan | $0.28 |
| Anil Kapoor | $0.25 |
| Naseeruddin Shah | $0.21 |
| Aamir Khan | $0.20 |
| Abhishek Bachchan | $0.20 |
| Sanjay Dutt | $0.20 |
| John Abraham | $0.18 |
| Nana Patekar | $0.15 |
| Boman Irani | $0.10 |
| Sunil Shetty | $0.07 |
| Paresh Rawal | $0.05 |
Well, they don't call him the "Big B" for nothing! Amitabh extends his dominance over all things desi in the cyber arena as well. His name is worth as much as $1.36 a click. That's more than double the next contender, Kal Penn's rate of forty cents. Additionally, Kal "Kumar" Penn has Shahrukh, Salman, Aamir and all of the other Bollywood stars beat. What's more, the Khans are actually behind Naveen "Lost" Andrews and character actor Om Puri as well! What's going on here? If I had to guess, it would be that barring the diaspora, internet penetration (and consequently search based marketing) is still relatively low in the subcontinent. A lot of searches for desi terms is still going to come from the internet population at large - i.e. USA, UK and so on. Hence, diaspora actors who have made a name for themselves in the Western hemisphere but who are still relatively unknown in India will still be worth more. Perhaps Om Puri, by also having an international career (Salon wondered whether he was our greatest living actor?") in addition to his Indian one, avoids this sidelining as well. The Big B, of course, is in another plane entirely.
Some other observations from the list:
Old stalwart Anil Kapoor is hanging in there despite all the competition from young blood.
Aamir Khan is tied with Abhishek. Bluffmaster has a ways to go before we can start comparing him to his dad. But we knew that already, didn't we?
Old stars just refuse to fade away, don't they? Sanjay Dutt, recent bomb blast court case problems notwithstanding, continues to rate. Does Munnabhai have it in him for another charge up the charts? Stay tuned.
Young gun John Abraham has yet to completely escape the character actor ghetto occupied by Boman Irani and Nana Patekar. Nana's recent exploits in "Taxi No. 9211" haven't been enough to drive him up the ppc sweepstakes.
Spare a thought for poor Sunil Shetty and Paresh Rawal, occupiers of the cellar. Mr. Shetty's Bollywood profile has been pretty low for a while but I would have thought Paresh "Malamal Weekly" Rawal had done enough to escape the dungeon.
Moving on to actresses, we have:
Desi Actresses

Shabana Azmi
$0.69
Rimi Sen
$0.50
Rani Mukherjee
$0.43
Mallika Sherawat
$0.40
Lisa Ray
$0.40
Sushmita Sen
$0.30
Lara Dutta
$0.30
Parminder Nagra
$0.30
Aishwarya Rai
$0.28
Kareena Kapoor
$0.25
Preity Zinta
$0.23
Archie Panjabi
$0.21
Priyanka Chopra
$0.20
Riya Sen
$0.20
Bipasha Basu
$0.20
Neha Dhupia
$0.20
Purva Bedi
$0.20
Sheetal Sheth
$0.20
This list draws more questions than answers. How on earth is Shabana Azmi topping the list? Her ppc of $0.69 is actually more than all the male actors barring Amitabh! How does Rimi Sen manage to beat out reigning Bollywood queen Rani Mukherjee? What's Aishwarya Rai doing in the middle of the pack? My previous high-international-profile theory might explain Shabana's preeminence but, by that logic, Aishwarya should be topping the list. She isn't. On the other hand, Mallika Sherawat, despite having starred in a fair number of bombs of late, continues to rate. The diaspora actresses, although virtually unknown in India, are hanging tough as well. Over to you - let me know if you have any theories that fit the bill.

Disclaimer:. This article is for entertainment purposes only. Hat tip to a fellow Yahoo, Amr Awadallah - his original post inspired this article.
- April 22, 2006 5:17 PM // Bollywood , Diaspora , Select , Technology
Smuggling Desis
News from AP:
SEATTLE -- U.S. and Canadian authorities announced yesterday they have broken up a human smuggling ring suspected of illegally shepherding dozens of Indian and Pakistani nationals into Washington state from British Columbia.

A U.S. federal grand jury in Seattle has indicted 14 U.S. and Canadian men for their roles in the alleged scheme. Twelve had been arrested as of yesterday.

Investigators on both sides of the border worked on the case for more than a year, apprehending roughly 50 people who had allegedly paid as much as $35,000 US apiece to be smuggled into the United States, said Leigh Winchell, special agent in charge of U.S. Immigration and Customs Enforcement in Seattle.
...
He said the network in Vancouver is part of a larger smuggling organization spread across Canada.

A couple of points come to mind here. The obvious one is, of course, the porous nature of the US-Canadian border and the resulting security implications. Additionally, consider a) organized desi gangs spanning both USA and Conada and b) that they are charging an extraordinary amount of money for passage. $35000! Are folks still that desperate to come to the US? Even more interesting, human smuggling may well be a lucrative side benefit to what these organizations really do. From an article in Salon last year:
Since then, however, the Homeland Security patrol has been finding mainly marijuana on the boats it searches -- industrial quantities of a potent strain known as B.C. Bud, named in honor of the Canadian province where much of it is grown, British Columbia.

More than 2 million pounds of B.C. Bud is thought to reach the U.S. market every year. The whole industry is thought to be worth $7 billion. The product surges into the United States like water flowing off a mountain, finding its way through every crack. It is dropped by small planes or helicopters into the raspberry fields and parks of Washington state. It is walked across the mountain forests in backpacks, stashed among frozen berries and driven in articulated buses or in the back of vans on country roads. Or it comes by sea, on a flotilla of unassuming watercraft.
...
It is a big pie everyone seems to want a slice of. A lot of the smugglers caught on the border are from ethnic Indian and Pakistani gangs in Canada.
Oops, up goes the model minority ethos in a cloud of aromatic smoke. But fear not! There are heroes in our midst. From the AP article:
Winchell said two undercover agents infiltrated the alleged smuggling operation, which slipped most immigrants across the border in between patrolled ports of entry.
Although, it's not explicit, I don't think the infiltration would have been possible unless one was of South Asian extraction. Desi undercover agents perhaps? The mind boggles.
- April 13, 2006 6:59 PM // Diaspora
Punching At The Sun
USA 2006 | 82 mins | Super 16 | English
d. Tanuj Chopra

Indian Niggas ... Pakistani Niggas ... Bangladeshi Niggas ... haven't y'all heard? We're the new niggas! So starts Punching at the Sun, a film by Tanuj Chopra, that explores the lives of urban desi teens in New York City in the aftermath of 9/11. In the sweltering heat of a NYC summer special, Queens homeboy Mameet (Misu Khan) is struggling to come to terms with the death of his brother, local basketball legend Sanjay ("his jumpshot was icewater"). Sanjay was shot in the cornershop owned by their parents. Reasons for his death are never made explicit - it's not clear whether it was a hate crime, although that would be the natural guess, or something else entirely. Furthering Mameet's problems, his sister Dia is starting to run wild, his basketball coach refuses to let him start on court during actual games and his brother's legend follows him wherever he goes. His main source of relief is his girlfriend Shawni (Nora Edmonds) - if only he would let her in through his rage and frustration. His homies Parnav and Ritesh alternately calm him and drive him to distraction through their bickering. And finally, the ongoing rap fest at the local club, particularly the MCing of Uncle Sonny, punctuates the film with staccato musings on desis and politics in the Bush era.
Shot in Super 16 with a cast primarily consisting of amateurs, Punching At The Sun's scope far outweigh its budget, which, by the director's own admission, is "lower than you think" and which, as he joked in the QA, he financed by "selling samosas in the street." That it falls short is more a testament to the muddled narrative than heart or passion, which Punching has in spades. Nonetheless, there's much to savor here. The rapport between Mameet and his sidekicks is effortless. Their variation on the "ya mama" jokes ("Ya mama uses ketchup for her bindi", "ya mama wears a snakeskin sari and fedora" and "ya mama gives elephant rides around the Taj Mahal", amongst others) had the festival crowd in stitches. Their escapades could well have been expanded into a standalone comedy in its own right. Nora Edmonds is a natural presence and the film truly shines when she's onscreen. Finally, Uncle Sonny is electric on the mic - his enunciations are on point. I want to see the man in concert!
Choosing to set this film in a culture of NYC basketball and hip-hop was a brave decision. While it's wonderful to see a South Asian film avoiding the usual identity crisis cliches, I can't see such thematic material being palatable to first generation desis. But by inviting comparisons against urban classics like Do The Right Thing, He Got Game and Boys N The Hood, the film once again suffers as there isn't enough here to differentiate it from others in that genre. Excerpting a Bollywood film and mentioning Amitabh Bachchan don't quite count. Nonetheless, director Tanuj Chopra has clearly marked himself out as someone to watch and his next project, set in the Bay Area during the dot com boon and featuring an army of "super-desis", sounds intriguing.
- March 21, 2006 6:40 PM // Diaspora , Film , Review
NRIs and Cricket
In this Time (Asia edition) article about the lucrative market for cricket in India, comes this nugget:
Even in the U.S., cricket is catching on. There, pay-per-view cable subscribers forked out roughly $50 million to watch the 2005 Test series between India and Pakistan, making the U.S. the third-biggest revenue source for that tournament. (The ICC says those statistics are partly explained by 2 million ethnic South Asians living in the U.S.)
$50 million? $50 freakin' million?!! I've always wondered about the entertainment purchasing power of the "South Asian" demographic and this is a hard data point. For reference purposes, a Bollywood movie is doing really well in the USA (at least in the NRI market) if it makes about $1M in the theatres. For example, Black, according to ibosnetwork made close to that. Of course, the DVD sales figures are unknown - it's probably fair to double the movie earnings to come at a combined amount (say $2M). Compared to that, $50 million is heavy considering the pay per view channel is only available on DISH, something for which you need to install an additional external receiver pointing in the right direction! I wonder what's the revenue stream from an online streaming concern like willow.tv that many desis use as a substitute for satelite TV. Still, not too shabby, eh?
- March 9, 2006 7:59 PM // Diaspora
The Rise of Ethnic Channels
Recently, the Chronicle ran a nice article on the recent emergence of "ethnic" channels. The reasons seem to be simple economics:
... ethnic Asian American peers have quietly become the target audience for a growing number of media outlets, including Imaginasian TV, AZN TV, American Desi and MTV. "Asian Americans are the third-largest ethnic group in the country. They happen to be the fastest-growing group in the U.S.," says Nusrat Durrani, the 45-year-old general manager/senior vice president of MTV World. "More importantly, though, it's a very influential audience. It's the most educated, it's also the most tech-savvy, and it is an underserved audience."
Most of this activity has been quite recent and there's more on the way:
To fill the gap in the market, the past two years have seen a flurry of firsts. In August 2004, Imaginasian TV became the first 24-hour, seven-day-a-week Asian American channel. Comcast soon followed, transforming its International Channel into the primarily English-language AZN TV. American Desi, aimed at South Asian Americans, premiered in December 2004 on the Dish Network. Durrani's efforts at MTV World include MTV Desi, which launched in July, and Chi, which launched Dec. 6. MTV K, for Korean Americans, will premiere later this year, and a fourth channel is in development.
Some background on Nusrat Durrani, the biggest backer of this effort at MTV:
A native of Lucknow, India, raised on the sounds of Begum Akhtar and Osibisa, Cliff Richard and Little Richard, Durrani embodies a casual sort of progressive cool. He dresses in black-on-black high-end denim and keeps his hair in a fashionable George Harrison mop top. A poster for D.A. Pennebaker's Dylan film "Don't Look Back" that hangs in his office seems to have been chosen not just for what it signifies but also because its black-and-white op-art design nicely matches his outfit.

Durrani describes his first encounter with MTV in 1993 as something of an awakening. Although he had a comfortable job in marketing at Honda in Dubai, United Arab Emirates, he uprooted his family and moved to New York City in order to land a job at MTV. He started as an unpaid intern. At the end of 2004, he was named the head of MTV World.
Nice work if you can create it! Hats off to Nusrat for spotting the gap in the market and believing in it enough to take such a large risk. As for the channels themselves, they still face an uphill struggle, however, and there's been at least one casualty already:
But building from boutiques to big business is difficult work. The upstart Imaginasian has had to carve out cable contracts city by city, and is still available in San Francisco only on Comcast Channel 28 on weekday evenings and late-night weekends. Even with MTV's muscle, both MTV Desi and MTV Chi are sold only as part of ethnic-specific "international" packages. In a more troubling development, parent company Comcast fired most of AZN's staff a day after MTV Chi's launch. The network still broadcasts a trickle of new content, but many insiders worry that Comcast officials have already decided that a network-scale business model is premature.
The circumstances of the cancellation were apparently quite ironic:


Last Thursday, some of the biggest names in cable television gathered in the grand ballroom of Manhattan's Marriott Marquis to celebrate the man who's arguably the biggest name of all: Brian Roberts, CEO and chairman of Comcast, the industry's reigning colossus. The occasion was the 25th anniversary of the National Association for Multi-Ethnicity in Communications, an organization that has spent the past quarter-century helping to bring diversity to cable TV, both on screen and behind the scenes.

According to president Manish Jha, NAMIC named Roberts as recipient of its Silver Anniversary tribute not just because of his leadership in hiring and promoting minorities at Comcast but also because of his dedication to providing unique multicultural programming, as demonstrated by the company's recent launch of two highly touted new channels: TVOne, a joint venture with African American radio powerhouse RadioOne, and AZN TV, the "Network for Asian America." "We wanted to recognize this publicly," said Jha, when reached before the event. "We're pleased and we'd like to see this kind of commitment continue."

However, unknown to the folks at AZN, a purge was apparently already in the works:
But at the event, the mood at the AZN TV table was oddly strained; executives seemed less than festive. And then came the highlight of the program: a candid live interview with Roberts. "As Brian was speaking, he talked a lot about TVOne, going on and on about how great it was," says one AZN guest, who declined to be identified by name. "He basically didn't mention AZN at all. All of the invited guests at the table were looking around, thinking, 'What's going on?' It was quite surreal."

The surreality went deeper than AZN's guests knew. According to multiple sources -- who requested anonymity because severance and transition details are not yet final -- a hard decision had been made more than two weeks earlier: The network was slated to be stripped down to a minimal operational team, its senior creative staff eliminated and its ambitious plans to produce a rich stream of original content by and for Asian Americans terminated, all before even a single season of programming ever aired.

The reason for the termination may have been more to do with arcane IRS regulations than the size of the Asian American market:
And hidden behind the hype and glory of AZN's launch were some financial intricacies that suggest the channel is ultimately as valuable to Comcast dead as alive, if not more so. This is because the deal that landed the channel in Comcast's lap was actually part of an intricate fiscal tango in which Comcast received $545 million in tax-free cash, called a "cash-rich split-off."
So, the jury's still out on the viability of the channels. However, the MTV properties may have a slightly easier time of it. MTV Desi, for example, certainly leverages off of some shows from MTV India. Though MTV Desi probably programs more South Asian Massive style of music, both MTV Desi and India still have Bollywood in common (in terms of audience sensibilities and preferences). Ditto for the other MTV channels - the huge audience for J-Pop, Mandopop and Cantopop in the USA probably ensures production costs are lower because of shared programming from their MTV Pacific counterparts. Nonetheless, it's a challenge, to say the least. However, given MTV's previous track record for trend spotting, it'll be tough to bet against them.
- February 28, 2006 5:47 PM // Diaspora , Music , TV
Dutch Desi
I can't let any more time go by without giving props to Dutch Desi. In addition to being a group blog with nifty topics (eg. Jazzy Qawwali, Bindi Chip, and Virgin Does Manga India), they also update quite regularly. One catch though: it's all in Dutch. Koi baat nahin! No worries though - take this entry excerpt (from Bombay Jazz) for example:
Deze twee kochten in 1996 een grote partij tweedehands Bollywood-platen, en zijn sindsdien hooked, zij omschrijven de filmmuziek als 'Een soort James Bond muziek', 'Sitars, bongo's, big band-blazers en moog-synthesizers. Heel weird allemaal.'

Na veel speuren en onderhandelen in India, masteren in London, voorbereidingen voor de persing in Duitsland(Normal Records) en hoezen drukken in Oost-Europa staan na bijna 10 jaar de eerste twee compilatiealbums op hun eigen label Bombay Jazz op het punt van verschijnen: eentje met funk, en eentje met jazz, swing en rock'n'roll. Het zijn de eerste delen in een lange prestigieuze serie Bollywood-compilaties.
Needs no translation, does it? Or try this one (from Bohemia):
Het is zover, na een semi geslaagde Desi RnB-act is de tijd voor de eerste Desi Rapper die mainstream gaat. What about PMC denken jullie dan, nee een echte rapper of beter gezegd een gangsta rapper.

Bohemia, dropt zijn debuut album in februari en wordt uitgebracht op de label van niemand anders dan de altijd innoverende en mindblowing Bally Sagoo.

Op het album doen niemand anders mee dan de koningin van de bollywood songs Lata Mangeshkar en the top notch gangsta rapper Snoop Doggy Dogg.
Yep, it's all in the funk, man!
- January 18, 2006 7:55 PM // Diaspora
Punching At The Sun
With the Sundance film festival starting soon, DutchDesi tells us about the South Asian presence over there:
"Punching at the Sun," directed and written by Tanuj Chopra -- In the aftermath of 9/11 and his older brother's murder, a fiery South Asian teen struggles to find a path between rage and redemption on the streets of Elmhurst, Queens.

"Man Push Cart," directed and written by Ramin Bahrani -- The story of a former Pakistani rock star who now sells coffee and donuts from his push cart on the streets of Manhattan.

"I is for India" directed and written by Sandhya Suri -- A tale of migration and belonging, told primarily through Super 8 films and audio letters sent between India and England over a period of 40 years.
Punching at the Sun is apparently the first second generation desi feature film (note the qualifiers) to be picked for Sundance. In a rollicking interview with Rediff, director Tanuj Chandra, a film student at Columbia, tells more:
How did you start on this film?

I met a lot of very talented, unique teenagers with great stories to tell, at SAYA! A lot of these teens wouldn't get a shot to act in Bollywood or mainstream cinema – not immediately though. But, to me, they represented a story I wanted to tell. I met one kid in particular that I saw had enormous talent, Misu Khan, who would eventually act in my film.
And:
And why should a desi see it at all?

The film was made for desis. The question really is why shouldn't desis go see it? Because they don't want to see themselves on screen? Because they are happy with the way they are portrayed on TV and in Hollywood? Because they like Apu on The Simpsons? Because they are broke? These are all good reasons for desis not to see Punching at the Sun.

Why is showing the film at Sundance important?

I don't think there has been a second-generation desi feature film ever at Sundance, so it's another glass ceiling we've broken. It's important that our experience is given credibility at top festivals like Sundance. It's progress and I hope to see many more over the years.

What was your reaction when you heard your film had been accepted?

I got drunk, went to my high school reunion and ran my mouth off at non-desis the whole night.

If you were to get an offer to make an out and out commercial film in Hollywood some day, would you accept?

Hell yes. I have to pay back student loans. Does anybody have a gig out there for a desi in LA - LA land? Harold and Kumar Go to Iraq? Holla Back!
The volatile aftermath of 9/11 in NYC has led to a lot of New York based South Asian filmmakers and writers finding their voices. In that context, Punching at the Sun reminded me of Rehana Mirza's play Barriers:
"Barriers" uncovers the silent story of the Muslim families who lost loved ones in the World Trade Center attacks. However, these stories were often overlooked as many Muslim families witnessed their "missing" fliers marred with atrocious vandalism. Asian American Theater Company found Rehana Mirza's script poignantly opened up this untold story and explored the human experiences behind this tragedy," says Sean Lim, Managing Artistic Director of the Asian American Theater Company.
Barriers, which we saw in San Francisco, is a flawed yet powerful work. But, along with Punching At The Sky, it also illustrates the fact that second generation desis are moving on to second generation issues. As Rehana Mirza points out in a Rediff interview for her film Fillum Star: The Peter Patel Story:
Don't you think there have been too many films on desi life in America in the last four years?

I don't think there is a limit [for such films]. Besides, Fillum Star: The Peter Patel Story is different from the films made in the US and Canada.

And why is that?

Many of those films, like American Desi, dealt with identity issues. Some of us are moving beyond that. We are making films now, for example, about the struggle [for meaning] in our communities and in the world at large.
- January 14, 2006 10:46 AM // Diaspora , Film
Naming Your Desi Band
"So you want to be a rock'n'roll star" sang The Byrds
and the call of stardom is something every sensitive, artistic South Asian type has contemplated. Lord knows, I'm no exception. But long before the guitars, the drums, the samplers, the turntables, the sequencers, the dholak player mishaps, the perenially drunk tabla players, the screwed up hanger-ons and that record deal with Sony Asia can come your way, you must face your first challenge.
You have to find a name for your group.
Sure you can take the easy way out. But honestly, will people really come to hear Soam and The Band? I didn't think so. Besides, the rest of the artistically inclined souls in your group might take umbrage at your getting top billing, never mind the fact that it's your apartment where they create the racket, much to your long suffering neighbor's chagrin, and it's your samosas and beer they're destroying. So, a catchy name it is then. But what? It really should have something to do with South Asian culture and be cool. After all, how else would you get on MTV Desi? If your primary influences are Norwegian death metal, more power to you, but that's not something desi and world music audiences are necessarily interested in unless you can throw in power sitar chords in there somewhere. Thus, I'm assuming you want to do a fusion band, go back to your roots, make funky beats, score with henna-ed groupies, whatever. But you want your band moniker to reflect the music you make. I've faced this problem a couple of times, so what I can do is share with you some of my own thought processes on the matter:
No masala or spice in the title. That's so played. No Spicy Beats or Masala Music here, no sirree!


Anything "mutiny" related is also getting overused. I mean, it's already made it's way into a NYC music gathering, a website, and a music documentary. All good stuff and rebellion is good for the image but you have to find some other Indian insurrection. Perhaps Gandhi's Non-cooperation movement? Salt March?


Likewise with karma. Sorry lads, John Lennon beat you to it with Instant Karma and I've really heard no variation that comes close since then. Yes, I know that's a song title but it's so good, it's been taken for band names, both in the West and India.


Kama Sutra: yes, it's tempting, particularly for the daring and the desperate amongst you, but it's been ripped off many many times worldwide. Just musically alone, there's at least one famous record label with that title.


As you can see, this is not a trivial challenge. All the obvious names have long been spoken for or are too overused in other settings. Thinking of Om? Too bad, in the USA there's Om Records, an SF based electronica/house label that, to my knowledge, has no desi connections whatsoever. How about Guru? Nope, that's one half of Gang Starr, the premier NYC hip hop outfit. And there's Loop Guru too. So, how does one get around this impasse? Some suggestions:
Perhaps the term desi itself may still not be overkill. I like Funkadesi. Alas, desibeats is gone. Perhaps Desi Wonderland? Desi Boogie? A bit retro, but not without charm. A name I've used in the past for my creative efforts is Desi Jersey Mafia. I'm particularly proud of that one. It hits the trifecta: desis in New Jersey involved with the mafia! True, it was intended for satirical purposes, but hey, so was Spinal Tap.


Names of Indian express trains. I once thought of the Deccan Queen but resisted, thinking of the inevitable comparisons. Toofan Mail is still a possibility. Bonus: it's also the title of a famous old time Bollywood song.


Indian states/cities: other than Mumbai/Bombay, I think all other cities/states are fair game. Certainly, that must've been the idea behind the group State of Bengal. But too many names with Bombay in it: Bombay Vikings, just for starters. My candidate here was the Royal Bengal Brothers, but, alas, my brother nixed that one. Pity - you would be getting a state and a state animal at the same time!


Indian regional groups: unless you are Punjabi. Starting from Punjabi MC to Bohemia, the Punjabi Rapper, this is one busy term. However, if you're say Gujrati or Tamil, there's hope. As far as I know, Gujrati MC or Tamil Rapper has not been taken. For Bengalis, it's a rich vein to mine, particularly with Bengalis referring to themselves as bongs (no drug references implied here - really). My own favorite here is The Big Bong Theory. "What's The Big Bong Theory?," I hear you ask. Well, the universe started with a Bong!


Movies: a good idea in theory, but tough in reality. Naming yourself after Bollywood titles is not really an option unless you specifically are looking for that audience. Outside India, however, precious few films are identified with India or Indians, at least in a positive way. Tha Gandhis (sic) just doesn't work for me. I suppose, you could try subversion of titles: Band Of Joy or, my favorite, Gunga's Din.


Brevity: If all else fails, keep it short and punchy. But beware - most of the words implying good times in an Indian language are out of bounds. Dhun, Nasha, and Dhamaal are all accounted for. Don't even think of Dhamaka.


Okay, that should be enough of a starting point. Just remember, if you do decide to use one of my suggestions, I want lifetime backstage passes and a copy of your first CD. Happy naming!
- December 9, 2005 10:59 AM // Diaspora , Music , Select
Diaspora Director Roundup
Ever wonder what our favorite diaspora directors upto these days? Never fear, here's a summary:
- November 25, 2005 1:18 PM // Bangla , Bollywood , Diaspora , Film
Indians Dressing Badly
Why do so many desis dress badly in Silicon Valley? Shallow as this makes me appear, it's a question I can't help but ask. I don't think this is true for Indians in India at all - walk around in a major metropolitan area in India and you'll see folks wearing a mix of well attired, trendy, traditional and functional clothing (plus the usual share of eyesores just like anywhere else). One exception - bell-bottom pants stuck around a full decade longer in India than elsewhere but with the India fully plugged in to the global media network and a major producer for textiles, it's become fascinating to track fashion hybrids emerging from the subcontinent. This brings us back to our original question - when it's possible to find Indian-influenced clothes in your local Bay Area Macys, when your countrymen are nattily dressed at home and elsewhere, why do so many first generation Indians in Bay Area continue to putter around in jeans, t-shirts and sneakers?
Any of those elements could become fashionable statements in themselves - it's easy enough to find designer brands for all three. But no, the pattern is invariably the same: the jean pants are tapered and conical in shape, the tees have horrible horizontal convict-like stripes and the shoes are gleaming white tennis sneakers. And it's not always men we're talking about either. Desi women are invariably in that same uniform, barring occasional relief in form of the salwar-kameez and sneaker combo! I think it's stating the obvious when I say ladies hold themselves to much higher dress standards than men. Hence, it can be argued, this slippage by the desi sisters is that much more egregious.
What are the reasons for this? Is it financial? I think we can rule that one out, given the sheer amount of moolah in play in the Valley. Could it be the desire to conform to the geek chic present here? Maybe - after all, a portion of the first generation Asian population in the Valley also sport similar garb, so I suppose that's part of it. Could it be the eternal North-South divide? As stereotypes go, there's the one about North Indians being much more ostentatious and showy and the South being precisely the opposite. And it's my sense, the South has a greater presence in the Valley, so perhaps there's some correlation there. One last thought: consider the greater society in which we live. In India, there are norms, dress codes and expectations for Indians resident there. In this part of the world, that's not necessarily the case, particularly when it comes to the mainstream US media where desis are still mostly invisible. Has that led to a desire to "let go" when it comes to appearances, especially in a part of the world where your job skills supposedly count far more than the way you present yourself?
- November 19, 2005 5:27 PM // Bay Area , Diaspora
Happy Diwali!
We just returned from Vancouver and the desi presence there is decidedly stronger than in the USA. I can't imagine official government Diwali posters in a public space anywhere around here, at least not in a major city. So here goes a picture of Shari posing next to a Vancouver bus stop and Happy Diwali to all of you!
- November 4, 2005 7:43 PM // Diaspora , India
Cary and Doris
Sometimes, desis will pop up in the oddest of places. In this particular instance, in the middle of North By Northwest, we are treated to the sight of Cary Grant spending some quality screen time with "UN Reception Girl" aka Doris Singh. Click on image for bigger picture. Unfortunately, I couldn't find much on Doris, other than that link.
Of course, finding Indians in Hollywood films is not particularly easy now but back in those pre-Civil Rights days, even Yetis were more visible. Perhaps Hitch wanted some ethnic flavor what with Cary Grant heading into the UN building and all. There was one exception to this scarcity of course: Sabu, the first desi to make it big in Hollywood, pre-dating Kal Penn by a couple of decades.
- November 1, 2005 1:12 AM // Diaspora , Film
Brick Lane
Shari has been reading Monica Ali's Brick Lane
and, though it was slow going at first, she's enjoying it considerably. She read out one particularly poignant passage and I thought I'd share. It's from a conversation between Chanu and Shahana. Charu says:
I don't know Shahana. Sometimes I look back and I am shocked. Every day of my life I have prepared for success, worked for it, waited for it, and you don't notice how the days pass until nearly a lifetime has finished. Then it hits you - the thing you have been waiting for has already gone by. And it was going in the other direction. It's like I've been waiting on the wrong side of the road for a bus that was already full.
This is from the point of view of immigrants in the UK but it could equally well apply to us folks running after the American Dream. John Lennon is even more blunt:
Life is what happens when you're busy making other plans.
Disasters such as Hurricane Katrina and its hugely bungled aftermath somehow helps to put a lot of things in perspective. If you haven't given already, Red Cross is a good place to start.
- September 9, 2005 9:38 PM // Books , Diaspora
The Diaspora Strikes Back
In The Lost Subcontinent William Dalyrmple summarizes the state of Indian and Indian diaspora writing. As he notes, Arundhati Roy's The God of Small Things heralded the commercial viability of Indian litertature:
.. Roy's international critical and commercial success in 1997 radically changed perceptions of Indian writing in English, and not just in Delhi. Roy's book was immediately recognised as a major literary achievement: it won the Booker and sat at the top of the New York Times bestseller list for several months: by the end of 1997 it had sold no less than four million copies in two dozen languages.
The results were predictable:
There quickly followed a major publishing feeding-frenzy: international literary agents and publishers descended on India from London and New York, signing up a whole tranche of authors, many of whom received major advances for outlines of novels they had barely begun. Picador launched a list exclusively devoted to Indian writing in 1998; the office was soon buried under an avalanche of unsolicited manuscripts. Throughout the late 1990s, barely a month went by without the news of some fledgling scribbler being discovered lurking as a sub-editor on the Indian Express or pushing papers in the Ministry of External Affairs.

Several other writers had of course prepared the ground for this success. Roy could not have happened without VS Naipaul, Salman Rushdie and Vikram Seth: in particular Rushdie's 1981 masterpiece Midnight's Children liberated Indian writing in English from its colonial straitjacket. It also gave birth to a new voice, one that was exuberantly magical, cosmopolitan and multicultural, full of unexpected cadences, as well as forms that were new to the English novel but deeply rooted in Indian traditions of storytelling. It won the Booker, as did Naipaul's Bend in the River. Then, in 1993, Seth produced his massive - and magnificent - A Suitable Boy. Rushdie's prediction that "Indians were in a position to conquer English literature" seemed about to be vindicated.
Unfortunately, that didn't quite pan out..
The truth is, however, that since 1997 there has been no new galaxy of stars emerging to match the stature of those of the 1980s and 90s. Many of the Indian novelists who were signed up with such excitement 10 years ago failed to repay even a fraction of their advances. The only Indian-themed book to win the Booker - The Life of Pi - was written by Yann Martel, a white Canadian. In India itself, there is no new internationally acclaimed masterpiece, no new Roy.
Additionally:
As far as prizes are concerned, since Roy, we have had Anita Desai, Rohinton Mistry and Monica Ali on the Booker shortlist, Jhumpa Lahiri winning the Pulitzer; while off the prize-piste there have been two exceptionally brilliant novels by Hari Kunzru (The Impressionist and Transmission) and a fine book each from Manil Suri (The Death of Vishnu) and Nadeem Aslam (Maps for Lost Lovers
Many of the folks on this list are diaspora writers. Could they be coming into their own?
The big uncertainty in the years to come, however, is whether it will continue to be Indians in India mediating this country in the future - or will this increasingly come to be the preserve of the diaspora. Here a big and daily growing question mark remains. In Britain during the last four or five years, the waves have been made less by authors from south Asia, or even from the immediate south Asian diaspora, as much as British-born Asian writers such as Nadeem Aslam or Meera Syal, and particularly what Rushdie might call "chutnified" authors of mixed ethnic backgrounds who are, in Zadie Smith's famous formulation, "children with first and last names on a direct collision course. Names that secrete within them mass exodus, cramped boats and planes, cold arrivals, medical checks".

The diaspora, however don't quite see themselves carrying the torch:
When he was in Delhi last summer launching Transmission, Kunzru surprised many Indian interviewers by emphasising that he was a British author, not an Indian one, and that he was very happy living in London with his British identity: to one interviewer, he remarked that although his books have some Indian characters and partly Indian settings, he is not "one of those expatriate Indian writers who scours the Indian landscape looking for my roots", adding that he "abhors the nostalgic writing that many writers of Indian diaspora usually indulge in. My next book will not have anything to do with India at all." For him, he said, India was a place where his cousins lived and where he came for weddings and winter holidays.

In Hong Kong, he confirmed this: "I am very careful never to describe myself as an Indian writer," he said. "I am a British-born, British-resident author. I have connections to India and I feel they inform what I do to some extent, but more than this I cannot claim. What I and Zadie are doing is British writing about British hybridity. It is a completely separate story to that strand of writing which is about Indian-born writers going somewhere else. People should not confuse the two."
I could sense the politics of this when reading Transmission. There were three plotlines within the book: one dealt with a desi computer nerd finding his way from Gurgaon to Silicon Valley, the second was about a really put-upon Bollywood starlet on location in the UK and the third described the shenanigans of a high class British man. Somehow, I felt the third thread was somewhat superfluous to the overall narrative. The first two narratives came together quite nicely in the end but the third seemed to be more about Mr. Kunzru saying to the readers, Look - I can do non-brown too! Given that his first book, The Impressionist, dealt, once again, with an Anglo-Indian desi during the times of the British Raj, I found Mr. Kunzru's statements interesting. Unlike Zadie Smith and Monica Ali, both of whom dealt with Bangladeshi first and second generation UK immigrants in their debuts, I don't quite see the second generation hybridity in his work. If that's not there and he is disavowing any serious connections with the subcontinent, then there's the faintest whiff of opportunism about the whole thing. Writing about India is "in" - use it's exoticism while you still can. Move on when the masala runs out. Hopefully that's not the case.
- August 15, 2005 9:41 PM // Books , Diaspora , India
Humble suggestions for TV shows
Recently, the US TV industry seems to have started testing the waters for multiethnic fare. Unfortunately, the ones I keep hearing about don't seem particularly inspiring. Consider Nevermind Nirvana - Indian-American guy gets engaged to a Caucasian woman, causing family issues. Yawn. So I thought, surely it can't be that difficult to come up with some pitches for TV shows featuring Asian content that are, while cliched, might be teensy weensy better. You be the judge:
Wright and Wong: Jim Wright and Frederick Wong first meet in law school at Georgetown and, years later, decide to set up a criminal law partnership. They find their idealism and relationship continually tested by the barrage of white collar cases. Jim feels this is but par for the course, yet Frederick continually sees double standards that allows such criminals to get away with lighter sentences than dope dealers. Further complications occur when law intern Ayesha Bose joins their practice for the summer. Both Jim and Frederick fall for her but is it right for them to take advantage of their status? Who gets the girl? Stay tuned and find out!
Patel Motel: It's a wild and wacky world at Nishith Patel's Fairview Inn in Santa Cruz. From dealing with itinerant vagrants to disaffected hippies looking for a quiet spot to light up in ("get your kundalini on somewhere else!) to one night stands gone wrong ("His ling-what? Lady, I don't charge by the hour you know!") to midwestern families ("Apu is a cartoon! Thank you and come again you #@@$#!) . On top of this aggravation, he has to deal with his nagging wife and his unemployed son is happy to mooch off him but is rarely around to help. Things start to heat up further when his cousin Amar, who had lent him the original seed money for the motel, wants his money back. With interest. Then a Holiday Inn Express, owned by his arch enemy, Piyush Shah, opens next door ...
Yallah Alley Blues: Maggie Habib is up against it. Being a recent widow is tough enough but now her sandwich shop is under investigation by the city authorities because of anonymous complaints, her brother Nasr has become one of the local FBI branch's "usual suspects" despite never having been to the Middle East since 1979 and her teenage daughter, May, prefers flautas to falafel and rap to rai. To add to her troubles, she finds herself falling for the City Health Inspector who is dropping by a little too frequently. But he's Catholic. And married!
- July 22, 2005 9:16 AM // Diaspora , Select , TV
Deshploitation - The Films
Outside India, the primary sources for desi themed diaspora films are North America (US and Canada) and the UK. The latter deserves a separate entry and I'll focus more on that later. For the time being, let's look at what I call deshploitation films. Why the name? Recall the definition of blaxploitation:
Blaxploitation is a portmanteau of the words "black" and "exploitation", and refers to exploitation films that targeted the urban African-American audience during the 1970s. The films featured primarily black actors, and were the first to have soundtracks of funk and soul music. Although protested by civil-rights groups for their use of stereotypes, they addressed the great and newfound demand for afrocentric entertainment, and were immensely popular among black audiences.
So, we have the confluence of "desh" and "ploitation." Get it? However, there is a big difference between films such as Lonely In America and The Guru that have been directed by white folks and those that have been put out by the US diaspora. Exploring the latter, what are the themes of interest in these films? Here's a "theme matrix" that attempts to summarize. Enjoy:
| | | | | | | |
| --- | --- | --- | --- | --- | --- | --- |
| Film Title | Description | Identity Crisis | Nasty FOB Alert! | Obligatory Bollywood Parody Sequence | Wisecracking Sidekicks | Cardboard NRI Parents |
| American Desi (2001) | College freshman Krishna Reddy, who has never cared for his Indian-American cultural heritage, looks forward to a new life on campus but is surprised to find that he has been assigned Indian roommates. | Yes. | Yes. Fake Indian accent ahoy! | Some. Dishum dishum at the end as well. | Yes: "..somewhere in Jersey there is a black man driving around in a Honda Accord and praying to Lord Ganesh." | Yes |
| ABCD (1999) | The only goal of an ageing Asian-American widow is to see her son and rebellious daughter married off to respectable Indian families | Yes | Not really | No | No | No |
| American Chai (2001) | Sureel is a first generation Indian American college graduating senior music major who's controlling father still believes that he is pre-med. | Yes. Also, choices choices: should I be Ravi Shankar or Prince? | Yes | Yes. | Yes. "Don't worry, chicken curry... " | Chapati flat |
| Where's the Party, Yaar? (2003) | While the desi scene may be hip and happening in Hari's new home of Houston, Texas, the guardians of cool don't want the FOBs, with their funny dance moves and their white sneakers, crashing their Desi Fever dance parties. | Yes | Yes. With exaggerated bad Indian accents to match. Sorry mates, ABCDs just can't seem to do desi accents and vice versa. | Yes | Yes: "Did you know I'm good at math? Let's add you and me, subtract your clothes, divide your legs and multiply..." | Yes |
| Green Card Fever (2003) | This is the story of a young man in the United States who overstays his visa in the pursuit of a "Green Card". He naively muddles through an underworld of illegal immigrants, immigration lawyers and the INS, and the love of an American girl of Indian origin. | Yes | "Nasty" only in the womanizing sense. | No | Yes | Sadly so |
The biggest theme these films share is that of identity crisis. This isn't surprising given that they are mostly made by second generation Indian Americans. Of these, ABCD is the most hearfelt exploration of this issue. Otherwise, the rest of the films show this is really not a strong enough subject to carry an entire picture. Green Card Fever recognizes this and adds a lot of immigration stuff as well, but while it has strong moments, the final product comes out somewhat muddled. And what about the FOB bashing indulged by so many of these films? Why would you purposely want to alienate a large chunk of your potential audience? Box office wise, American Desi opened strongly but the rest suffered increasingly diminishing returns in the US market, suggesting the novelty value was wearing thin.
I don't include films such as Mississippi Masala, Masala, Praying With Anger, Chutney Popcorn, or Flavors. The first two films, while containing many deshploitation elements, rise above them. They are also of an earlier era, having been made in the early 1990s. I haven't seen Praying With Anger - apparently, it's not available on DVD and I haven't seen Chutney Popcorn. Flavors is more from the point of view of Indian immigrants and chooses to entirely sidestep all of this angst. More on that in the future.
- June 26, 2005 7:53 PM // Diaspora , Film , Review , Select
Foot In Mouth
Once again, a Western company thinks it's a really cool idea to put Hindu gods and goddess images on completely inappropriate objects. From Outlook:
The god Ram painted over French firm Minnelli's 'designer' shoes is not, of course, the first time Hindu images have been set up as exotic eastern design. But unlike other instances, it's led to protest which in the past few days has begun to pick up steam like no other.

In the past too, Hindu groups scattered across the West have been periodically taking the fight to what they see as abuse of cultural images. People have eased themselves over the figure of Saraswati painted on toilet seats, others have blown their noses into Krishna-marked pocket tissues. Women have been sold panties with Hanuman poised to leap on them, and some of the barest Italian bikinis now offer a range of Hindu gods.

Apparently, Minnelli were reluctant to withdraw:
The new campaign is kicking in stronger partly because Minnelli insists it will continue to sell the shoes. They are backing on the French freedom precept — pick the design they like, sell it as they choose.
Yeah, freedom to make a buck indeed! Ultimately however, the protests did have an effect. From the
Hindu Council UK
web site:
Hindus congregated with 'One Voice' at Knightsbridge (London) on 12th June, outside the French Embassy, at a Rally organised by Hindu Human Rights (HHR) to protest the manufacture and sales of shoes with the image of Lord Rama printed on them. A French manufacturer Minnelli produced the shoes.
...
At least thousand Hindus, congregated on the streets included representatives from all sections of Hindu society and were of all ages. The energy and enthusiasm of the young speakers, was equally rivalled by the older generation who spoke or sang with the same pride and devotion for their philosophy.
...
Minnelli Ltd have withdrawn the sale of these shoes but have not yet issued a written apology to Hindus.
- June 16, 2005 11:42 PM // Diaspora