Celebrating 11-11-11 11:11:11
So fitting. Has to be played eleven times of course.

- November 10, 2011 11:34 AM // Music
Das Racist And Other Thoughts
"Michael Jackson. A Million Dollars." I just cannot get this line out of my head! Two out of three in Das Racist are desi brothas who aren't afraid to let their freak flags (and flab) fly in the video. Nicely done.
The album is a grower as well and features, yes, yet another bhangra tribute ("Punjabi Song"):
While bhangra/rap fusions are fairly common and this one is somewhat tongue-in-cheek for a change, I always get more excited, perhaps parochially so, when I hear hi tech bengali experimentation. So, I'll end this post with an excerpt from "Dushto Meyra" by State of Bengal. It's drum and bass and very different from the wall of sample sound approach of Das Racist, but hey, goes with the general theme:
- September 20, 2011 1:04 PM // Music
A History of the Wah Wah Pedal
Cry Baby: The Pedal That Rocks The World from Dunlop on Vimeo.
Sure, it was commissioned by the company but this is more than a documentary for gearheads. It's also a paean to all those Electrical Engineers who were sucked into the profession because of their love of audio. The prospect of spending all those hours in front of oscillators, resistors, capacitors, soldering irons and breadboards is suddenly a lot less painful if the end result is revolutionary as this.

- June 15, 2011 10:14 PM // Music
Grateful Dead Videogame
<
The Wall Street Journal reports on a new online video game being developed about the Grateful Dead:
The developer, Asheville, N.C., based Curious Sense has permission to use any material from the band's deep archives, which includes three decades' worth of film and video and thousands of live concert recordings. For instance, Curious Sense founder Adam Blumenthal says he's itching to repurpose an animated sequence from 1977's "Grateful Dead Movie," featuring a cosmic pinball game. His company can also tap the Dead's vivid album cover art, as well images of the band members.

The game project is in its earliest stages, with developers currently mapping out which elements of the Dead universe to incorporate. Blumenthal says some songs are particularly conducive to gaming because of their narratives ("Terrapin Station"), imagery ("Dark Star") or characters ("Cosmic Charlie"). Such elements will be molded around templates common to casual games, such as hidden-object hunts and so-called "tower defense" games. "Think of the song 'Samson and Delilah," Blumenthal says. "Maybe we can make that into an Angry Birds kind of game?"
And more about Adam:
Not surprisingly, Blumenthal is a deadhead—he drew the name of his company from a line in the Dead song "St. Stephen." It's not an overstatement to say he's been working toward this job his whole career. In the early 1990s, while he was a student at Ithaca College, he pitched his services to Phish, helping the young jam band dip into the burgeoning field of interactive media.
I actually know Adam from his days at Ithaca College. He and I met while enrolled in the first of several multimedia courses we took at the Communications Department at Cornell. We ended up working together on our course projects and I am particularly proud of our final collaboration - an interactive installation on the art of Chuck Jones, creator of Bugs Bunny, Road Runner, Pepe Le Pew and Daffy Duck amongst others. This was, sadly, just before the meteoric ascent of the World Wide Web, so the project, written in the then hot Supercard authoring system on an Apple Quadra, has now ascended to the Great Bit Bucket in the sky. Anyway, it was obvious even back then that Adam was someone special and I couldn't be happier at this amazing opportunity he's created for himself. Congratulations!
- January 13, 2011 10:49 PM // Music , Technology
Indian Funk Anthems
Pravasan Pillay came up with a somewhat Indianized riff on established punk classic titles for McSweeneys. His list:


"Gods Save The Queen"

"Live Fast Reincarnate Young"

"(White Naan) In Hammersmith Palais"

"Ever Fallen in Love (With Someone You Weren't Arranged to Fall In Love With)"

"Srimadaddankithirumalavaraahavenkatathaa is a Punk Rocker"

"Aha!", I thought. "Two can play this cringe inducing game!" Being a) somewhat more funk oriented myself and b) of the belief desis are more funky than punky, here's my funkified version for the funkadesis out there:
Mud House
Get Dhol On It
Play That Bhangra Music (Brown Boy)
Atomic Wog
Superbhai
One Nation Post Brit Rule
Cow Rider
Junta Boogie
Bollywood Swinging (ok, I admit it - this one is too obvious)
- October 8, 2010 12:05 PM // Music
Band On The Rack
Recently, I came across Life In A .. Metro, a nice enough paean to the joys and sorrows of living in a big, soulless city - in this case, Mumbai. No bring-the-action-to-a-standstill dance tamasha here, the film being part of the wave of what I call multiplex films. Instead, the director asked a rock band to take one for the team, inserting them into the film periodically to underscore poignant moments. They look like they really suffered for their art. If you examine the frames closely, a subtext emerges. Here we go.
We first meet the band during the opening sequences and look! They are drenched already. They don't look very happy right from the beginning.
Can you feel the pain? You know he can. Also, I presume PortaPotties were scant at the shoot.
Now the director has put them on a windy rooftop. Without any railings. The poor lead singer looks close to being swept away.
Next, we see them in train station, trying to hold on against an oncoming crush of commuters. This is tough to watch.
And another round of indiginity. Performing next to a construction site and ladders? Can you say bad luck?
As if that wasn't enough, look at the poor band's mode of transportation! Rickety motor bikes rushing at top speed. My, my. That doesn't look very safe at all. Whatever happened to tour buses?
After all of this, can you blame the rest of the cast for being sympathetic? Some start to feel the pain for themselves.
Having had enough, the band tries to make a quiet getaway. Inasmuch as the harmonica playing will allow...
Caught! And punished! Poor band now has to play sitting in the bay.
Finally, the director dumps the band back in the station where they have to perform just to pick up enough loose change for their fare. Shame!

There really should have been a disclaimer "No Bands Were Harmed During The Making Of This Film" but now we are left to wonder about their fate. Will the Poor Little Brave Band That Could make it back home safely? Will there be a sequel to their story? Kudos, brave band, kudos.

- May 2, 2010 10:58 AM // Bollywood , Humour , Music
The Enchantment - A Yoga Playlist
This particular playlist is a near and dear one. It originally started off as something I made for my Yoga class. By all accounts, it went down really well. Diane, my wonderful instructor, did me the honor of playing it all the way through in class. She did this several times, so I know it wasn't just a pity play. In addition, several other class members were intrigued enough to ask the names of the artists. Now, if you're in the middle of a dandayamana dhanurasana, I don't care how advanced you are, you'll be doing your best not to topple and ruin the mojo of the yogi panting next to you. Hence, it was good to know the music was in sync enough with other folks as well.
By all accounts, that should have been that and all of us would have moved on to newer music after a while. However, my better half hit the brilliant idea of using this playlist as something to soothe Virj to sleep. Since then, it has been on regular rotation since he responded to it (or not) so well. I worry about hard disk burn in on both our iPods for the sectors that contain these tracks as they get played so darn often.
Suffice it to say, I am working on a new one. In the meantime, here's the tracklist with my thoughts and the widgets thereafter.
It's been a while since I've shared a playlist and the part of the problem is finding the right tool as to how best to do it. In the past, I'd tried stuff like Webjay which seemed to work well but relied on you actually uploading the track somewhere accessible. Anyway, Yahoo bought Webjay and then proceeded to retire it. So much for that. Soundcloud is better but you still have to upload the music yourself or hope someone else has done it already. This is problematic for copyrighted music. Consequently, I am trying two new options this time around. The first is Rhapsody, a music subscription service I use. I am continually impressed by the breadth of their library but their sharing tools still need some work. Plus, it's best if you're signed up. Nonetheless, I've included a "rhaplink" - supposedly non-subscribers have 25 free plays a month. I am also including iLike since I like their playlist widget better - but you only get 30 seconds or so, I think.
1. Dance Of The Wind - Shweta Javeri
2. Ras Rang (Vol. 1) / Thumri - Shobha Gurtu

Both are taken from a collection, "Passage To India - Traditional" and feature a cornucupia of styles. These two are meditative in nature and provide a calm start.
3. Prayer For The Four Directions - David and Steve Gordon
From Indians to American Indians. Picking up the pace a tad.
4. Magnetic - Tabla Beat Science
The nearest thing we have to a South Asian supergroup! I was fortunate enough to attend their Stern Grove concert in San Francisco a couple of years ago. This is a slow workout building in anticipation of bigger things.
5. Taking The Dust - Jai Uttal
The first of two Jai Uttal tracks. This one has a distinct Baul feel. Lovely and lilting.
6. M'Beddemi - Cheikh Lo
A personal favorite, this track is the opening salvo in Cheikh's 1999 album Bambay Gueej. Cheikh is a Senegalese musician and this truck is a mid tempo funk workout with liquid drums that remind you of the tabla and shimmering guitars.
7. Kothbiro - Ayub Ogada
From the album African Voices, this is the most beautiful track on the playlist. I first heard it on the soundtrack to The Constant Guardian and it has stayed with me ever since. I defy any parent to listen to this song while their child is sleeping and not be moved.
8. Deep - Citizen Cope
A change of pace but that's what makes playlists so much fun! A slow, stately jam with organs leading the way.
9. Gaze - Sweetback
Sweetback is the side project of Stewart Matthewman, Sade's sonic maestro. This is from their first album and is a typical understated ambient masterpiece.
10. Traveller (Kid Loco's Once Upon A Time In The East mix) - Talvin Singh
Originally featured on the Talvinremixsingh remix collection, this Kid Loco remix more than holds its own compared to the original.
11. Shalom - Jai Uttal
Jai's second appearance. Should raise good vibes in everyone except the most cynical.
12. Mountain Path - Badmarsh & Shri
Lilting uptempo piece by the pioneering UK duo.
13. Journey To Arnhemland - Jamiroquai
Another personal favorite (both this track and the band). I have no idea where they are going but they are the pied pipers of modern day groovedom.
14. Somebody Up There Likes You - Simple Minds
Bet you didn't think you'd find Simple Minds here now, did you? This is from their New Gold Dream '81 '82 '83 album, an early '80s masterpiece, way before "Don't You Forget About Me," "Alive and Kicking" and all that. An uplifting funky instrumental.
15. The Enchantment - Sheila Chandra
Closing out and returning back to chilldom with this vocal exploration by the UK singer.
iLike:
- March 26, 2010 6:18 PM // Music
Music Biopics
Danny Leigh from The Guardian weighs in on the new crop of music biofilms coming through:
Among the foremost "buzz films" (sorry) delighting Park City has, for instance, been The Runaways. A biopic of Joan Jett, Cherie Currie and their legendary posse of 70s proto-riot grrrls ....

... Witness in recent weeks alone the excitement around Sex & Drugs & Rock & Roll, Mat Whitecross's excellent portrait of Ian Dury, and the less justifiable fuss about Sam Taylor-Wood's sudsy young Lennon saga, Nowhere Boy. After the visionary Hunger, meanwhile, Steve McQueen is to turn next to the fascinating life of Afrobeat pioneer Fela Kuti. By the time that makes it on screen, there will surely have been any number of others coming down the pipe, if not from here then Hollywood.
He concludes with a wishlist of musicians he'd like to see on film:
But the prize catches for me lie elsewhere – in the diverse forms of Afrika Bambaataa and Syd Barrett. The first could follow its hero from gang leadership in the South Bronx to spiritual epiphanies in Africa and the introduction of the world to hip-hop (Warriors meets Malcolm X meets 8 Mile, in the parlance of the studio executive); the second, in all its fractured melancholy, would surely be the last word (finally) in the 40-year celebration of 60s rock gods.
This set me thinking - what would my preference be for musicians I'd like to see on film. Obviously, it has to be cinematic, a life staid lived wouldn't translate well onto screen. Here are some candidates:

Marvin Gaye: There's been numerous rumors through the years about some kind of project taking off (here's an example) but the music rights have always proved too painful to surmount. Regardless, the man's life would make a helluva film. Starting off as a doowop singer, then Motown session drummer, rising all the way to the top on his own terms then getting sidelined by drugs and his own inner demons, mounting a comeback only to be shot by his own Minister father? Are you kidding me?


Fleetwood Mac: The recording of Rumours alone had enough illegal substances, dalliances and breakups for an entire book, never mind the entire history of the band. Should be fascinating.


Ravi Shankar: If you read his autobiography, the talent and the prickly nature of the man comes through. He also loosely touches on his own private life and his "a woman in every port" approach. Given the amazing arc of his career, this one is a no-brainer as well. I have no idea how commercially viable this is but I do worry about how sanitized it would be if an official version ever comes out.


- January 31, 2010 7:02 PM // Film , Music
Soundcloud
Recently, courtesy Kaushik M, I've discovered Soundcloud, a thriving community of musicians and DJs. The site takes a somewhat Yelp-like approach to music, making it very easy to share, comment on, find and download tracks. Manna from heaven, particularly if you're into DJ sets, electronica and various types of dance styles. I am sure there are more genres but these, at first glance, seem to dominate.
Here's Kaushik's latest on Soundcloud, a remix of Jazzanova's I Can See (source material derived from a contest held by SoundCloud a while back:
Jazzanova - I Can See - Kaushik M. Edit  by  KaushikM
The funny thing is, as Kaushik himself will tell you, he added no new instrumentation - it's all derived from the original track. Yet, it's amazing how rearranging and new effects can make such a dramatic difference. In my ears, this version sounds much groovier than the original.
Ending with a track from Peter Kruder of G-Stone and Kruder & Dorfmeister

fame:
The Law Of Return  by  peterkruder
- December 24, 2009 11:31 PM // Music
Michael Jackson - HIStory (J Dilla/Ummah Mix)
Despite being the title track of one of his comeback sets, Michael Jackson's "History" is one of the lesser entries in his oeuvre, not meriting a place in most of his best-of collections out there. The actual track has a Beatlesque feel, reminiscent in its opening fanfare and continuing tempo of "All You Need Is Love" with the actual melody sounding like Michael had "Come Together" on repeat rotation while composing. The lyrics are uplifting though with the chorus exhorting us to:
Every day create your history
Every path you take you're leaving your legacy
Here's the original:
A nice enough track even though portentously announcing some big dates on human history is laying it on a little thick, I feel.
Moving on to mixes, I've never listened to very many remixes of Michael's songs and whatever little I came across were not particularly impressive. The Tony Moran remix of History (from "Blood On The Dancefloor") is a case in point. This, apparently, was the single release:
I have to disagree with the YouTube poster's title. Whatever the track has by way of uniqueness is drowned out beneath layers of heavy house beats and organs - it's the sonic equivalent of slathering ketchup on jafrani pulao. No wonder this song never received its due. It took a producer of the calibre of J Dilla and the rest of the Ummah (Q Tip and Ali Shaheed Mohammed) to actually perform an excavation/reclamation and give us something far surpassing the original. Gone are the opening bombast and the voice overs. Instead, we have something loping and sinuous and, in true J Dilla style, highly understated. Listen to it yourself:
There's another version, also by the Ummah, the Urban Radio Edit, which I don't think is as good, although again far superior to the first two versions:
RIP Michael and J-Dilla.
- October 24, 2009 11:44 AM // Music
The Tune That (Almost) Got Away
#music #reggae
Being a music addict has its disadvantages - and as long as I can remember, I've been one - with a big one being the songs that elude identification. The one you hear on the radio and it starts squatting in your brain. But all you have left by way of tangible clues are a stray vocal shout here, a guitar lick there, perhaps a drum roll or maybe a synth squiggle. Small pickings to start a quest.
The task, however, is much easier these days, given that a) so much information is online (most radio stations and sites publish their playlists) and b) there are sites and systems designed to help you find your music. For example, I recall coming across query by humming search engines (in fact, our research group back in grad school published a paper on this in 1995) and I know there are systems which allow you to hold up your cellphone to the music as it is playing and will identify it for you. All well and good if you hear your anonymous earworm in the immediate present. But what about those from twenty years ago when all this nifty technical stuff didn't exist? What about the track you heard on a small transistor, faintly tuned to some station in the desert? Or perhaps piped through the headphones plugged to the seat socket in an airplane, sandwitched in between endless replays of REO Speedwagon and Wham?
The task is made even more difficult by the intervening years. Was that really the lyric in the song? How fast was the tempo? Slowly but surely, though, I've been tracking down some of those lost tunes from my adolescent years. What I've found to be the most useful is a like minded group of people searching for the same exact little clues and remembering the same little hooks that stayed with them all those years and posting to bulletin boards. Courtesy search engine thoroughness, the right combination of terms finally yields up the treasure. This is one of them. A bouncy, sunny pop reggae track from 1980 by Black Slate, a UK group. I give you "Amigo":
More on Black Slate:
Black Slate formed in 1974 in London, with members hailing from multiple countries. Keyboardist George Brightly and bassist Elroy Bailey were originally from London. Vocalist Keith Drummond, guitarist Chris Hanson, and drummer Desmond Mahoney came from Jamaica, and rhythm guitarist Cledwyn Rogers hailed from Anguilla. The group received their earliest work backing touring Jamaican acts, such as Delroy Wilson. In 1976, they hit the U.K. reggae charts with Sticks Man and landed a pair of hits in 1980, "Boom Boom" and "Amigo."
All these years, I'd heard the lyrics of the song in my head as "I know/I know/I know who..." Searching yielded nothing. Yesterday, somehow, I thought, why not try "amigo"? I don't know why I'd made that leap. The last time I physically heard the song was in Ithaca in the mid '90s, on the Ithaca College radio's weekly reggae program. I ran to the nearest phone and called up. But between the time I tracked down the station number, that DJ's shift had already ended and I was left to wander around in the wilderness for fifteen more years. Until now. Trying "amigo" on Rhapsody yielded a plethora of Spanish songs, as you'd expect. Nothing reggae. So, knowing many people are using YouTube to store their music, I tried "Amigo Reggae" and boom! There it was. A small personal victory and all it took was for me to retry with a different term and for the people of the world to get organized and upload terabytes of data. One more track crossed of my list. Thanks YouTube!
- September 26, 2009 9:51 AM // Music
Screwed
Friends of ours, after having moved to London, found themselves stuck in a hellhole of an apartment. And utterly cheap landlords who refused to fix anything. And siilverfish in the flat. And threats of lawsuits and litigation flying back and forth. And having the owner of the rathole reside next door. And having said owner be one of the members of Spandau Ballet. Yes, that Spandau Ballet, of "True" fame:
After slowly realizing one of the architects of the soundtrack of my teenage years was now a slumlord and knowing nothing about UK rental legislation, I wrote the following from the POV of our friend as some sort of consolation. Enjoy.
To be sung to the tune of "True", what else?
"Screwed"

Huh huh huh hu-uh huh

So screwed funny how it seems
want rent in time, but never found for leaks
hole in the wall from steel toed shoe
this is the sound of the slum
hear all that sound

I lost my ticket to the world
so now I am stuck in this hell
why do i find crap in my sewer line?
oh the slumlord has got to be paid

Huh huh huh hu-uh huh
I know this much I'm screwed
Huh huh huh hu-uh huh
It's no good I'm screwed

With some booze in my hand and pills on my tongue
there's all that noise that has just begun
listening to neighbors (all night long)
this is the sound of the slum
hear all that sound

Roaches scurrying in my pants
they have minds of their own
take your filthy hands off my washing line
yeah the truth must be known

Huh huh huh hu-uh huh
I know this much I'm screwed
Huh huh huh hu-uh huh
It's no good I'm screwed

- March 27, 2009 10:04 PM // Music
Dubble Talk
Make no mistake, Radio Retaliation
have built themselves a justified rep as one of the leading purveyors of sonic bliss-outs and their headlining of the Sea Of Dreams New Years Eve event at the San Francisco concourse is utterly deserved. I, however, have to take issue with this paragraph in their recent Chronicle writeup where:
...the group has a fresh way of working dub into its mix. For instance, Garza notes that on old Bollywood soundtracks, "you kind of feel it's missing that low bass." On "Mandala," a track from the new album, Thievery Corporation rectifies that omission with help from sitar master Anoushka Shankar.
First of all, mixing dub and old Bollywood sountracks is nothing new. Just think of Bally Sagoo's
1995 effort, Bollywood Flashback
. Consider his remake of Chura Liya from that album :
If you didn't hear any bass you played it on your tinny computer speakers. The subsonic notes on that track are so deep, they'll shake the floor when played over the right sound system. Additionally, just to make sure you get the dub connection, Mr. Sagoo ensures the prominent presence of dreadlocked gentlemen in the video.
Second, there's nothing really retro Bollywood about Mandala - if anything, it sounds more like something that Ananda Shankar, Ravi's nephew, would put out in his '70s glory days alongside his 'Jumping Jack Flash' remakes. Indian classical and Bollywood are not interchangeable.
Nice track though. I wonder if we can expect Anoushka to build upon this and provide the sitar'n'bass treatments to Fall Out Boy classics.
- December 20, 2008 5:24 PM // Bollywood , Music
Gulfisha (The Kaushik Remix)
Recently, The Guardian asked the question, Where Is The New Asian Wave?
Are young Asians simply not interested in making pop music? Or are there bands out there, just not being widely heard? This year's UK Asian Music Awards honoured people like Sukshinder Shinda and Hardkaur , who are hardly household names (their You Tube appearances suggest they make American-sounding hip-hop about "laydeez" and sound as Asian as I am), although Nitin Sawhney is rightly (if a little vaguely) honoured for "commitment to the scene". It's 16 years since I looked into this with anything like a magnifying glass, so I'm confessing to some naivety here, but I wonder what happened to Radical Sista, Pardesi Music Machine and all those other hopeful people I met back in 92. Where is the next generation?
A similar question could be asked for artists across the pond but that would be doing a disservice to great musicians like Kaushik Mukherjee who has been producing wonderful music in DC for the better part of this decade. A couple of qualities separate Kaushik from his contemporaries. The first is this: of all the UK/US based South Asian artists I've heard, Kaushik understands funk. There are any number of tracks by other groups/artists I've heard which feature much tablratronica and other percussive wizardry but are really jerkoff exercises for virtuosos, much like overlong guitar solos by progressive rock groups. But funk is as much a function of timing as anything else and Kaushik understands the distinction. The second feature of his music is the warmth. His music will draw you in, not batter you into submission. This is not to say his tracks aren't uptempo or uproarious. They are best described as an invitation to soak in a Sonoma hot tub on a yacht hurtling down Russian River.
His own tracks are wonderful in their own right but it is as a remixer that Kaushik excels. Just check out his version of AR Rahman's Gulfisha, a track from the forthcoming film Ada - A Way Of Life. Kaushik put together the mix following the availability of 30 seconds worth of raw vocals from a remix contest and his version blows away anything else on that contest site. Compared to some of the Casiotoned entries over there, his might as well be on another nebula. With Chemical Brothers like breakbeats and layers upon layers of electronica and warm echo-ey Bolly vocals, it's a revelation. In fact, without even hearing the original, I'd argue AR would have a tough time topping this version. Here's to you Mr. K, long may your turntables spin.
- June 23, 2008 7:23 PM // Bollywood , Music
"It's A Boy" Playlist
Stuff I've been playing to my 2 week old. Fuhgetabout Baby Einstein, this is the way to get him started on the good ish!
New Life - Depeche Mode. What else but one of the earliest songs by the venerable synth group? My own indoctrination into the joys of synth pop. It seems so long ago.
Kinna Sona - Bally Sagoo/Nusrat Fateh Ali Khan. Long story but I once had occasion to chat with Bally's manager somewhere in Philadelphia. He went by the name of Mambo. We were talking about Bally's work and this is the one he picked as his most played. "When I go home, I pick up my newborn and play this song," he said. Now, I understand.
Aerodynamik - Kraftwerk. No story here. Great beat to change diapers to. Plus get him started early on the masters.
Garden of Earthly Delights - XTC.
"Kid,
Stay and snip your cord off,
Talk and let your mind loose,
Cant all think like chekov,
But youll be o.k."
I Got A Name - Jim Croce. I used this song as inspiration on our quest to find a name for the kid. Lovely, lilting stuff.
It's A Boy (Remix) - Slick Rick. 'nuff said although he did cover his ear a tad when I played it to him. He'll learn, eventually.
- December 4, 2007 9:48 PM // Music , Virj
Surya Dub @ Club Six
"When they'd strung the cables, according to some complex scheme of Molly's, they hung them with battered sheets of yellow plastic. As they worked, Case gradually became aware of the music that pulsed constantly through the cluster. It was called dub, a sensuous mosaic cooked from vast libraries of digitalized pop; it was worship, Molly said, and a sense of
community." - Neuromancer - William Gibson (1983)
Towards the fag end of last year, I received an e-mail from Maneesh The Twister. The gist of it was that the Dhamaal collective was coming to an end and there was something new in the works: an aggregation called "Surya Dub" (Surya meaning sun in Sanskrit). The focus of the new outfit would be on "Global Dubwize Vibes and Dread Bass Culture - more of a dub aesthetic but still incorporating a world element."
Honestly, I was bummed about Dhamaal coming to an end - apart from providing high quality night outs for those of us uninterested in the rest of the desiparty scene, the outfit genuinely pushed into new musical territories, particularly in the field of asian electronica. Check out their two releases if you haven't already. I pressed Maneesh for more detail and he would merely say he felt the outfit had "run its course." More's the pity.
In an interview with SFWeekly, Maneesh provided more info about his new dub direction:
Evidently, the definition of dub is open to multiple interpretations. The Surya Dub DJs share different ideas on the subject, but they all believe the music has universal qualities. To bhang ragga — a musical style combining bhangra and ragamuffin reggae — innovator-DJ-producer Kush Aurora, "Dub music is musical meditation." To dubstepper Kid Kameleon, "Dub is like a code word for experimentation, and a license to do things in a nonlinear style." DJ Ripley, meanwhile, says he feels that "Dub has always been ahead of its time, based in playful misuse of technology for creative purposes." And to hip-hop/reggae head Ross Hogg, dub is "as much about what's missing in the music as what's present. The silence, the dropouts, the echoes ... "

To Maneesh, dub — usually defined in its original sense as an instrumental, remixed form of reggae — isn't just a musical genre or production style, but a culture in and of itself that's shared influences with other cultures all over the world. For example, "Indian music has had influences in the Caribbean; there's a lot of sociohistoric things that tie those things together on a nonmusical level," he says.
Dub's status as future music has been around for a while and while the Wachowski brothers co-opted the community part of it for their Matrix trilogy, I was curious to see how it would play out in real life. As the pics show, I needn't have worried. With block rocking beats and bowel loosening bass (well, nearly :-), Surya Dub is off to a flying start. Some snaps: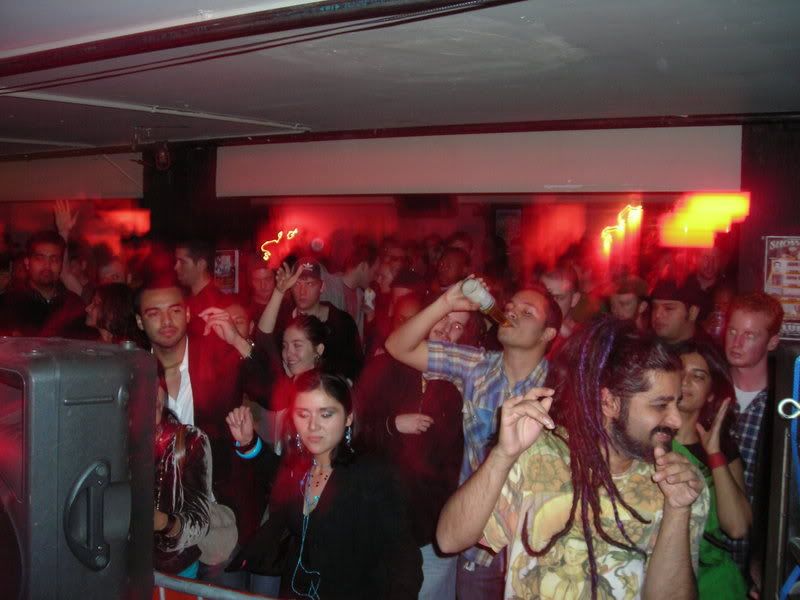 Yah mon! And here are some pics of Maneesh and Kush in action:
Note to the gentleman who left his shots on the speaker stacks: no one took them. It is usually not a good idea to park breakables on speakers generating deep sub bass. Said objects tend to vibrate and fall off :-)
- January 28, 2007 8:06 PM // Bay Area , Diaspora , Music
Karsh Kale Remixed
Karsh Kale is one of the brighter names in the desi electronica scene today. If State of Bengal, Badmash and Shri, Talvin Singh, Nitin Sawhney, Niraj Chag, M.I.A and so on comprise the British invasion (they are all UK based - it's not for nothing that it started off being called the UK-Asian Underground!), Karsh represents one of the very few prominent US faces of the Asian Massive. His latest album, Broken English, is a dizzying melange of the music of New York City, reflecting the bhangra of Jackson Heights, hip hop of the projects, alt rock of Greenwich Village and myriad other influences, all underpinned by his Indian classical training. The opening track, Manifest, is a statement of intent, effortlessly packing rap, Hindusthani vocals, synth atmospherics and bhangra into a propulsive dancefloor stomper. It's easily one of the best tracks on the album.

So, when Manifest was selected as the target of a remix contest at Acid Planet, it didn't come as much of a surprise. The idea is simple: Acid Planet provides the basic elements of the song i.e. a number of audio loops. Budding producers and DJs then utilize the samples to come up with their own mix which they then upload back to the site. The entries can then be rated and commented upon. The results vary wildly, both in style and quality. Half the fun is scrolling through the contest entries to hear how the same set of sounds inspired such a different array of results. The contest and the site is also very web 2.0 - mashups, user powered content, user ratings, online social communities and such.

Just pause for a minute to consider the implications of all this. In effect, we are taking a track that blends various influences from all over the world, deconstructing it down to its various components, and, by making it globally available in lego form, scattering the strands to all corners of the world. The seeds germinate and sprout, using whatever new cultural fertilizer is available, into new songs which echo the root track yet reflect the new milieu that nourished it into existence. The prodigal sons then return to their parents. This process of deconstruction and reconstitution could continue indefinitely - my head hurts just thinking about it. Yet, it is also a metaphor for the themes of globalization, migration, and travel in the original album. Of course, everyone has their own reasons for submitting. For example, Kaushik M writes:
I like doing remixes. I especially like remix contests, although I have no interest in entering them to win a t-shirt or free software. Instead, remix contests are a great way to get raw working material to inspire me. Using just the vocal track, I like to recreate the entire song into something new. The act of reinventing and reimagining someone else's creation is interesting. It gives me a chance to experiment with different styles, and to get to know my production tools better. It also keeps my musical skills sharp, especially after long quiet periods when I don't have much time to work on music.
All of this theorizing is useless if the new mixes are crap or if no one contributes. Fortunately, this particular contest inspired nearly 200 entries from all over the world! I went through and picked some that I thought to be particularly interesting. Once again, they are presented below, in the embedded Flash mp3 player. The original is streamed here, BTW. The styles range from dark electro (Sharaab) to minimalist groove (Kaushik M of Oishani Music) to deep house. Enjoy!
PS - Hat tip to Tablatronic for pointing out the contest. I'm still looking for the samplepack myself - if some kind soul could e-mail it to me, I'd be grateful.
- September 1, 2006 10:28 PM // Music
Desi-esque: A Playlist
Arguably, the music of the subcontinent has been far more influential than its cinematic output. Courtesy WebJay, this playlist puts together a sampling of artists and tracks outside South Asia, both from diaspora artists and others, who have been influenced by its riddims. Just hit play in the embedded player and enjoy. Don't forget to make sure the latest version of Flash is installed.
We open with that chestnut from Nusrat, "Mustt Mustt", as remixed by Massive Attack. A must for all world-music best-of lists everywhere. "Nadia" by Nitin Sawhney is one of the best tracks from his album, Beyond Skin, a great blend of yearning vocals and drum and bass. The next couple of tracks are filched from
Feed Me Good Tunes excellent Asian Underground sampler playlist, so mad props to them. Here's their take:
Ananda Shankar & State of Bengal's 'Betelnutters' is a great up-beat track set to a sweet sitar, it's hard to ignore the groove that these guys set.

Not enough can be said about Asian Dub Foundation, my buddy Rob introduced me to these guys and I've been loving them ever since. At times their political undertone can undermine the actual music [I do not intend to discount their message however]. 'Rebel Warrior' is one of their finer tracks - it gives you something to move to as well as a theme for airborne fist thrusting.

Death in Vegas, are not true members of the Asian Underground by any ethnic means, but their track 'I Spy' fits our mood today quite well, with the welcome addition of an organ to the sitar and an almost saddening beat.

Kid Koala & Dynamite D's 'Third World Lover' is a turntablists' gem, in fact the entire album [containing fused beats and well sewn samples from various Bollywood films] is a must-listen [so listen now!].

Topping it off with Talvin Singh's 'Traveller' wouldn't have been enough [because the album that it's on is quite easy to find] - so instead I opted for 'Kid Loco's Once Upon a Time in the Mid East mix' [taken from the elusive 'RemixSingh' album] which takes an already fantastic track and takes it to a different level

The next-to-last entry is the Mung Bean remix of Banco De Gaia's "Heliopolis." Toby Marks, who is Banco De Gaia for all intents and purposes, has been at the forefront of the electronica world beat movement and this track is a lovely reminder of his abilities. We close off with a version of Martin Luther King Jr.'s famous "I Have A Dream" speech cut up to tablas. We know of how MLK was influenced by Gandhi - this mix literally morphs that connection.
- August 9, 2006 4:32 PM // Diaspora , Music
Drumming At The Edge Of Magic
I don't know about you but I find the driveby sonic rumble of car subwoofers extremely annoying, yet there are plenty of people who spend fortunes decking out their cars and Suburbans just to share their bottom thumping joy with you. What happens to these bassheads as they get older? I have visions of the ashrams of tomorrow full of folks sitting in serene, untroubled contemplation, mostly because they can't hear a damned thing anymore!
Anyway, warfare of this kind has been going on for as long as humans have existed. Mickey Hart's
(drummer for the Grateful Dead
) book, Drumming At The Edge of Magic
, is a serious attempt to trace the role of percussion in world mythology. I particularly enjoyed the following reference to the Mahabharata:
Drums provided the music of war, and the favored war drum was the kettledrum, whose terrible low booming could be heard for miles ... There are kettledrums froma ancient India, from the time of the ancient holy text, the Mahabharata, that measure five feet in diameter and weigh approximately four hundred and fifty pounds. You needed an elephant to lug them around. "There arose a tumultuous uproar caused by the blare of the trumpet and the thundering of drums, the blowing of conch shells," says the Mahabharata. "The very sky was rent by the beating of drums."
I'll keep that in mind the next time a Suburban booming the latest narcorrido ditty goes by. That's the modern day equivalent, I suppose.
- May 23, 2006 11:26 PM // Books , Music
Scavenging Samples
Ever wondered how snatches of Indian vocals seem to crop up in the oddest of places? Hip hop producer Blockhead
took Remix Magazine on a day tour of record stores in NYC where he bought a bunch of decidedly off center albums. After fortifying himself with a fat slice of pizza, he proceeded to extract disparate elements from a number of tracks and blend them into something uniquely his own. Here's how he worked an Indian LP:
Then an old LP from India called Hits of Shankar-Jaikishan, Vol. 1 (Angel, 1964) has a vocal sample with potential. "This is where time-stretching would work, but whatever; time-stretching takes the skill out of it," he shrugs. "If you have time-stretching, the only talent you need is to tell whether something is out of tune or not. I get a lot of flak for speeding up vocals, but I like to work with vocal samples the same way I do a horn or a piano: I don't care how fast or slow it is as long as it's in key."

The vocal line is lovely and haunting at the same time, and although it's troublesome, Blockhead is willing to go to some extra lengths to make it fit. The aging ASR-10 is unwieldy by today's standards, but Blockhead knows its functions inside and out from a decade of exclusive, nonstop use. His skills with the limited controls make a strong case for expertly mastering a select amount of gear/software rather than taking on a wide range of systems and knowing them only superficially.

"It's funny because it already sounds like it's backward," he comments as his fingers fly over the Ensoniq's buttons. "I'm doing a lot of filtering stuff to make the high part of it I like come out more. I don't know what these numbers (on the bare-bones LCD) mean, but when I move the slider, it takes out some of the crackle. Now it sounds like it's coming through the radio, which I like.

"I slowed this sample way down, and I think it sounds almost like a reversed instrument at times. Obviously, I don't speak any Indian [languages], so I have no idea what she's saying, but it resembles an African stringed instrument and Mickey Mouse at the same time. It works with the track because it's got this lighthearted feel to it. The sample itself is kind of fun."
Globalization in the backyard indeed. The complete track ("Big City Boy") is available here. Check it out!
- March 31, 2006 8:18 PM // Music
Dhamaal Collective @YBCA
(Above) Maneesh The Twista (clot of darkness on the left of the picture), Samba Guisse (center), and Farhan Qureishi (on tabla) play at the YBCA Forum as part of the Young Artist At Work program. A lovely blend of dub chillout from vinyl with live vocals and tabla. Maneesh proved to be a really approachable, nice guy too. I'm hoping to speak more indepth with him in the near future.
- March 3, 2006 9:14 PM // Bay Area , Music
The Rise of Ethnic Channels
Recently, the Chronicle ran a nice article on the recent emergence of "ethnic" channels. The reasons seem to be simple economics:
... ethnic Asian American peers have quietly become the target audience for a growing number of media outlets, including Imaginasian TV, AZN TV, American Desi and MTV. "Asian Americans are the third-largest ethnic group in the country. They happen to be the fastest-growing group in the U.S.," says Nusrat Durrani, the 45-year-old general manager/senior vice president of MTV World. "More importantly, though, it's a very influential audience. It's the most educated, it's also the most tech-savvy, and it is an underserved audience."
Most of this activity has been quite recent and there's more on the way:
To fill the gap in the market, the past two years have seen a flurry of firsts. In August 2004, Imaginasian TV became the first 24-hour, seven-day-a-week Asian American channel. Comcast soon followed, transforming its International Channel into the primarily English-language AZN TV. American Desi, aimed at South Asian Americans, premiered in December 2004 on the Dish Network. Durrani's efforts at MTV World include MTV Desi, which launched in July, and Chi, which launched Dec. 6. MTV K, for Korean Americans, will premiere later this year, and a fourth channel is in development.
Some background on Nusrat Durrani, the biggest backer of this effort at MTV:
A native of Lucknow, India, raised on the sounds of Begum Akhtar and Osibisa, Cliff Richard and Little Richard, Durrani embodies a casual sort of progressive cool. He dresses in black-on-black high-end denim and keeps his hair in a fashionable George Harrison mop top. A poster for D.A. Pennebaker's Dylan film "Don't Look Back" that hangs in his office seems to have been chosen not just for what it signifies but also because its black-and-white op-art design nicely matches his outfit.

Durrani describes his first encounter with MTV in 1993 as something of an awakening. Although he had a comfortable job in marketing at Honda in Dubai, United Arab Emirates, he uprooted his family and moved to New York City in order to land a job at MTV. He started as an unpaid intern. At the end of 2004, he was named the head of MTV World.
Nice work if you can create it! Hats off to Nusrat for spotting the gap in the market and believing in it enough to take such a large risk. As for the channels themselves, they still face an uphill struggle, however, and there's been at least one casualty already:
But building from boutiques to big business is difficult work. The upstart Imaginasian has had to carve out cable contracts city by city, and is still available in San Francisco only on Comcast Channel 28 on weekday evenings and late-night weekends. Even with MTV's muscle, both MTV Desi and MTV Chi are sold only as part of ethnic-specific "international" packages. In a more troubling development, parent company Comcast fired most of AZN's staff a day after MTV Chi's launch. The network still broadcasts a trickle of new content, but many insiders worry that Comcast officials have already decided that a network-scale business model is premature.
The circumstances of the cancellation were apparently quite ironic:


Last Thursday, some of the biggest names in cable television gathered in the grand ballroom of Manhattan's Marriott Marquis to celebrate the man who's arguably the biggest name of all: Brian Roberts, CEO and chairman of Comcast, the industry's reigning colossus. The occasion was the 25th anniversary of the National Association for Multi-Ethnicity in Communications, an organization that has spent the past quarter-century helping to bring diversity to cable TV, both on screen and behind the scenes.

According to president Manish Jha, NAMIC named Roberts as recipient of its Silver Anniversary tribute not just because of his leadership in hiring and promoting minorities at Comcast but also because of his dedication to providing unique multicultural programming, as demonstrated by the company's recent launch of two highly touted new channels: TVOne, a joint venture with African American radio powerhouse RadioOne, and AZN TV, the "Network for Asian America." "We wanted to recognize this publicly," said Jha, when reached before the event. "We're pleased and we'd like to see this kind of commitment continue."

However, unknown to the folks at AZN, a purge was apparently already in the works:
But at the event, the mood at the AZN TV table was oddly strained; executives seemed less than festive. And then came the highlight of the program: a candid live interview with Roberts. "As Brian was speaking, he talked a lot about TVOne, going on and on about how great it was," says one AZN guest, who declined to be identified by name. "He basically didn't mention AZN at all. All of the invited guests at the table were looking around, thinking, 'What's going on?' It was quite surreal."

The surreality went deeper than AZN's guests knew. According to multiple sources -- who requested anonymity because severance and transition details are not yet final -- a hard decision had been made more than two weeks earlier: The network was slated to be stripped down to a minimal operational team, its senior creative staff eliminated and its ambitious plans to produce a rich stream of original content by and for Asian Americans terminated, all before even a single season of programming ever aired.

The reason for the termination may have been more to do with arcane IRS regulations than the size of the Asian American market:
And hidden behind the hype and glory of AZN's launch were some financial intricacies that suggest the channel is ultimately as valuable to Comcast dead as alive, if not more so. This is because the deal that landed the channel in Comcast's lap was actually part of an intricate fiscal tango in which Comcast received $545 million in tax-free cash, called a "cash-rich split-off."
So, the jury's still out on the viability of the channels. However, the MTV properties may have a slightly easier time of it. MTV Desi, for example, certainly leverages off of some shows from MTV India. Though MTV Desi probably programs more South Asian Massive style of music, both MTV Desi and India still have Bollywood in common (in terms of audience sensibilities and preferences). Ditto for the other MTV channels - the huge audience for J-Pop, Mandopop and Cantopop in the USA probably ensures production costs are lower because of shared programming from their MTV Pacific counterparts. Nonetheless, it's a challenge, to say the least. However, given MTV's previous track record for trend spotting, it'll be tough to bet against them.
- February 28, 2006 5:47 PM // Diaspora , Music , TV
Bay Area Bhangra
The San Francisco Bay Guardian has a nice writeup of the Bay Area Bhangra scene. First the intro:
Bhangra's heated dhol drumming and bomb-tastic hip-hop beats are emerging as a new force in the San Francisco club scene, fueled by a young crop of DJ-producers, in addition to wise promoters who've been around the dance music block. Bhangra didn't just drop out of the sky one night and land in San Francisco; rather, it grew from ancient field harvest songs in the Punjab region of northern India, danced through the UK via immigration, mingled with rap stars in New York in the '90s, and finally ended up at eclectic Bay Area parties.
Given the strong Punjabi presence in the West Coast, the strength of bhangra in the region is not a surprise. The article continues:
In 1990 I copped a copy of Indian producer Bally Sagoo's remix of Pakistani Sufi singer Nusrat Fateh Ali Khan's "Jewel" (Oriental Star). The mix of reggae-dub bass, Soul II Soul-style hip-hop beats, and ecstatic singing was mind-blowing. But there's no way it prepared me for the nuclear bomb that is contemporary bhangra music and the incredible South Asian scene in the Bay Area.

I knew little about bhangra's early roots as the music embraced by Indian and Pakistani immigrants to Britain in the 1970s and '80s. Then remixes like Jay-Z '03 remake of Panjabi MC's "Mundian To Bach Ke Rahi" sparked my interest.

It's interesting the author didn't come across Bally Sagoo's
earlier bhangra mixes (like Mera Laung Gawacha)and Apache Indian's
first album No Reservations, which cannily blended bhangra and dancehall reggae to create bhangramuffin and led to its first UK crossover success in the early '90s. The latest legion of Bay Area producers, though, seem to be determined to blend in hip hop with greater vigor than before:
Born in Oakland and based in Tracy, 20-year-old JT Bhachu, a.k.a. DJ JT, got started in music at age 10, playing dhol drums in school competitions. His family moved from the Punjab region in India and settled in the Bay two decades ago. JT mixes hip-hop with bhangra and spins everywhere from high school dances and weddings to the main rooms at clubs – even San Francisco's Avalon Ballroom, where JT and his BPR Promotions friends put on a show with Birmingham, UK, bhangra megastar Sukshinder Shinda last year.

JT still relies on his kin for his creative projects, founding a record label (Sick 'Em Entertainment) with his uncle and recruiting his teenage cousins to play in his Explizit Dholies drum ensemble. "My mission is to bring bhangra into a lot of hip-hop clubs. In the future it'll be the next thing people are talking about when they go out every weekend," he says. His self-confidence and vision are shared by other young desi DJs in the Bay, including producer Kush Arora.

The old style bhangra parties (and we've been to some) could become, not to sugarcoat it, really juvenile affairs. Scuffles over women, not getting enough "respect" and rival gang posturings were not unheard of. Then there's the promos:
"Most bhangra concerts with big singers are in the South Bay," he explains. "These can be fun but usually very cheesy, with fliers that say 'Guys - dress GQ; girls - dress sexy/elegant,' with related bullshit like that, so I really wouldn't consider it a hot party."
There are many other regional music forms in India, but nothing has succeeded so well on such a global scale. Even in India, bhangra was fairly local even until say twenty years ago. The popularity of stars like Daler Mehndi
in India in the '90s brought bhangra to the point where no feel-good big budget Bollywood flick could afford not to have such a song in its soundtrack. Outside India, the Punjabi diaspora sustained the scene whereever they settled and the second generation UK and Canadian producers sucked in a whole host of other influences - dub and dancehall, hip hop, garage, and even ambient chillout (listen to Talvin Singh's
Ha
for examples). It's paying off big time! Not bad for a style of music whose core sound relies on a set of drums and mandolins and conjures traditional images of a bunch of blokes in mixed pattern lungis lunging around in circles. Pretty damn impressive actually.

- February 4, 2006 3:21 PM // Bay Area , Music
Playlist: Shwas: A Cycle
Time for another yoga playlist, particularly given the (relative) success of the last one. This time, our yoga class had an end of semester assignment - write a five page paper on Pranayama. Naturally, being relatively indisposed to work that hard, we decided to do something a little more ambitious: we burned a CD with the following tracklisting and the artwork and substituted it instead. We titled it Shwas (breath) since, of course, the actual practice of pranayama concerns itself with breath control. Our challenge was to come up with a musical sequence that would model a yoga session, remain thematically relevant and, last but not least, contain some damn cool music. Judge for yourselves:
- January 25, 2006 6:57 PM // Music
Worst Band Names
More tips on what to avoid when Naming Your Desi Band. From the Onion AV Club's 2005: The Year In Music comes this list:
Worst Band Names Encountered This Year

Public Display Of Funk
Well Hungarians
Test-Icicles
Snatches Of Pink
Goblin Cock
Swollen Members
Clitastrophy
Libido Funk Circus
Cunninlynguists
Assbaboons Of Venus
Priceless. But wait, there's more:
Best Worst Band Names Encountered This Year

I Will Kill You Fucker
Let's Get Out Of This Terrible Sandwich Shop
The Asshole Two
When Rocky Beat The Russian
In addition, their list of Least Essential Albums of 2005 is similarly hilarious. Consider this gem:
LEAST ESSENTIAL TRIBUTE ALBUM

Various Artists, Back Against The Wall (Cleopatra)

The usual methodology for tribute albums is to gather a bunch of musicians who are sympathetic to another bunch of musicians, then urge the former group to submit a set of highly individualized takes on the songs of the latter group. Producer Billy Sherwood takes a different track for the Pink Floyd tribute Back Against The Wall, which brings together prog-rock all-stars like Adrian Belew, Ian Anderson, Steve Howe, Rick Wakeman, Chris Squire, Dweezil Zappa, and Tommy Shaw, and has them reproduce The Wall almost note for note, right down to David Gilmour's dirty lead guitar and Roger Waters' sarcastic amplified whisper. We don't need no replication!
My personal favorite in the whole piece is the reference to 2Pac's "posthumous work ethic." But the whole article is well worth guffawing over in its entirety.
- January 10, 2006 7:07 PM // Music
One World
Mike Novak, of Mike's World Tour fame, is finally winding down his travels. On a post entitled, Personal Ramblings, he has some thoughts about his experiences:
"One World" - In the mid-1980s, after participating in various exchange programs (Kenya, Thailand, and Poland) I was enamored with the concept of "One World". "One World" centers on the belief that people are basically the same throughout the world - they want to be happy, live in peace, raise families, and lead productive lives. What make them different are generally not innate but learned differences - learned through their own culture, traditions and religion beliefs. Overtime these learned differences between countries and their cultures tend to shrink and merge – facilitated by such things as cheap travel costs, information technology, the internet, TV and movies, cultural awareness and education . The result is a single culture or "One World".

After this trip I still believe in the concept of "One World" (a.k.a. "globalization" in economic parlance), albeit, this trip made me realize that the reality of a single culture is a lot further away than I previously surmised - decades, even centuries away. There are a lot of uneducated, poor, immobile people in the world that still maintain their own culture, tradition and value systems.
It seems to me, the flip side of this observation is that much that is unique about various societies comes from the poor, deprived folks in their midst. This is, of course, not restricted to third world countries. Musically speaking for example, the ghettos in the US, the favelas in Brazil, tribals in India and rural enclaves in Morocco, all have been fecund sources of various sounds. All have been exploited accordingly and absorbed into the global "one culture" machine by cool-hunters, musical explorers, and media outlets looking for the next big thing. What's amazing to me is how some of these places continue to innovate various musical styles one after the other - it seems to be a curious balance of isolation from the greater culture at large and familiarity with it.
There are more musings here. Check it out.
- December 15, 2005 11:22 AM // Music , Travel
Naming Your Desi Band
"So you want to be a rock'n'roll star" sang The Byrds
and the call of stardom is something every sensitive, artistic South Asian type has contemplated. Lord knows, I'm no exception. But long before the guitars, the drums, the samplers, the turntables, the sequencers, the dholak player mishaps, the perenially drunk tabla players, the screwed up hanger-ons and that record deal with Sony Asia can come your way, you must face your first challenge.
You have to find a name for your group.
Sure you can take the easy way out. But honestly, will people really come to hear Soam and The Band? I didn't think so. Besides, the rest of the artistically inclined souls in your group might take umbrage at your getting top billing, never mind the fact that it's your apartment where they create the racket, much to your long suffering neighbor's chagrin, and it's your samosas and beer they're destroying. So, a catchy name it is then. But what? It really should have something to do with South Asian culture and be cool. After all, how else would you get on MTV Desi? If your primary influences are Norwegian death metal, more power to you, but that's not something desi and world music audiences are necessarily interested in unless you can throw in power sitar chords in there somewhere. Thus, I'm assuming you want to do a fusion band, go back to your roots, make funky beats, score with henna-ed groupies, whatever. But you want your band moniker to reflect the music you make. I've faced this problem a couple of times, so what I can do is share with you some of my own thought processes on the matter:
No masala or spice in the title. That's so played. No Spicy Beats or Masala Music here, no sirree!


Anything "mutiny" related is also getting overused. I mean, it's already made it's way into a NYC music gathering, a website, and a music documentary. All good stuff and rebellion is good for the image but you have to find some other Indian insurrection. Perhaps Gandhi's Non-cooperation movement? Salt March?


Likewise with karma. Sorry lads, John Lennon beat you to it with Instant Karma and I've really heard no variation that comes close since then. Yes, I know that's a song title but it's so good, it's been taken for band names, both in the West and India.


Kama Sutra: yes, it's tempting, particularly for the daring and the desperate amongst you, but it's been ripped off many many times worldwide. Just musically alone, there's at least one famous record label with that title.


As you can see, this is not a trivial challenge. All the obvious names have long been spoken for or are too overused in other settings. Thinking of Om? Too bad, in the USA there's Om Records, an SF based electronica/house label that, to my knowledge, has no desi connections whatsoever. How about Guru? Nope, that's one half of Gang Starr, the premier NYC hip hop outfit. And there's Loop Guru too. So, how does one get around this impasse? Some suggestions:
Perhaps the term desi itself may still not be overkill. I like Funkadesi. Alas, desibeats is gone. Perhaps Desi Wonderland? Desi Boogie? A bit retro, but not without charm. A name I've used in the past for my creative efforts is Desi Jersey Mafia. I'm particularly proud of that one. It hits the trifecta: desis in New Jersey involved with the mafia! True, it was intended for satirical purposes, but hey, so was Spinal Tap.


Names of Indian express trains. I once thought of the Deccan Queen but resisted, thinking of the inevitable comparisons. Toofan Mail is still a possibility. Bonus: it's also the title of a famous old time Bollywood song.


Indian states/cities: other than Mumbai/Bombay, I think all other cities/states are fair game. Certainly, that must've been the idea behind the group State of Bengal. But too many names with Bombay in it: Bombay Vikings, just for starters. My candidate here was the Royal Bengal Brothers, but, alas, my brother nixed that one. Pity - you would be getting a state and a state animal at the same time!


Indian regional groups: unless you are Punjabi. Starting from Punjabi MC to Bohemia, the Punjabi Rapper, this is one busy term. However, if you're say Gujrati or Tamil, there's hope. As far as I know, Gujrati MC or Tamil Rapper has not been taken. For Bengalis, it's a rich vein to mine, particularly with Bengalis referring to themselves as bongs (no drug references implied here - really). My own favorite here is The Big Bong Theory. "What's The Big Bong Theory?," I hear you ask. Well, the universe started with a Bong!


Movies: a good idea in theory, but tough in reality. Naming yourself after Bollywood titles is not really an option unless you specifically are looking for that audience. Outside India, however, precious few films are identified with India or Indians, at least in a positive way. Tha Gandhis (sic) just doesn't work for me. I suppose, you could try subversion of titles: Band Of Joy or, my favorite, Gunga's Din.


Brevity: If all else fails, keep it short and punchy. But beware - most of the words implying good times in an Indian language are out of bounds. Dhun, Nasha, and Dhamaal are all accounted for. Don't even think of Dhamaka.


Okay, that should be enough of a starting point. Just remember, if you do decide to use one of my suggestions, I want lifetime backstage passes and a copy of your first CD. Happy naming!
- December 9, 2005 10:59 AM // Diaspora , Music , Select
Desis In Odd Places Part II
More from the desis in places where you least expect 'em dept: here we were browsing through the exhibits in Victoria's Royal BC museum in British Columbia, when we spotted something odd. Tucked away in a glass case in a room of exhibits depicting Vancouver in the '60s was a vinyl album. Featured on that album cover was a Sardarji as one of the members of a band. On the left is the only picture of the album cover I could find online. Not a pristine print but have a look at the second guy from the right. The cover art leaves no doubt as to the times that produced this work - '60s flower-power. But, when you think of the entire '60s hippie movement, how many actual Indian musicians (other than Ravi Shankar) come to mind? So, I dug a little deeper. The name of the band was the Poppy Family and the album was "Which Way You Goin' Billy". AMG says:
Susan Pesklevits and Terry Jacks met in the band Powerline. They later married and formed the Poppy Family in 1968. With guitarist Craig McCaw and percussionist Satwan Singh, the duo's third single, "Which Way You Goin' Billy," became a hit in the U.S. and their native Canada, selling over two million copies. The group recorded three albums in the early '70s: That's Where I Went Wrong and Which Way You Goin' Billy in 1970 and Poppy Seeds in 1971.
Apparently, Satwan Singh had played percussion with Ravi Shankar. The AMG album review has some more tid-bits:
The album's two international hit singles, "Which Way You Goin' Billy?" and "That's Where I Went Wrong," are both tales of lovers on the run that sound as desperate as Del Shannon and as lonesome as Brian Wilson's worst nightmare, and such lost classics as "You Took My Moonlight Away" and "Beyond the Clouds" are every bit as strong, boasting clear but emotive vocals from Susan Jacks, brilliant if oddball Indian percussion from Satwan Singh, and melodramatic string arrangements from Graeme Hall.
It turns out the album is long out of print, unfortunately. So, what became of the group?
Terry and Susan were divorced by 1973, however, and both began solo careers. Susan released Dream (1976), Ghosts (1980) and Forever (1982), but Terry became more successful when his "Seasons in the Sun" single went platinum in Canada (more than 150,000 units).
Yes, that "Seasons In The Sun" - it's tougher to be more sentimental and mawkish, I tell you. But what of Satwan Singh? I could only find this:
Terry Jack's dislike for playing live led him to let McCaw and Singh go from the Poppy Family fold in 1970.

Two more hits followed in "That's Where I Went Wrong" and "Where Evil Grows" which saw Jacks under great pressure to put a touring version of the Poppy Family together. While working with Valdy on a studio project in Vancouver, Jacks came across the guitar work of Norman MacPherson who he brought on board to replace not only McCaw as a live guitarist, but to help in the studio on the 'Poppy Seeds' album. MacPherson left the live roster on good terms in the Fall of 1971. Terry Jacks would then call Bob Nelson to replace MacPherson on guitarist. At first, it was Terry Jacks, Susan Jacks, Bob Nelson & Satwant Singh. They played quite a few gigs across Canada and in the United States. But Nelson eventually left the group and the Poppies returned to studio life.
And that's it. Damn shame - I'm curious to find out whatever became of, possibly, the first Indian percussionist in a psychedelic band. He would have some stories to tell!
- November 16, 2005 8:13 PM // Music , Select
Kronos/Asha at the YBCA
There have been many words of praise for Asha Bhosle over the years, some conventional ("most recorded artist"), some musical ("largest vocabulary of vocal techniques") and some offbeat ("grandmotherly Elvis"). To this I would simply add: she must take her share of blame for India's population explosion. The reason is simple enough. In her own words:
As Asha Bhosle struggled to make her mark, her biggest competition and mark for comparison was her own sister. "Didi [the elder sister] was singing the love songs, the sad songs, and I knew that if I did something different, something new, only then would people give me songs," says Bhosle.

The "something different" was cabaret songs. At that time, in Bollywood films the heroine had a holier-than-thou virginal image that was made even more ethereal by Lata Mangeshkar's singing. But filmmakers also wanted a little masala to spice up their films. That was where the vamps came in. Some actresses, like the exotic-looking Helen, made an entire career playing the vamp in hundreds of films. And the voice behind the vamp was invariably Bhosle's. In the film "Taxi Driver" she sings "Jeene Do Jiyo" [Live and Let Live], probably the first cabaret song in Hindi cinema.

It clicked. "Many have tried to imitate Lata, and some have come close. But no one has tried to imitate Asha, because no one can," says music aficionado Arvind Kumar, the founding editor of India Currents magazine.

To date, the songs she sung under the aegis of R. D. Burman have probably been some of the most remixed/covered songs out of Bollywood. Additionally,
Instead of cringing at the remixes that were pouring into the market, she did the next best thing - she joined the bandwagon and brought out the remixed variety of own old numbers. She also came out with a video cassette entitled "Janam Samjha Karo". Then there is the new album "Rahul and I". Asha never ceases to amaze. She is constantly repackaging herself. And so the Asha magic continues to enthral.
However, the Kronos Quartet represented a new level of collaboration for Asha-ji and I was curious as all heck to see how it would turn out on September 22, 2005, at the Yerba Buena Center Theater in San Francisco, the first of a limited set of dates. I needn't have worried - Asha-ji sounds as great as ever. But first things first - the first half of the concert was devoted to Kronos premiering San Francisco based minimalist composer Terry Riley's The Cusp of Magic, a work in six parts. In tone, the parts varied from apocalyptic (The Cusp of Magic) to staccato (Buddha's Bedroom) to whimsical (The Nursery). The latter, in particular, was augmented by a backdrop of noises from stuffed animals, the last sound of the movement being that of a lone toy frog being wrung. Throughout, I was impressed by the sheer aural variety on offer, not to mention the virtuoso ensemble playing. In addition to Wu Man on pipa, the Quartet featured David Harrington on violin (and various percussive instruments), John Sherba on violin, Hank Dutt on viola and keyboards and Jeffrey Zeigler on cello. In addition, we had the wild and wacky samples being triggered from time to time. A good harbinger for the second half and the main event!
"Atithi Deva Bhava - the guest is god. You are my guests and I'll try my best to please you," were Asha-ji's opening words when she strode to the stage at the start of the second half of the show. Apart from a little feedback in the first song and perhaps the hint of a cracked voice in another, this was an audio sensory experience. That included Asha-ji's banter between shows. She apologized for her poor command of English and asked band leader David Harrington to translate the song titles. Her in-song banter quickly endeared her to the audience, an eclectic mix of desis and the San Francisco art crowd. The choice of songs was inspired - a mixture of Bollywood staples such as Dum Maro Dum ("Take Another Toke") and Chura Liya Hai Tum Ne ("You've Stolen My Heart") with more leftfield titles. "They picked the most difficult songs," she complained to the audience at one point, rather jokingly of course and that endeared her to us all the more. Of the more adventurous songs, we were particularly impressed by the choice of two Bengali songs of R. D. Burman. Asha-ji sang Ekta Deshlai Kathi Jalao ("Light a Match") with all the coquettishness of a sixteen year girl. For Nadir Pare Uttche Dhoa ("Smoke Rises Across The River"), she took a break, and Quartet played with all the might and passion of many times their number. Upon returning, she commented that, accustomed as she was to working with hundreds of musicians at any given time, she found Kronos' versatility to be simply amazing. Their arrangements sparkled as well - subtly extending Asha-ji's vocals in one song, setting up a counterpoint in another, they were always less than obvious. By the time she started Piya Tu Ab To Aaja ("Lover Come To Me Now"), the incongruous sight of a grandmotherly figure providing breathy, panting vocals had been replaced by that of a diva still in regal command of her faculties (if you closed your eyes).
I found the audience attendance for the first show to be disappointing but, in retrospect, it was to be expected given the eclectic nature of the musical marriage. I understand the attendance was much higher the next day and, overall, CD sales outside the hall were unusually brisk. A good harbinger of things to come perhaps?
- September 28, 2005 6:27 PM // Bay Area , Bollywood , Music , Review , Select
Brimful of Asha II
Both the San Francisco Chronicle and the San Jose Mercury News are carrying articles on the Asha Bhosle and Kronos Quartet concert at the Yerba Buena Center for the Arts tomorrow. Both pieces are intended to be introductions to the music of Bollywood (and legendary music director R. D. Burman in particular) that will be performed tomorrow. What I find interesting, though, is the differences in the tone of the two articles, perhaps due to the gap in desi population between San Francisco (not very many) and South Bay (lots). The San Francisco Chronicle piece is more explanatory, although not necessarily accurate:
While Bollywood cinema is more visible in American pop culture today than ever before, the music of Bollywood, which millions of Indians just have hardwired into their brains, has a harder time crossing over. The West might have MTV, but "Indian films, each with 6-10 songs, are the original MTV," says Bhosle's son and manager, Anand. American audiences have difficulty relating to the songs, missing the cultural references and the poetry of the lyrics, fixating instead on the crescendo of 101 shrieking violins.
Of course the truth of the matter is shrieking violins have been out of vogue in Bollywood for at least the past ten years. In addition, of late, big budget films such as Black and Sarkar have eschewed embedding music sequences all together. They've been hits, thus showing films don't have to contain music for audience acceptance. And there is such a beast as MTV-India.
The San Jose Mercury News article is more concise, perhaps trusting many of its readers to already know about the basics of Bollywood and Asha Bhosle. But this way, you can miss some nuggets. Consider this graf on Asha in the Mercury News:
She also became the wife of R.D. Burman, who by Harrington's formulation stands alongside other giants of 20th-century music. The ingenious songwriter and film composer has some 330 film scores to his credit. In many cases, it was Bhosle who ended up introducing his songs, such as ``Dum Maro Dum'' (Take Another Toke), a giddy international hit from Dev Anand's 1971 study of the hippies drawn to Nepal and India, ``Hare Rama, Hare Krishna.''
This is expanded greatly in the Chronicle to:
Tongues wagged when she married R. D. Burman in 1980. In fact, the two had met years before: He was first a fan while she was singing for his father, himself a leading composer. "I remember he was thin and short, and I of course looked older and was also quite fat," she laughs. "He just took my autograph and left." Years later, when he quit his studies to become a composer, she scolded him for not graduating. "He didn't like it -- he got up and left," she recalls.

Later, she became one of his best-known collaborators. When rumors bubbled about their professional relationship turning romantic, conservative Indian society frowned on this middle-aged mother of three embarking on a love affair. "People don't like it if you live honestly," says Bhosle with a shrug. "They like hypocrisy and lies." She married Burman to end the swirling gossip around their relationship.

But their collaboration set the music industry ablaze. Her son Anand remembers going to a concert in 1972 or 1973 where all the biggest stars of Indian music, including his aunt, Lata Mangeshkar, were performing. "Right at the end it was Mom's turn, and when she and R. D. Burman entered together the audience went berserk," says Anand.

At that time their biggest hit, "Dum Maro Dum" (literally, "Take Another Toke") from a film about hippies, was banned on All India Radio. People listened to it on neighboring Sri Lanka's Radio Ceylon. When R. D. and Bhosle came on, says Anand, "it was as if Tom Jones had been performing and suddenly a superstar like Michael Jackson or Elvis Presley came on stage."
Should be a great concert tomorrow. Looking forward to it.
- September 21, 2005 8:27 PM // Bay Area , Bollywood , Music
Brimful of Asha
Asha Bhosle is coming to SF in September! But, this is not a standard greatest-hits concert. She'll be playing at the YBCA together with the Kronos Quartet:
India Calling

Songs from Rahul Dev Burman's Bollywood. Featuring special guests Wu Man, pipa, and Debopriyo Sarkar, tabla

This spectacular event will play only four venues (Premium ticket packages available. Call 415.321.1341 for info.) worldwide - Carnegie Hall, LA, London and YBCA! The Bay Area's own Grammy Award-winning Kronos Quartet will perform with living legend, Indian film singer Asha Bhosle, who has released more than 20,000 songs to date! This exclusive tour celebrates the new album by Rahul Dev Burman, Bhose's late husband and one of India's most influential Bollywood composers. Don't miss this pairing of musical luminaries!
Asha Bhosle routinely sells out theatres across the USA. So, what is she doing playing at a hall that seats less than a thousand? And what's YBCA doing hosting Asha? I suspect this is more a reflection of India's growing economic clout (rather than a sudden re-evaluation of the art of Bollywood) as well as Ms. Bhosle's desire for a wider audience to perpetuate her and her former husband's (R.D. Burman) quite considerable legacy. The tie-up with Kronos, in that sense, is somewhat reminiscent of AR Rahman's collaboration with Andrew Lloyd Webber. There's already an album, You've Stolen My Heart: Songs from R.D. Burman's Bollywood
, reflecting the Asha and Kronos Quartet union. Can't wait for the show! If we can afford to get in that is ...
- July 29, 2005 12:15 AM // Bay Area , Bollywood , Music
Khaled and Co @ Stern Grove (July 10)
Stern Grove is one of the summer delights in San Francisco. One of the highlights of our stay in the Bay Area thus far is the concert that Zakir Hussain, Bill Laswell, Karsh Kale and DJ Quik put on in Stern Grove that year. Courtesy my mother-in-law, all of us were able to sit up front and we had a grand view. The concert made its way into an album (Live in San Francisco at Stern Grove
) as well. I bought a copy as a gift and, before I parted with it, I studied the crowd pictures to no avail, alas. So close to being on an album cover! Anyway, many things have happened since then and we just never had a chance to attend another show. Finally, upon hearing Khaled
and DJ Cheb I Sabbah
would be playing at Stern Grove, we jumped at the opportunity. Here are some snaps and observations.
It was a full house with a diverse variety of folks, as you can see for yourself. If you squint hard enough, perhaps you can catch my friend Chi-Chao and his two lovely daughters. Er, they are behind the small trees. It was baking hot around 2pm but had cooled down considerably towards the end.
This time around, Indian iconography seemed to be stronger than ever amongst the cultural backpackers. I just couldn't believe this one though, hence I had to take a picture. Click for a larger image. The hand in the foreground isn't mine, BTW. An entire illustration of a Devi complete with shlokas. What next? Kamasutra tattoos in more private body areas? I shouldn't joke, most probably they exist already!
DJ Cheb-i-sabbah opened the proceedings together with percussionist Wilfredo Reyes. He mostly played tracks from his new album, La Kahena
. It sounded grand but I have a bone to pick with his opening acknowledgements. He gave call-outs to Morocco, Tunisia, and Algeria. But not India. For a man, who has made a living off its musical idioms (not to mention the large number of desi fans in the Bay Area and outside), it would have been a nice gesture, particularly given the constituency of the audience that afternoon.
The main event, Khaled's concert, was a treat. He was in sharp form and his voice easily scaled the heights. The band was tight and his most ardent fans in the dance-pit knew all the words. The real surprise off the day was the guest appearance of Santana. Very cool, particularly the way he blended his guitar seamlessly with the rest of the band. Khaled saved his two biggest hits, Aicha and Didi, for the last. All in all, a sweaty, uplifting experience.
- July 19, 2005 7:03 PM // Music , Select
Theme to Swades
Make no mistake, AR Rahman was on a serious roll last year. The soundtracks to Yuva, Meenaxi and Swades are astonishing achievements, even by his lofty standards. It is a tribute to his (and his production company's) talents that he could actually leave out perfectly wonderful pieces of music out of the actual albums. In particular, I am referring to the Swades opening theme. This haunting tune plays during the opening credits and at places throughout the film. I also remember it accompanying the TV promos in India. One of the main thrusts of the film itself is how India still exerts its pull on the folks departed from its shores. The main riff is a perfect encapsulation of that sentiment, yet is not on the CD! Thus, I've taken the liberty of making it available. Without further ado, here's the Theme to Swades. Notice the transition to the Yeh Tara Woh Tara opening in the bridge section. Also, is it me or does the airline captain speaking over the intercom sound suspiciously like Shahrukh Khan's voice filtered?
- June 24, 2005 12:34 AM // Bollywood , Music
Soam's Sattwik Mix: A Yoga Playlist
We've been taking yoga classes from our local community college for a while and one of the big benefits has been the music that our instructor, Diane, plays during the sessions. She's always looking for new material, so I created a mix CD for her a little while back. It seemed to go down pretty well. Here's the tracklist: